Cruising with Kids on the Celebrity Equinox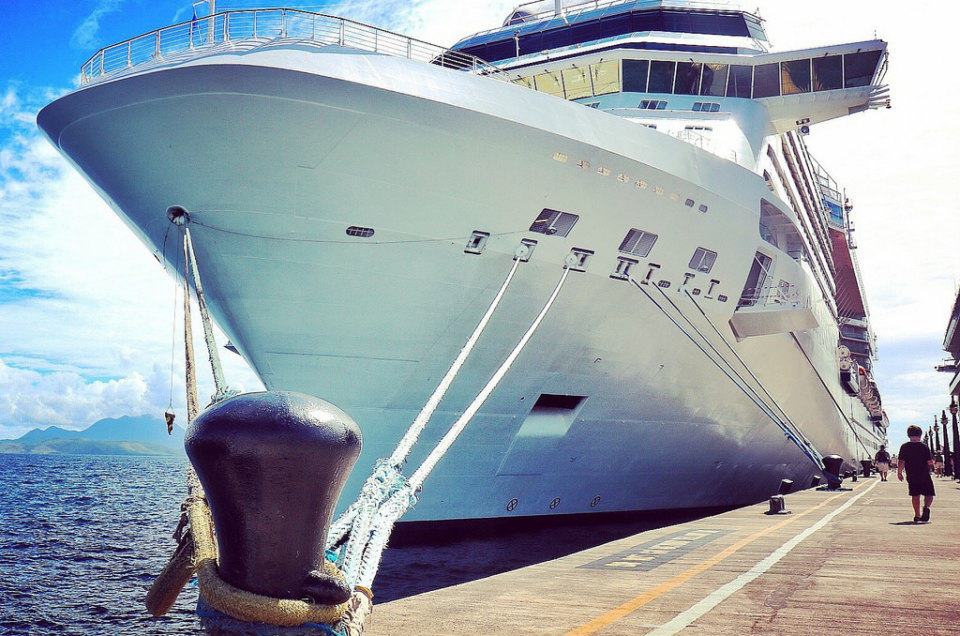 We recently embarked on a 10 day #MyEndlessSummer Celebrity Equinox Cruise, in the middle of winter. Read more to find out how you can experience your own #MyEndlessSummer adventure, any time of the year.
Midway through our recent Caribbean cruise on the Celebrity Equinox, a woman stopped me at the elevators.
"How are your children liking the cruise?" she asked me. "They're about the same age as my grandchildren and I've been debating whether to bring them on a cruise with us some time."
As I started talking, the elevator we were waiting for came and went. And then another one went by without us. And another one after that. I couldn't stop gushing about Celebrity's engaging youth staff, the wide range of children's programming and activities, the servers who made my kids feel so special at every meal, and the wonderful childcare services that allowed parents (and grandparents) to enjoy a date night or spend a quiet afternoon at the pool, or explore an island on a day at port, all while the kids were having the time of their lives in the Fun Factory up on Deck 15.
I could have gone on for hours about how much my children liked the cruise, but perhaps my 12-year-old said it best when she was asked about it on our last day at sea.
"I love it," she said simply. "I wish we could forevercruise."
'Forevercruise' is a perfect word to describe how we all felt about our time aboard the Equinox. Even after ten nights on the ship, we weren't ready to go home. Ever. And if you're skeptical about all this, let me assure you that before our cruise, so was I. From what I knew about cruises (which, admittedly, didn't extend beyond a few half-remembered episodes of the Love Boat), we were not the cruise 'types.'  
Now, though, I'm convinced that we are. And you are. And all of your friends and family members are, too. On a Celebrity cruise, there is literally something (a lot of somethings, actually) for everyone, from your aunt with the mobility issues to your yoga-loving health nut best friend — to your children. Is your curiosity piqued about what a Celebrity Cruise with the kids would be like? Good, because I'm going to tell you all about it.
Fun Factory and X Club
We were pretty clueless about kids programming when we boarded the Equinox, but that was not a problem — All the information we needed was waiting for us in an envelope in our stateroom and an Open House was scheduled so that the youth staff could answer all our questions. Tons of age-appropriate activities for kids ages 3 and up were scheduled in the Fun Factory (for ages 3-11) and X Factory (for ages 12 and up) each day — In fact, my children couldn't believe all the fun things there were for them to do (and for us to do together as a family), including card games, arts and crafts, karaoke, water games, science experiments, Xbox challenges, family movies, Bingo, scavenger hunts, and more. Each night, a list of the next day's activities would appear in our stateroom and our children loved poring over it and planning out their next day The youth staff was totally devoted to making sure the kids all had a great time.
We all liked the freedom my 12-year-old had to come and go from the Fun Factory and X Club as she chose. We also authorized my 9-year-old to sign himself in and out of the Fun Factory on his own. This gave the kids a sense of independence and control that made them look forward to heading up to the kids' deck whenever they wanted. Because they could make the choice on their own to go or stay, I think they ended up spending far more time in the Fun Factory/X Club than they would have if we'd had to sign them in and out.
Although the Fun Factory closed each night at 10pm, the staff stuck around until 1am for the nightly Slumber Party. For $6 per hour per child, our kids could stay late and my husband and I could enjoy a date night. We took advantage of the Slumber Party twice during our cruise and it ended up being the kids' favorite Fun Factory experience — The staff made sure they had lots of fun until we arrived.
Entertainment
One thing I loved about our Celebrity Cruise was that our kids were allowed nearly everywhere we adults wanted to go. If we wanted to have a drink in the Gastropub or go to Silent Disco, for example, the kids were welcome to come along with us. On our particular cruise, only one nightclub was off-limits to children — and even then, it was only after 11pm that the rule went into effect.

My family attended the mainstage show together nearly every night, and the kids insisted we all sit in the front row, which meant lots of interaction with the performers. A new performance was scheduled for each evening, and all of the entertainers (which included singers, dancers, aerialists, comedians, a juggler and a musician) were fantastic. We let the children order Shirley Temples from the servers working the aisles and they felt very grown up sipping their drinks in the theater!
The kids also stayed busy swimming in the pool, reading in the ship's sizable library, playing card games, and exploring the ship. One of their favorite discoveries was the LED-lit splash fountain that magically appeared poolside each evening at sunset — I think they loved playing in it even more than swimming in the pool! We discovered after only a couple of days that while the pool was very busy in the mornings, most guests tended to leave the pool area to rest and get ready for the evening at around 3pm — By 4, we practically had the pool area to ourselves. We adjusted our schedules accordingly; the kids spent their mornings at sea in the Fun Factory and we'd all swim in the late afternoon.
Food
We were seriously wowed by the quality and variety of foods we ate during our cruise. The buffet-style Oceanview Cafe was open from early in the morning until late at night and had so many delicious options to choose from that our kids initially couldn't handle it– For the first day or two, they went straight to a table and had us bring them a plate of food! Fortunately, they got over their 'food fright' quickly; by the end of the cruise they were Oceanside pros.
Of course, we're all familiar with the all-you-can-eat buffet, and we all know that when there's that much food available for a whole lot of people, it's typically not all that tasty. This was decidedly not the case at the Oceanside Cafe. Each day, dozens of new delights appeared, from super-fresh fish ceviche and seafood salad to exotic international dishes to fresh-baked breads and a heavenly array of desserts. I could have happily eaten every meal of our cruise here… but then I would have missed dinners in the Silhouette Dining Room each night, an experience that was a true highlight of our trip.
In the opulent main dining room of the Celebrity Equinox, our server, Venkat, quickly won us over with his impeccable service and intimate knowledge of everything that was on the menu each night. We got to know Venkat and his assistants well over the next several nights — and when we told them that we'd be absent one evening since my husband and I had made reservations at one of the ship's specialty restaurants, Venkat insisted that our kids come to the Silhouette on their own. I don't think I've ever seen them more excited than they were when they went to dinner all by themselves that night. Just as Venkat had promised, they were well taken care of by the staff! It was a memory they'll never forget.
Our kids also loved getting ice cream whenever they wanted at the Oceanside's ice cream station, which was open all day long, and we all enjoyed an occasional burger and fries from the poolside grill. But while I ate whatever — and whenever– I wanted during our cruise, I only gained a pound and a half! I think this had everything to do with the fact that most of the meal offerings were very healthy and nutritious, and that we stayed very busy with activities and excursions each day.
Shore Excursions
Speaking of excursions, they were certainly a centerpiece of our cruise experience. Celebrity offers a wide range of activities at each port of call, and it's pretty much guaranteed that everyone can find something appealing, from parents with toddler to physically active thrillseekers.
During our cruise, we went snorkeling off the coast of St. John in the U.S. Virgin Islands. We swam with dolphins in St. Kitts and explored the capital city of Basseterre afterward. We took a submarine to the bottom of the Caribbean in Barbados and got an up-close look at a shipwreck and more coral reefs. Afterward, we took a guided bus tour of the island, which culminated in a walk through the world's largest mahogany forest and a scenic overlook view of the Barbados beaches. In St. Maarten, we took a beautiful sunset cruise. The next morning, we shopped at the island's markets with Celebrity Equinox Executive Chef Javier De Jesus and sampled Dutch Goudas at a local cheese shop. Afterward, we all had lunch together on the French side of the island at a fancy restaurant. That night, we had a special dinner in the Tuscan Grille prepared by Chef De Jesus using ingredients he'd purchased from the markets with us that morning! Our kids agreed that it was one of the greatest days of our lives.
We were thrilled that our kids had so many memorable and enriching experiences, all in the space of a few days. And as much as we loved our time on the islands, the walk back to the majestic Equinox was always thrilling. We loved knowing that ice-cold towels awaited us at the ship's gate, while inside was our comfortable room, attentive service, and the promise of great food and stellar entertainment each night.
Maybe you can understand my daughter's desire to 'forevercruise' now! We were genuinely sad to say goodbye to the staff on our final night aboard the Equinox, and when I looked around the dining room during our final dinner and saw guests heartily shaking hands with their servers and hugging them goodbye, I realized we were far from alone. It took only a few days for the crew and guests on the Equinox to feel like extended family.
Now that we're back on land and back to reality, I do have one thing to console me — We've already booked our next cruise! We can't wait to board the Celebrity Reflection for another trip to the Caribbean next year, where summer is endless and the memories we make will last a lifetime.
Content Produced in Partnership with Celebrity Cruises
Other Voices you might like