In Search of Proper Cream Tea
The perfect cream tea, photo by Kat Tancock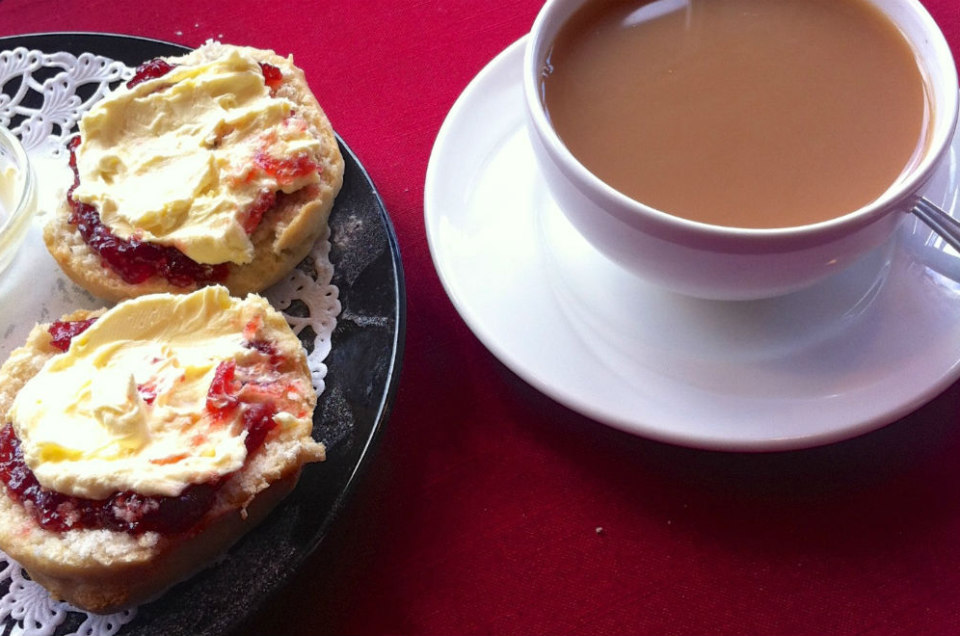 The perfect cream tea, photo by Kat Tancock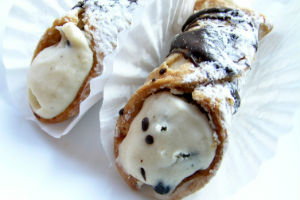 Delicious treats, photo by Kat Tancock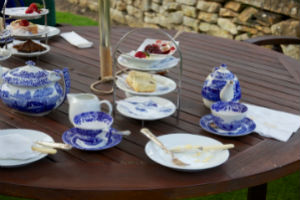 Another perfect afternoon tea, photo by Kat Tancock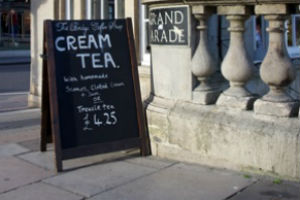 Seductive signage leading to more cream tea, photo by Kat Tancock
"Nanny always said sweet tea is the thing for frayed nerves. Though why it has to be sweet, I couldn't tell you." – Violet Crawley, the Dowager Countess of Grantham, in season one of hit English TV series Downton Abbey.
I was in what seemed like an impossible situation. With my sister guiding me from in front of the car and my mother behind, I was attempting an eleventy-point turn to get out of the world's tiniest and most awkward parking spot, which I had only wedged myself into in the first place by virtue of the space beside being empty at the time. Now, of course, it wasn't – lord only knows how that car got in – and I'd even managed to shift the vehicle partially on top of the curb, a dangerous move considering it wasn't mine to damage.
The things one will do for a good cup of tea.
It hadn't started so bad. It had been a pleasant day wandering around Oxford, warm and sunny to the degree one secretly hopes for but never dares to expect in a country with such notoriously foul-tempered weather. We'd made reservations for a much-anticipated afternoon cream tea at the Old Parsonage Hotel, recipient of plenty of rave reviews online. We got into our Zipcar at the train station with what we thought was plenty of time to spare, until we pulled out to encounter what I know now is a truly terrible thing: Friday-afternoon Oxford traffic.
It would be looking through a rose-tinted rearview mirror to say that we crawled toward the Old Parsonage. And though our reservation was at four-thirty, we were doubtful about making it before service ended at five o'clock, and seriously considered quitting and heading back to the hotel instead. But stubbornness and caffeine cravings won – indeed, the worse the traffic, the more appealing the tea became – and we finally pulled in at five past the hour and raced inside to beg the staff to serve us.
After all that stress – never, if you can help it, drive in Oxford – it was pure bliss to take a seat on the patio, calm and serene despite being separated from the traffic by no more than a stone wall. The Old Parsonage Blend tea was rich, smoky and restorative, the warm-from-the-oven scones buttery and flaky, the jam and clotted cream adding just the right amount of sweetness and smooth texture. And suddenly, it all seemed worth it.
Cream tea is an English institution, the perfect pick-me-up to take you through the afternoon slump and hold off hunger till dinner. Defined as tea and scones served with jam and clotted cream, its origins are unknown, though it's typically credited to the county of Devon in the southwest, and often called Devonshire cream tea. And with clotted cream being halfway to butter – official standards in Cornwall call for at least 55 percent milk fat – it's definitely a treat, the kind of thing that's easy to justify while on vacation, and harder when at home.
And justify it we did. Because after a long day of travelling, a cup of tea and a scone more than hits the spot. And besides, when in Rome, right?
So it didn't stop in Oxford. We sampled cream tea in Stratford-upon-Avon after an excellent, but tiring, walking tour that ended at Shakespeare's grave. We replenished with cream tea in picturesque little town Bourton on the Water, complete with canal and footbridges with a Wind in the Willows feel, after sending postcards, buying pottery and almost getting caught in the rain. We started to fancy ourselves connoisseurs of cream tea, judging the quality of tea, the butter content and size of the scones and the quantity of clotted cream – too little is quite stingy, you see.
But while the tea at the Old Parsonage was certainly the favorite, the winner in terms of sheer experience and decadence had to be at manor house slash B and B Abbots Grange in the town of Broadway. We'd been walking all afternoon, up and down hills, through farmers' fields, alongside sheep and even stopping in at a retired nuclear bunker, all part of the first leg of gorgeous 100-mile walking trail the Cotswold Way, which stretches from old wool town Chipping Campden down to Bath. And after six miles of hiking on an unexpectedly hot day, we were sweaty and worn out.
It felt surreal to emerge into Broadway from the trail and walk down the main street in our walking clothes as we followed our directions to the property, even more so when we ended up at a huge set of iron gates and buzzed ourselves in. But then, when we were welcomed into the back garden of the 700-year-old property and treated to an overwhelming assortment of sandwiches, cakes and sweets – yes, and tea, and scones with jam and clotted cream – it all felt right again, and we tucked in with exuberance, already experienced in the fact that nothing will restore worn-out bodies and souls more than a proper English cream tea.
Other Voices you might like