Getting Mystic: A Day at Connecticut's Nautical Village
Launching ceremony for the Charles W. Morgan back into Mystic River. Courtesy of Mystic Seaport.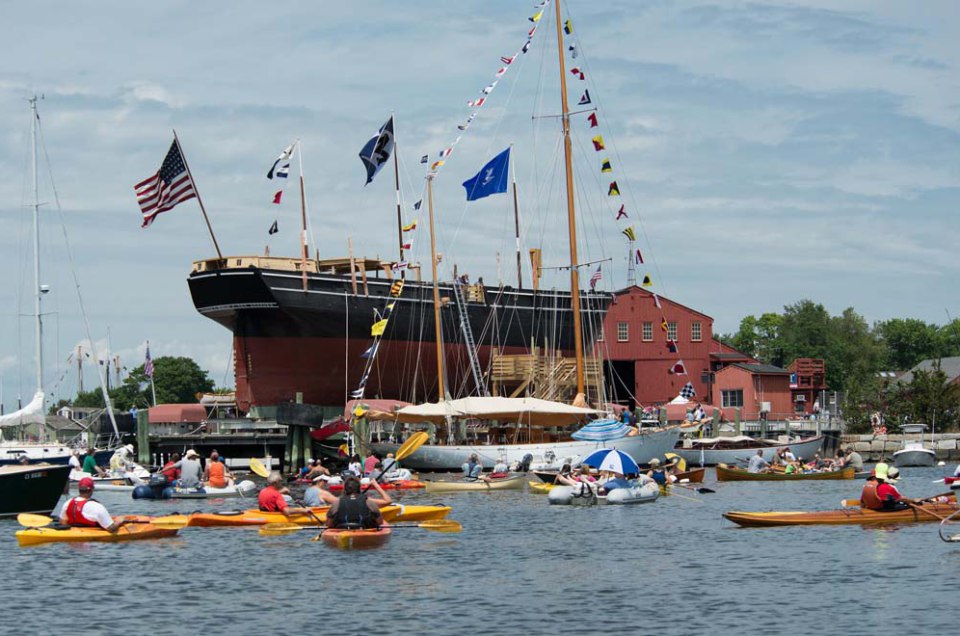 Launching ceremony for the Charles W. Morgan back into Mystic River. Courtesy of Mystic Seaport.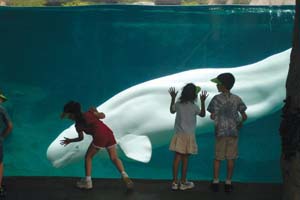 Mystic Aquarium beluga whale. Credit: Sea Research Foundation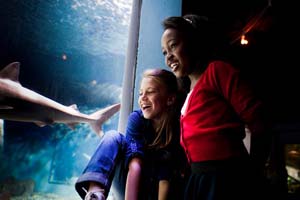 Sharks at the aquarium. ©Ryan_Donnell-M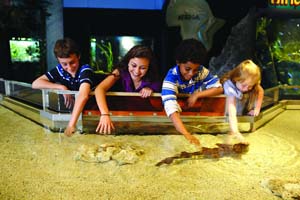 SharkEncounters-Mystic Aquarium. Dean Digital Imaging.
Way before there was a film with a young Julia Roberts about a local pizza place, the village of Mystic, Connecticut has long been a family destination. It's also a good choice for an ideal day trip. Right on off of I-95, Mystic maintains ties to its seafaring past while providing modern-day fun for families. Here is a list of what to see and do:
Mystic Aquarium
Opened in 1973, the Mystic Aquarium is part exhibit, part research foundation that educates and entertains visitors about mammals, birds and another creatures connected to Earth's water sources. Residents include African penguins, Steller sea lions, and beluga whales, along with sharks, stingrays, jelly fish and even non-aquatic animals like reptiles. There are daily educational demonstrations such as a sea lion show, and the public can view feeding times on weekends.
Animals aside, the aquarium presents interactive movies featuring noted characters such as SpongeBob Squarepants inside its start-of-the-art 4D Theater. In 2012, the aquarium opened "Titanic – 12,450 Feet Below," a permanent exhibit in timing with the centennial anniversary of the luxury liner's sinking. Designed in part by Dr. Robert Ballard, who discovered the location of the Titanic and is founder and president of the aquarium's Ocean Exploration Center, the exhibit contains images and interactive activities that transport visitors back to April 1912.
Mystic Seaport
Keeping its nautical history present, Mystic Seaport is a recreated 19th-century seafaring village with ships and 17 acres of exhibits vividly showing the village's maritime legacy.
Visitors can meet and learn from people ranging from shipsmiths to storytellers about the seafaring past and how rare ships stay intact thanks to skilled craftspeople in the seaport's preservation shipyard. In July 2013, the seaport celebrated the return of the whaleship Charles W. Morgan back into Mystic River following an extensive five-year restoration. It's the last of its kind in the world. And there are authentic replicas in this shipyard as well, including Amistad, which was the subject of the 1997 Steven Spielberg film.
Get your sea legs by climbing aboard a number of historic vessels, and even head out on the water on ships including Necessity, a water shuttle; Brilliant, a 61-foot schooner; and Sabino, a steamboat. At a children's museum, kids ages 7 and under can become a sailor for a day by trying out ship duties such as swabbing the deck. They can also learn how to navigate by turning to stars inside the planetarium.
Mystic Drawbridge Ice Cream
Close to the Mystic River Bascule Bridge, don't be surprised to spot a line at Mystic Drawbridge Ice Cream, a popular ice cream parlor. Ice cream offerings encompass everything from classic flavors to nut or fruit based ones. "Drawbridge Originals" include "Sticky Fractured Finger," "Lemon Chocolate Kiss" and "SeaportSaltySwirl." Ice cream sodas and floats, sundaes, and shakes are made here too. With set summer and winter hours, the shop also has a café menu with sandwiches, wraps, salads, paninis and baked goods.
B.F. Clyde's Cider Mill
A family owned and operated mill since 1881, visitors have to wait until fall to visit the B.F. Clyde's Cider Mill. A National Historic Landmark, the mill is open to the public daily from September through December. It uses steam as a power source to produce apple cider, and is touted as the oldest mill in the United States to still do so.
Visitors of all ages can purchase a cup of hot apple cider. Adults can find apple wines and hard ciders here as well. Find also other yummy edibles such as donuts, apples, jams, mixes, honey, and maple syrups. Cider making demonstrations at the mill happen just on weekends in October and November. Go early to get a good viewing spot.
Other Voices you might like