Colt State Park: The Gem of the State Park System in America's Smallest State
Colt's shoreline offers some of the best hiking for visitors.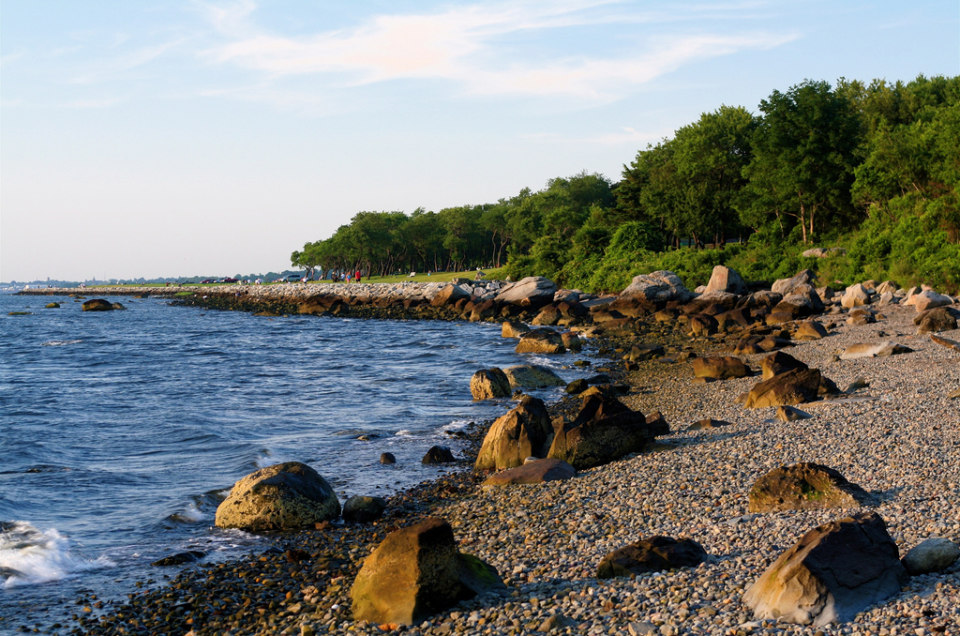 Colt's shoreline offers some of the best hiking for visitors.
Nine state parks, one national memorial, one national historic site, and four wildlife refuges make up America's smallest state, and it really wouldn't be hard to visit them all in one action-packed day.
if you don't have that kind of time though, the one must-see is Colt State Park. 464 acres of lawns, stone walls, and curving drives along one of the state's most spectacular shorelines, it's often referred to as the "gem" of the State Park system.
Depending on the traffic, you can drive across the entire state of Rhode Island in less than an hour. Compare that to the 40 minutes it takes just to get the seven miles from Brooklyn to downtown NYC, and you've got to be more than a little impressed at a state that can really maximize your time.
For colonial history buffs looking for an adventure, a visit to Colt State Park on the southeastern side of the state is an absolute must. Just look for the two large bronze bulls believed to have been modeled after the gates to French King Louis XV's château Petit Trianon at Versailles and you know you've arrived.
Colt State Park has been celebrating the 4th of July before the United States Constitution was even ratified (in 1789). No, really. The town of Bristol — home to Colt — has celebrated the ol' red, white and blue with a huge celebration since 1785.
The park isn't named for the town of Bristol, though. Instead it is named after Samuel P. Colt, an industrialist who helped to regain his family fortune by investing in the town.
Aware of the beauty of the land and people's curiosity toward his family's rather scandalous past, Colt began allowing visitors on the private property in the late 1800s. Flash forward to 1968 and the land was officially recognized as a state park.
Positioned between Bristol Harbor and Narragansett Bay, visitors will have the chance to see stunning views of Providence, take a kayak out to explore the Bay, or spend an afternoon enjoying a hike and picnic with the family.
A few glimpses of the open air Chapel by the Sea and a quick tour of the Coggeshall Farm Museum later and you'll find yourself planning your next visit to Colt.
Other Voices you might like