The Ultimate Chocolate Lover's Experience
Making chocolates in Peru, photo by Kirsten Hardy.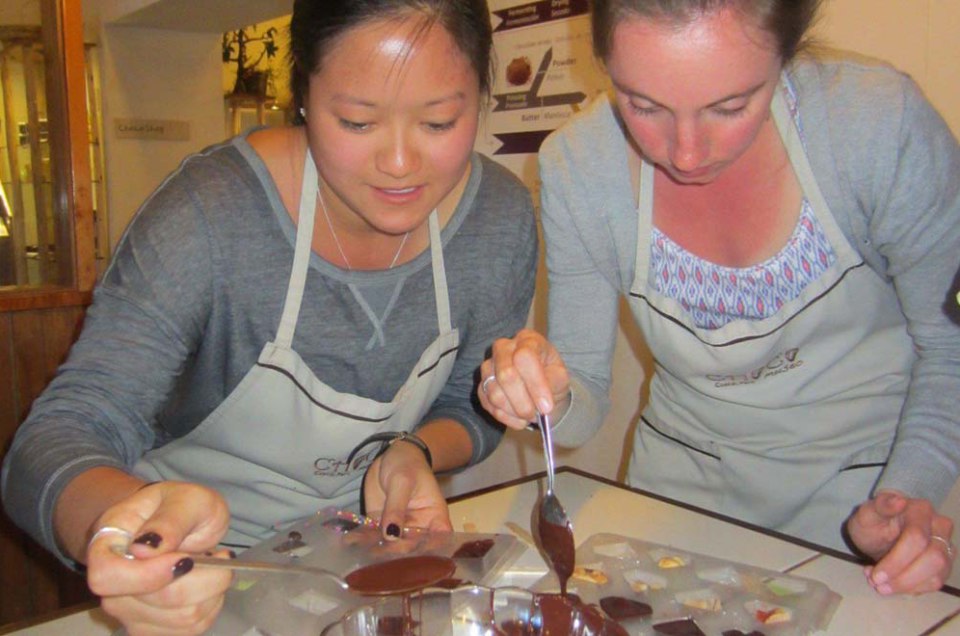 Making chocolates in Peru, photo by Kirsten Hardy.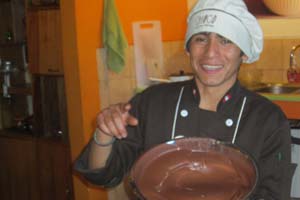 The chocolate chef, photo by Kirsten Hardy.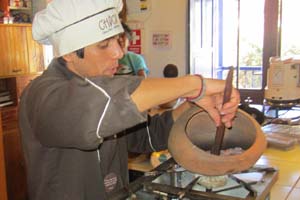 The master at work, photo by Kirsten Hardy.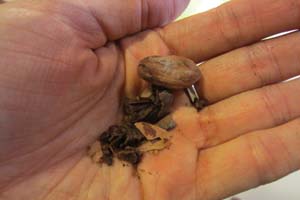 Cocoa nibs, photo by Kirsten Hardy.
I had been recommended to go to the ChocoMuseo in Cusco from a friend, and I wasn't about to pass up on ANYTHING chocolate related. I figured we would walk in, buy a good looking chocolate bar, and that would be that, but boy was I wrong.
My travel partner in crime and I walked in to the little establishment and at first it was exactly what I imagined. There was a little café where you could eat and drink sweet treats, tons of chocolate goodies for sale, and some interactive things on the wall to learn more about cocoa. When I peered around the bend and saw a room set up for a cooking class, I knew where I was going to spend my afternoon.
We signed up for the two hour workshop titled "From the Cacao Bean to the Chocolate Bar" for less than $30 USD. The class began with a verbal overview of the cocoa tree and went on to tell how the beans are fermented and dried. Once we started with the hands on activities about 20 minutes in, I was so consumed by the fun that I didn't realize that my 10 complimentary glasses of Cocoa tea (the idea might have been to have one) would end up giving me a massive stomach-ache later. But hey, have you ever had tea that tastes like chocolate?
We got to roast cocoa beans, peel the beans and then used a mortar and pestle to try to create paste. Ladies and gentleman – this was an arm workout. From the paste created by the ground chocolate nibs, we prepared 'Kakawa', the first known cocoa drink of the Mayans. We were also able to sample traditional hot chocolate made from our paste, which was more to my liking.
Throughout the entire class we were encouraged to touch, taste, and smell the beans in the different phases of chocolate creation. Next, we learned about the refining and tempering of chocolate. The last step was my personal favorite part as it ended with me having a bag of 70% cocoa chocolate candies (created by me) in my purse (perfect to keep my blood sugar up during the Inca Trail hike I was planning.) We chose a candy mold sheet and then were let loose to place whatever ingredients we fancied into them. Ingredients ranged from the usual nuts, mini-candies, and sprinkles to cayenne pepper, ground coca, and coconut flakes. Last came the chocolate poured over the top and then it was time to wait the longest 45 minutes of my life for them to set. All I can say is… the chocolate was phenomenal!
Other Voices you might like