Chattanooga: Ditch the car for a family adventure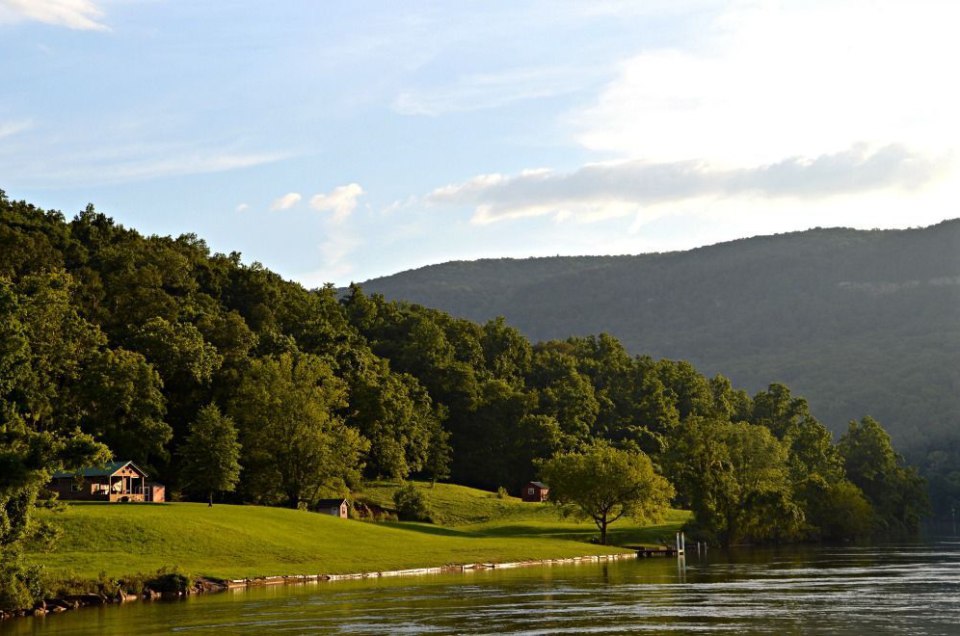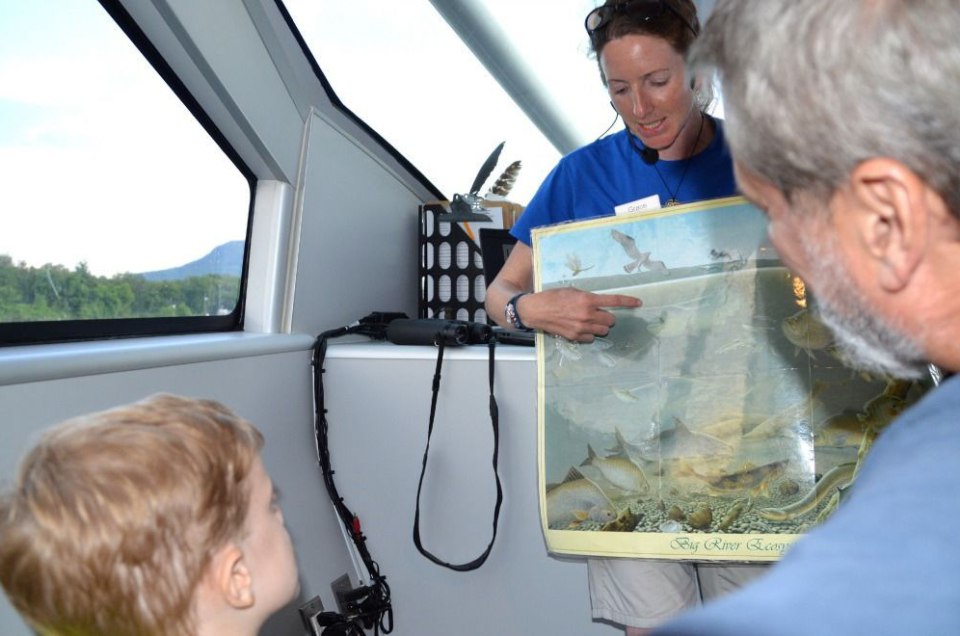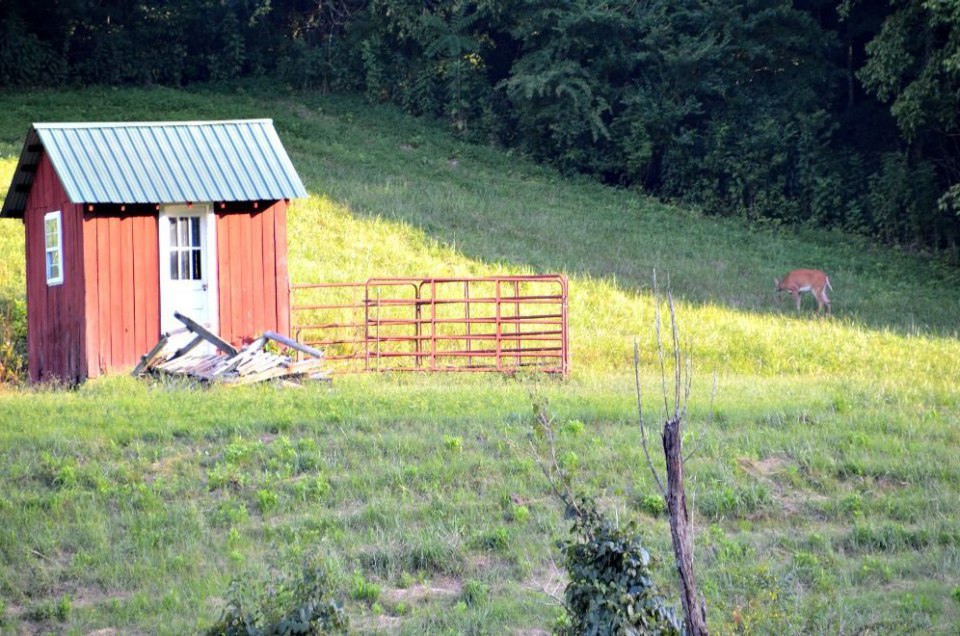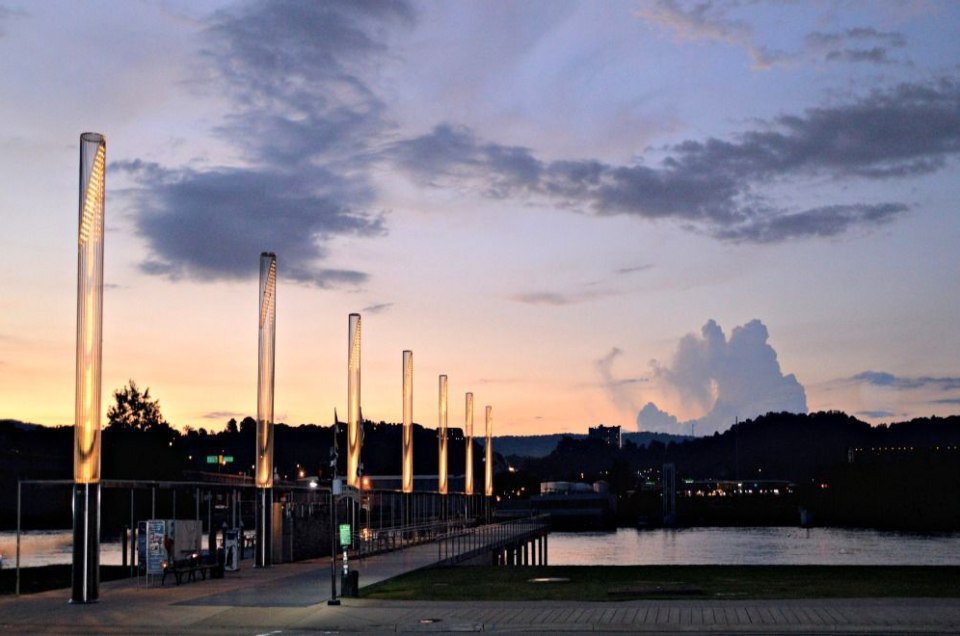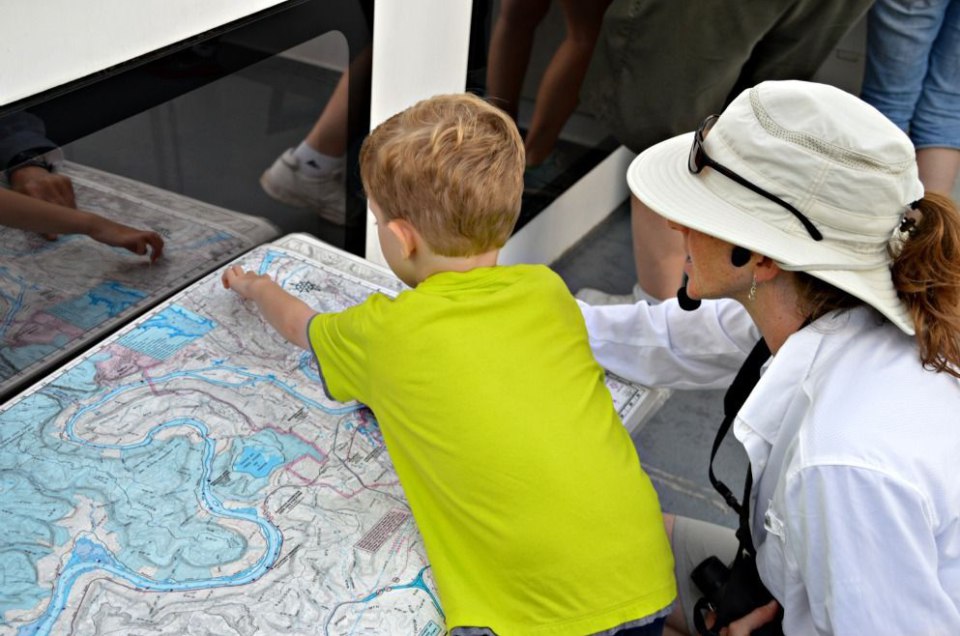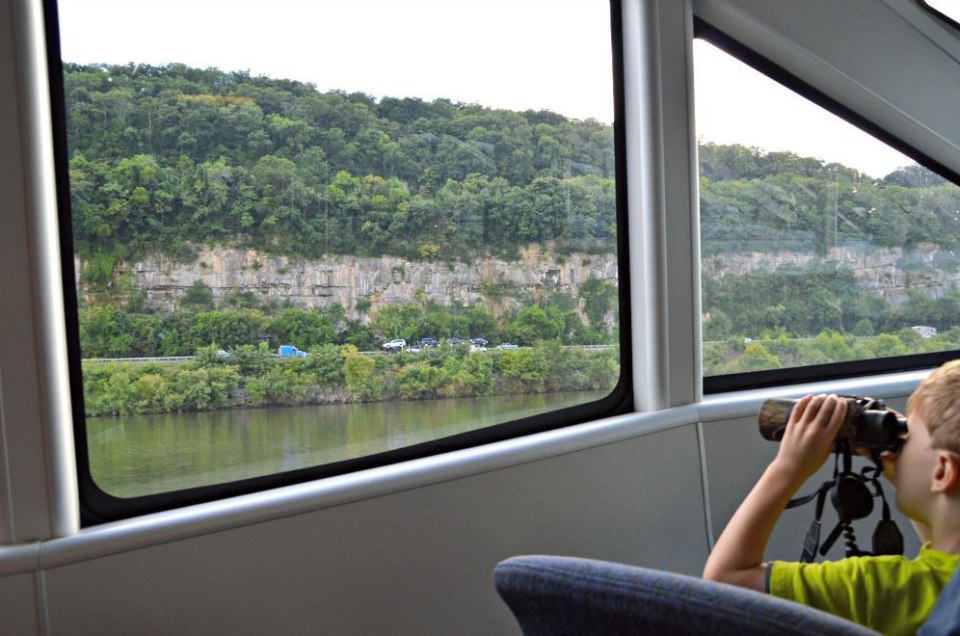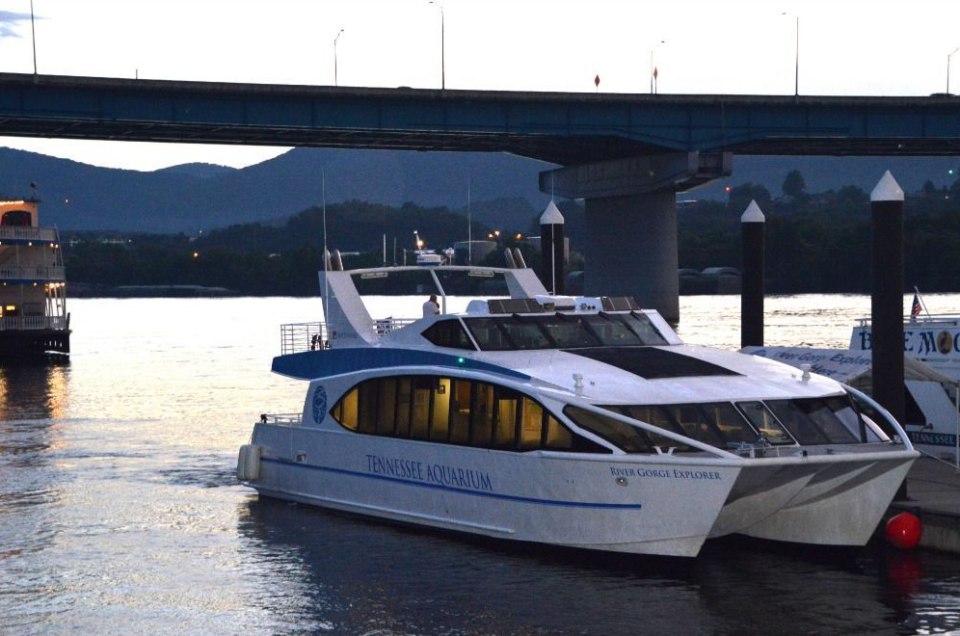 We leave the peach state behind and cross the Tennessee border, taking the second exit onto I-24W. "Tennessee Welcomes You" races by us, at Grandpa's version of the speed limit.
Munchkin's incessant questioning of "how much longer?" may have started in Georgia, but stops in mid-sentence as we reach the section coming into Chattanooga known as "Ridge Cut". Suddenly the monotonous view of passing trees, is hijacked by an expansive vision of the Chattanooga Valley. "We're here! We're here!"
Chattanooga we are here!
It's time for a quick bite before checking into our hotel. Champy's Famous Fried Chicken is a welcome break from the family road trip. Metal roosters, license plate burdened walls, and folk art murals greet us at this unassuming gem. There is no pomp and circumstance here. Everyone, from businessmen to bikers, is eating on paper plates. Fried chicken, buttermilk fried pickle spears, Mississippi delta homemade hot tamales, and homemade key lime pie all make the 'don't miss next time' list for our family.
Time to ditch the car
This is my favorite part of the trip, where you throw off the final vestiges of daily life and responsibilities- check-in, park the car, and unpack. It's time to become 'that person'. There is no more laundry to fold, bills to pay, email to answer, lunches to pack, errands to run, dinners to cook, or bathrooms to clean; not for a few days. It is all forgotten.
The sign welcoming us to the Chattanooga Choo Choo has an illuminated train with the words 'choo-choo' in the middle. Translated into family travel speak, that means 'little kid heaven.' Here we can climb on a train; eat in a train; or sleep in a train!
The day is hot and our night is planned, so we opt for an afternoon snooze and time at the pool.
Late afternoon, we hop aboard the free Downtown Electric Shuttle. It conveniently takes us from the Chattanooga Choo Choo down to the Tennessee Aquarium. A whiff of grilled burgers catches our attention, and we take a detour across the street to Cheeburger Cheeburger. With our bellies full, and a 3D paper boat in my kiddo's hand, we journey on.
The 13-mile River Walk area guides us along, headed towards the dock that the River Gorge Explorer calls home. A short distance and we are there, leaving much of the River Walk to be explored another day.
A sunset cruise aboard a 70-person catamaran is our final destination. Two hours and 26 miles are on our agenda.
Our onboard naturalist, Grace, briefs everyone on basic boat safety and gives some history and information on the vessel that will carry us down to the Tennessee River Gorge, known as "Tennessee's Grand Canyon." The climate-controlled cabin and comfortable seating make this a palatable adventure for everyone from Grandparents to Grandkids.
After pulling away from the dock, the Captain takes us past the first bridge at a slow, steady speed. As the dock disappears, four water jets propel the catamaran causing it to pick up speed. In no time at all, we are cruising down the river at 50mph. The boat moves so effortlessly in it's journey, it is as if it were sliding across the top of the river.
We round Moccasin bend, keeping up with the cars paralleling us on the highway. Grace continues to dispense with tidbits of local Civil War history, as well as geological pasts of this area.
Everyone is caught off guard by our first sudden stop. "Whoa!" is heard in unison from everyone on the boat, as we lurch forward. A wall of water splashes across, replacing the previous view out our window. From a cruising speed of 50mph, the River Gorge Explorer comes to a complete stop in under 6 seconds; less than two boat lengths.
After a quick readjustment of his bearings, my 4 year-old exclaims, "That was sssooo cool!"
Off we go again, up to speed in no time. As we round a corner, a small fishing boat enters our view with haste. The Captain executes another stop. We handle the second sudden stop like old pros, and greet it with exclamations of "Woohoo!"
In no time at all, we reach our destination in the Tennessee River Gorge. With a slow plodding speed assumed, we are invited onto the top viewing deck area. Layers of time can be seen on the sheer rock cliffs to our right, while a small farmhouse style residence flanks our left, as if it were pasted there from a postcard.
Grace takes her position up top with us, bringing topographical and nautical charts to explain the gorges place within the Tennessee River Blueway. She also directs our attention to the appropriate side of the boat as we pass local residents of the area- deer, ospreys, and herons. As part of her arsenal, Grace has special commemorative stickers to give us should we be lucky to spot a bald eagle on our trip.
While our time in the gorge does not produce a bald eagle spotting, it does afford unique views not seen by any highway or readily available pedestrian walkway.
As our time in gorge comes to an end, the setting sun bids us farewell. Dancing wisps of clouds mix with a tie-dye pattern of pinks, blues, purples, and the retreating orange. One last gaze upon the gorge, and we descend the stairs to our seats inside the cabin.
Expecting to launch back to top speed at any moment, one of the crew approaches us to say that Captain Pete has invited our family to view the pilot house. Located in the middle of the cabin, towards the back, we are ushered through a small door leading to a short, steep set of stairs. The pilot house is much smaller than I imagined. Leather seats, a giant radar, and an unobstructed view of the river dominate this cockpit-like environment. Captain Steve slips out of his seat and invites Munchkin to take his seat next to Captain Pete. "Mommy, look at that giant radar! Is this what an airplane looks like?"
With my Munchkin's day now completely made, we express our sincere thanks and find our way back to our seats. Once again, Captain Pete and Captain Steve send us smoothly, but swiftly through the Tennessee River, back to the Chattanooga Riverboat Pier.
Thinking our adventure is winding down, we are once again invited topside as we slowly cruise in towards the pier. Captain Pete surprises us with an unexpected finale. With us all topside, including Captain Pete, our catamaran is going to do 360 degree spins in the water via remote control.
Originally hesitant to what is about to happen, Munchkin gives over to elation as I hold him with one arm, and the railing with the other. In what is logically unnatural for a boat of it's size, the River Gorge Explorer seems to spin on a dime, thanks to propulsion from the water jets. Our view changes from the pier, to downriver, to riverbank, to the Walnut Street Bridge, and back to the pier.
A short taxi of the boat back to the dock, and it is time to disembark. Munchkin refuses to leave without saying his goodbyes to Grace and Captain Pete. Somehow he even manages to angle himself for a hug from Grace, and she gifts to him a special sticker.
Munchkin walks hand-in-hand with Grandpa up the ramp of the pier. Within a few minutes we cross the road, round the corner of the block, pass Mellow Mushroom, and are standing waiting for the Downtown Electric Shuttle.
A quick ride back to our hotel, and our first day of adventures is complete. With no car needed once arriving, we truly immersed ourselves in the moment and each other.
What will Day 1 of your Chattanooga family adventure look like?
More adventures only a short walk from the Downtown Electric shuttle stops:
-Investigate the wonders throughout the Tennessee Aquarium
-See a movie at the IMAX 3D theater
-Splash in the water features around the aquarium
-Dig for dinosaur bones at the Creative Discovery Museum
-Explore the Bluff View Arts District
-Play at Coolidge Park and eat a homemade waffle cone with ice cream at Clumpies
-Ride the Chattanooga Ducks
-Walk the Walnut Street Bridge
-Cheer at a Chattanooga Lookouts' baseball game
Other Voices you might like