Biking Around Ireland
Gorgeous landscape to cycle through, photograph by Cycle Holiday Ireland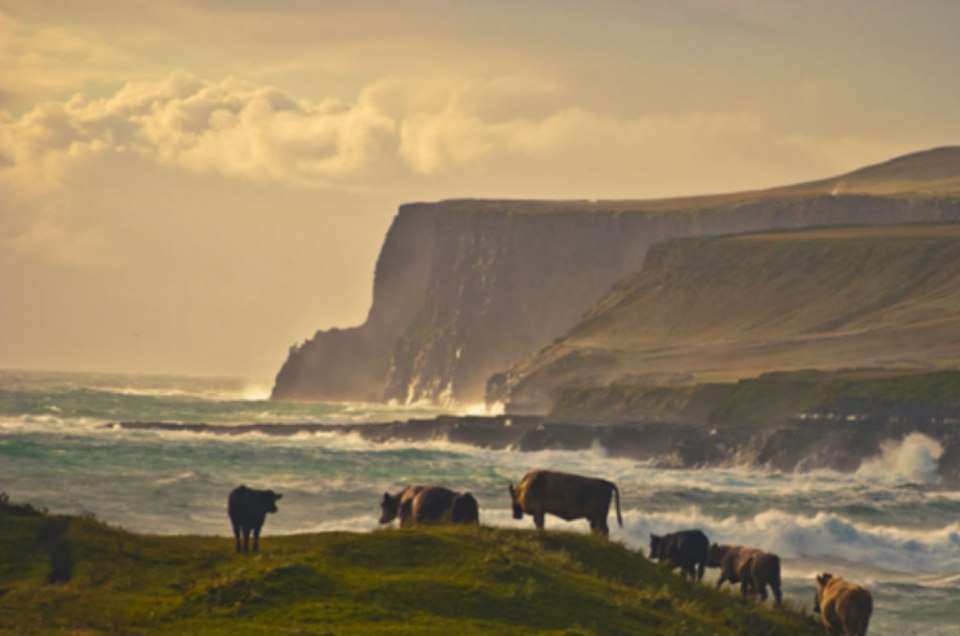 Gorgeous landscape to cycle through, photograph by Cycle Holiday Ireland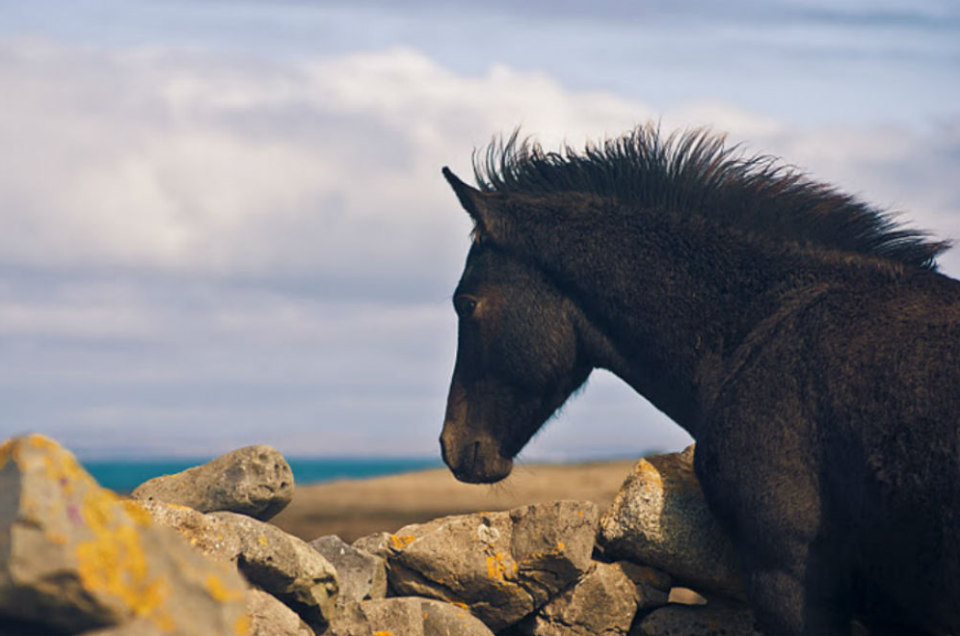 Aramian horse, photo by Cycle Holiday Ireland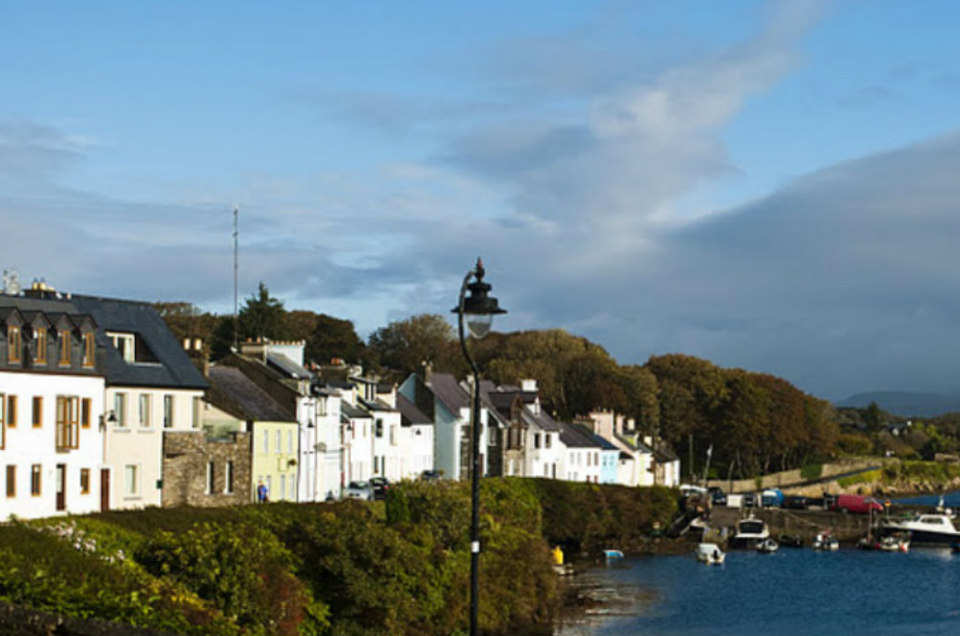 Majestic town view, by Cycle Holiday Ireland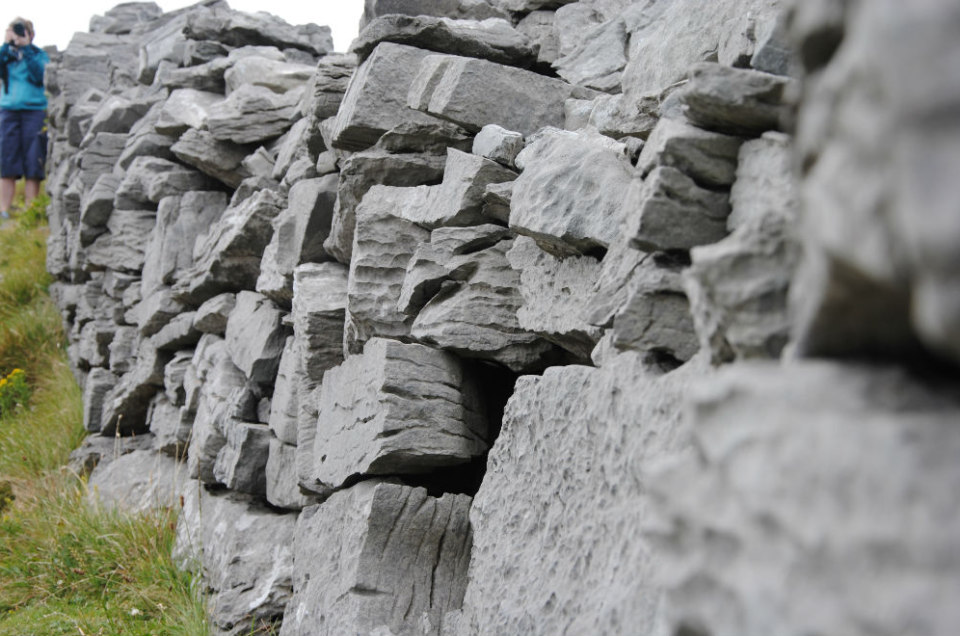 Stone walls, photo by Cycle Holiday Ireland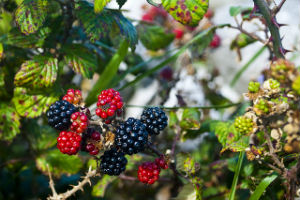 Wild berries, photo by Cycle Holiday Ireland
Wrapping up, photo by Cycle Holiday Ireland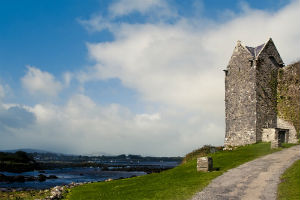 Long winding road, photo by Cycle Holiday Ireland
The west coast of Ireland is perhaps the most visited and certainly the most photographed. There are the charming fishing villages and lively pubs, the craggy coasts, massive cliffs and pastoral landscapes. I had seen such idyllic backdrops gloriously depicted on chocolate boxes and on postcards my friends mailed me during their trips. Finally, it would be my turn to fulfill idealized visions of Ireland, but up close and for real.
"The weather's improving, so it is," noted our tour guide, Jon Heagney, in the local parlance before whisking us out of Ireland's Shannon airport and into his van. I am part of a small group of eager cyclists who, over the course of five days, get to explore Ireland's western countryside on two wheels—not to just see the scenery but actually become part of it.
After dropping off our bags at the hotel and grabbing a quick breakfast, we set off on our first ride through farmlands and narrow roads in the rolling hills of south Clare. There's a thick fog and the damp air predictably turns to rain—what did you think makes it the Emerald Isle?—but we're certainly ready for it thanks to Cycle Holiday Ireland's detailed packing tips, which advised us to bring bright colored cycling jerseys, two pairs of sneakers just in case one gets wet, a waterproof jacket and basically waterproof everything.
That evening, after a much-needed hot shower and a short nap, we reconvene with Jon for a merry (albeit slightly Disney-esque) medieval banquet at Bunratty Castle, a beautifully restored stronghold built around 1425 that's located within the grounds of the Bunratty Folk Park, where 19th century Irish life and traditions are vividly recreated in a rural setting.
Once ruled by the O'Briens (kings and later earls of Thomond or North Munster), the castle features a splendid Great Hall decorated with French and Flemish tapestries and an oak dower-cupboard that dates back to 1570.
The Butler and Ladies of the Castle serve us a simple but tasty meal of soup, homemade brown bread, roasted chicken and, you guessed it, potatoes—all of which we're encouraged to eat with our hands (didn't the Earl have silverware?). During the meal, the Ladies entertain the crowd with jolly songs, which many seated around us join in on, accompanied by violin and harp. "I'm sure you all know the words to the next song. And as much as you'll be tempted to join in, please don't," warns the butler with a wicked smile, gesturing towards the dungeon. Of course, everyone knows just what song he's referring to before the ladies even open their mouths. "Oh Danny boy, the pipes, the pipes are calling, from glen to glen, and down the mountain side." That night back at the hotel I dream of the (hopefully) not too steep mountainsides we will be riding in the coming days.
Every day, before mounting our bikes, Jon presents us with the day's route map—laminated so as to survive the inevitable wind and rain—that we attach to our handlebars for easy inspection. The plan for that crisp morning is to cycle from Doolin, where Jon's bus drops us off so as to avoid some massive climbing, to the fishing village of Ballyvaughan, an easy 18-mile ride along the craggy Atlantic coastline. "This will be a lovely ride, so it will," Jon says.
It's hard to argue with National Geographic's assessment that Ireland is "probably the most beautiful place on earth." Slowing down (way down, unless your name is Lance) to the Irish pace is inevitable on a bike. Cycling at a steady velocity of, oh, 20 miles an hour, I see the Irish clichés of postcards and movies come to life right in front of my eyes: An ewe rearing her young in an emerald field brushed with rain; the sound of a fiddle streaming out of the open window of a seaside cottage; the warm glow of a turf fire inside a lively pub where fishermen are laughing over a "pint of plain" (aka Guinness).
An early highlight of the trip is a visit to the majestic Cliffs of Moher. Towering an impressive 755 feet above the crashing waves below, the Cliffs offer amazing views—indeed, this spot is the Ireland's most celebrated feature of the Irish coastline. Hundreds of tourists line up at the edge of the cliffs, waiting for a travel companion or perfect stranger to capture this Kodak moment. After taking a group shot, Jon directs our gaze towards the hills of Connemara and the Aran Islands in Galway Bay, two places we will cycle through in the coming days.
On the way to the ferry the next morning, Jon gives us the option of leaving the bikes behind. Our destination is Inis Mor, which at eight miles long by two miles wide is the largest of the three Aran Islands. Described as a timeless place where unique geology, colorful language and centuries-old traditions meet, the island, everyone in the group decides, is probably best explored by bike. To avoid the crowds once we get there, Jon suggests we ride straight to Dun Aenghus, a prehistoric stone fortress atop a massive cliff that was once believed to be the most westerly point in the world.
We ride on tiny roads that meander through patchwork fields, where sheep and cows graze silently behind winding stone walls. Everywhere we look are large rocks of various shapes carefully stacked on top of each other to create fences. Instead of gates, the pasture walls have "Aran gaps," stones stacked at different angles to allow farmers to easily dismantle and rebuild the wall to let their sheep and cattle through. There are more stones than earth in the Aran Islands and in awe I ponder at the resilience and resourcefulness of its inhabitants.
I cycle past many small shops and private homes that advertise affordable hand knit sweaters. Even to this day, fishermen wear sweaters knit in a special family pattern so that, should the man be lost at sea, the sweater on his back could identify the recovered body. I try on many and finally settle on a beautiful heather gray cardigan that I find at the Aran Sweater Market. That evening I wear it to the local pub, where we order two (or was that five) rounds of Guinness and listen to a very good local band.
Oscar Wilde once wrote, "Connemara is a savage beauty." So it is. Cycling through the Maum valley, we arrive at Leenaun, a small village with colorful pubs and shops cozily located at the head of Killary Harbor. After a quick visit to Kylemore Abbey, a gothic castle at the edge of a lake surrounded by woodlands that is home to Benedictine nuns, we get back on our bikes and continue on through the Inagh Valley. Hidden between the Atlantic Ocean and the mountains of Connemara, the valley is an ethereal place where the mood and tone is continually changing thanks to the shifting light, the resonance of the wind and the rays of sun bouncing off the cobalt lakes.
On our last day, we begin the cycling at Clifden, one of the last towns to be built in Ireland, and on through Connemara's bogland. This mesmerizing treeless tapestry, shaped by several glaciations over 700 million years, is dotted with sweeping lakes, undulating hills, a grandiose mountain range known as the Twelve Pins and ancient relics—stone arches, round towers, dolmens, crannogs—left behind by the Bronze age people. During turf cutting in recent times, the remains of ancient tombs have been discovered under the bogs, which continue to grow to this day.
Not a single car, or cyclist, passes me for about 10 miles. Did I miss a turn somewhere? I look around and all I see is the heavy-eyed sheep, grazing lazily in the emerald valleys. There's no one to ask for directions and, unless it says "turn right at the sheep," my laminated map is useless to me. I hear a van driving up behind me just as I am reaching for the cell phone in my backpack. It's Jon come to rescue me.
That night after dinner, we listen to another great live band playing traditional Irish music at King's Pub, one of the oldest in Galway City. We're all looking at Connemara photos on each other's digital cameras but we're not distracted enough to hear the barman announce last call. I rush to the bar to order another round while a return trip to Ireland tickles my thoughts. A pint of Guinness in an Irish pub tastes better than one anywhere else, so it does.
Other Voices you might like