Chicago to Canada or Bust: Cycling to the Border, and Staying Alive
Almost there, photo by Kate Silver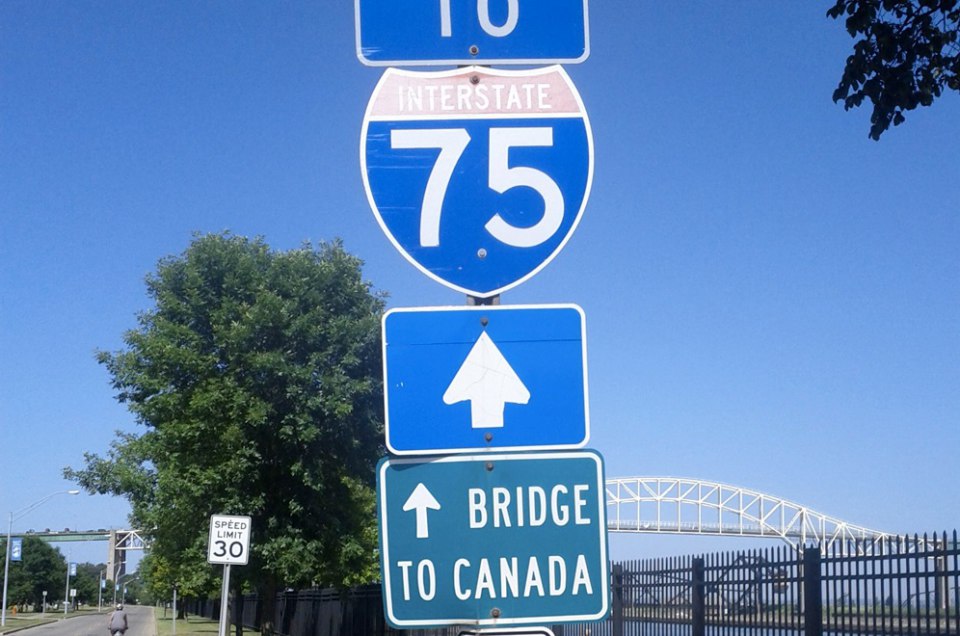 Almost there, photo by Kate Silver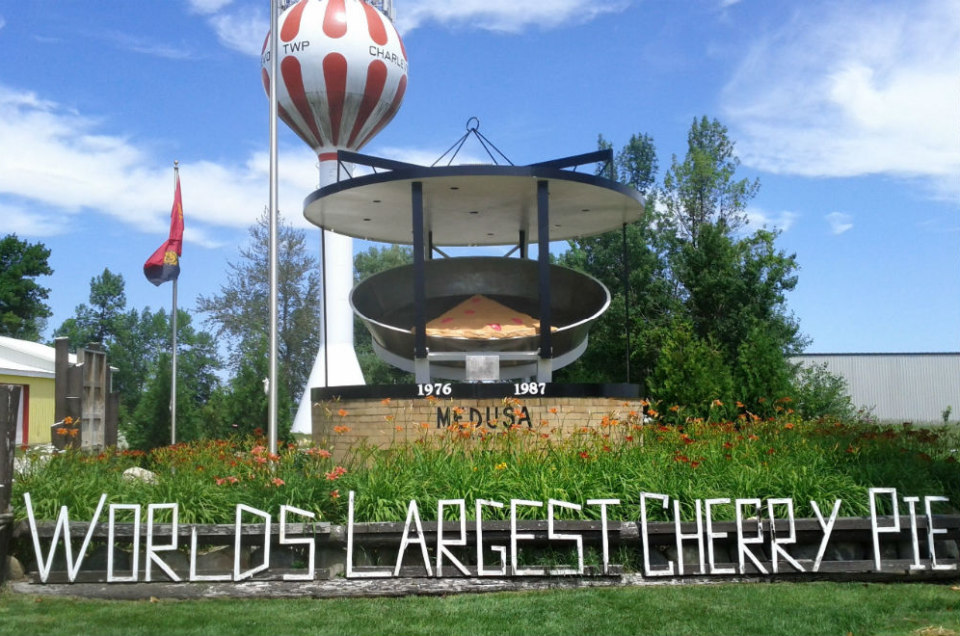 One of the various biggest things in the world seen on the road to Canada, photo by Kate Silver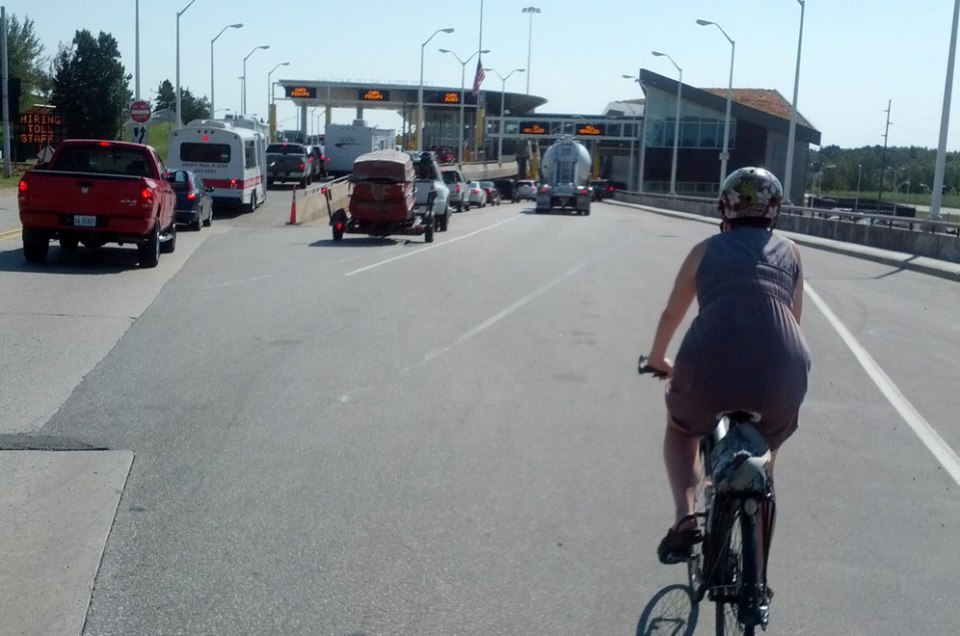 Riding towards the border checkpoint, photo by Kate Silver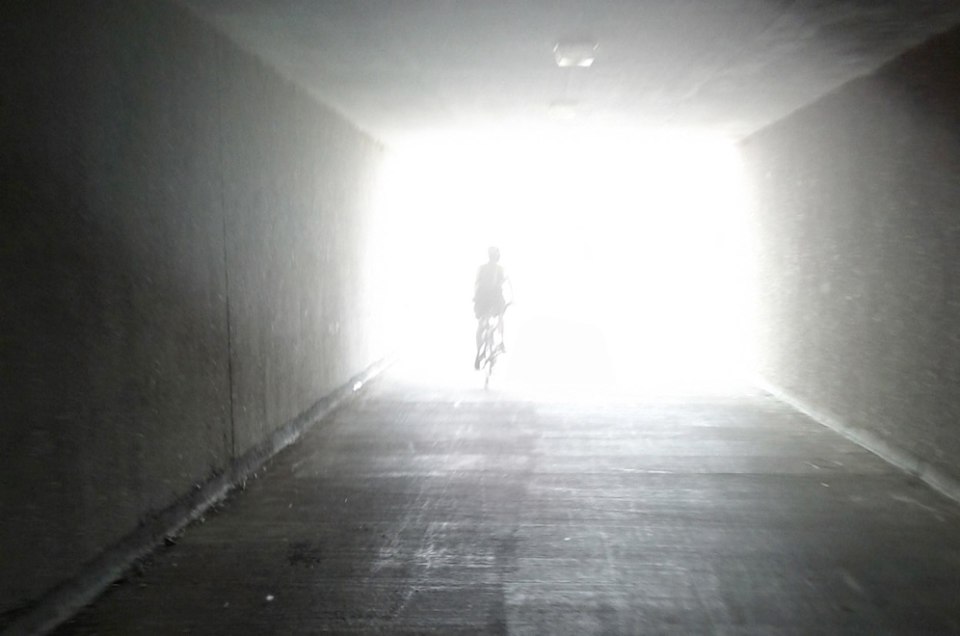 Light at end of tunnel, photo by Kate Silver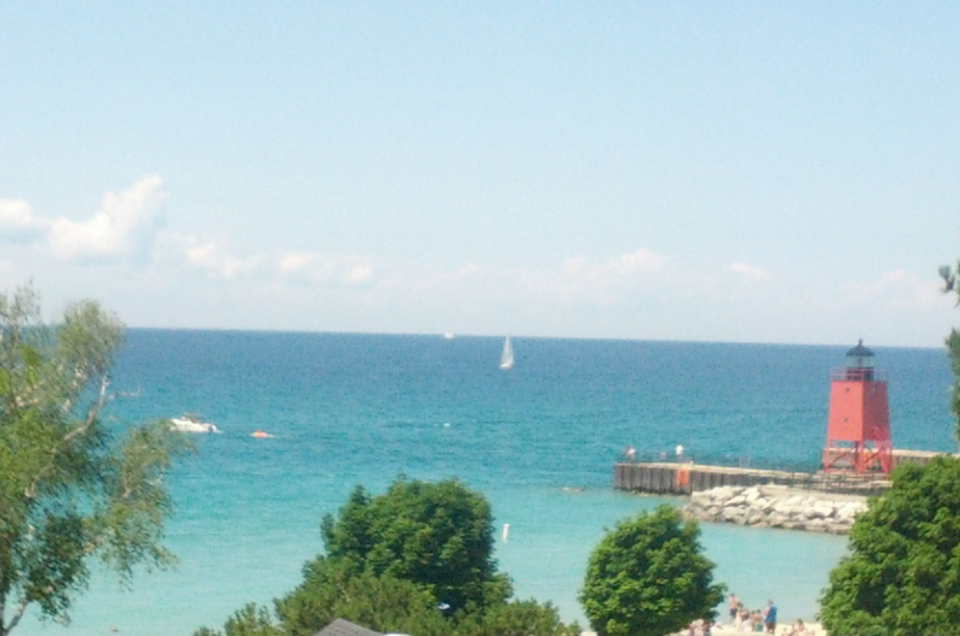 Charlevoix view: Along the way, Lake Michigan has moments where it looks like the Caribbean (pictured here, Charlevoix, Michigan)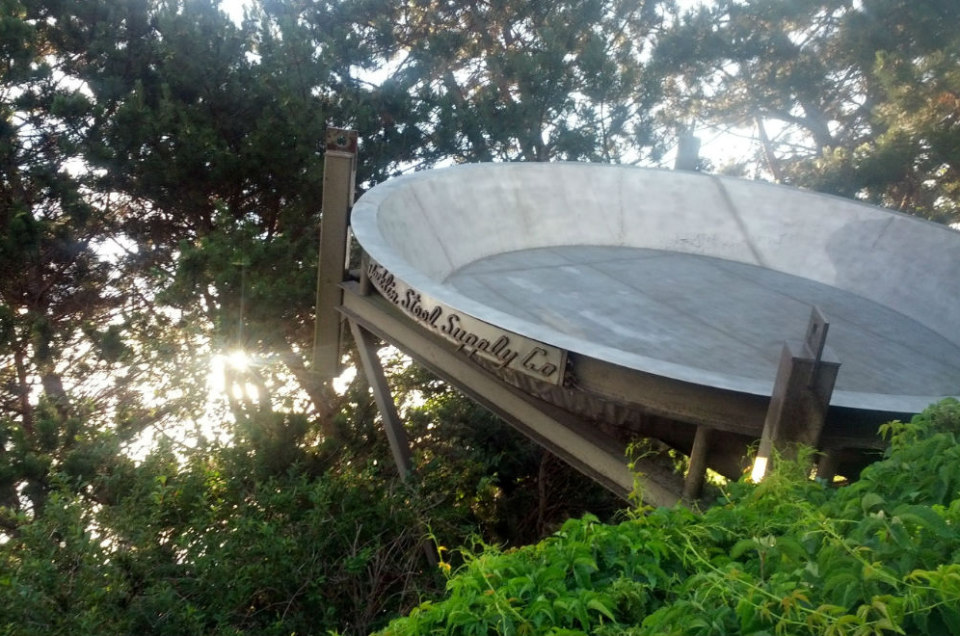 World's biggest pie pan, photo by Kate Silver
In the wee morning hours of July 5, it's surprisingly quiet in the emergency room of Aurora Sinai Medical Center in Milwaukee, Wisconsin. One somber man drags an immobile foot behind him. A skinny kid proudly gazes at his arm, newly minted in a cast. A booming giant of a man and his giantess of a partner inform the nurse, over and over, "He got hit in the head!" Normally, the midnight circus would put me on bemused alert. But right now, as I struggle at moments to remember my partner's name, I'm in no real shape to absorb the chaos. I do know this: As vacations go, this is not the best way to end the first day.
The conversation began about three years ago, soon after I moved to Chicago and met Neil. "I've always wanted to cross the border into Canada by bike," he said, nonchalantly. He was an avid cyclist. I was not, and did not take the statement quite so nonchalantly, as I sputtered aloud, "If that's your dream, I might not be the right person for you."
Time passed. Our relationship grew. I began riding one of his bikes around Chicago, and eventually my white-knuckled grip turned to a more of a flesh tone as I acclimated to the traffic and seemingly constant threat that comes with biking in the city. After buying a bike of my own off Craigslist, I psyched myself up to participate in the 150-mile, three-day charity ride that Neil took part in. It wasn't nearly as bad as I thought it would be, and, somewhat committedly, I purchase a new, higher-end bike. Slowly, I began eschewing the train and, often, the car for the bike.
It took two and a half years before his words crept back in my mind. Around February, I began visualizing us crossing the border, into Canada, passports in hand, dewy lens on camera, capturing the romance of the moment, our tight, tan legs flexing under biker shorts for the photo op.
I thought of us riding along country roads, through the farmland of Michigan, past apple orchards and peach trees, frolicking in front of the world's largest cherry pie pan, as we made our way toward the Canadian border. "Maybe we should ride our bikes to Canada this summer," I brought it up nonchalantly. Neil's eyes widened. His whole body seemed to wiggle into a grin. And the plan began to take shape.
Within 30 minutes, a nurse calls my name and guides me to a bed. "I heard you rode your bike 60 miles today," she tsked, looking down her nose at me. "What were you thinking in this heat?" Businesslike, she sticks a needle into me and takes my blood. I make no argument.
July 4, 2012 was record-breaking, foot-searing, egg-fryingly hot, throughout the Midwest and all across the country. But after months of training and planning a route, right down to the tenth of a mile, the one phrase that never entered our minds was "alternate plan." So as Neil skeptically waved off weather reports, and I fixated on slight possibility of a momentary cool(ish) front rolling in in time for the holiday, we both kept telling ourselves, "We're headed north. We'll be right by Lake Michigan. It'll be fine."
On our way out of town, we posed for photos in front of Wrigley Field, symbolically marking the start of our journey. "It is hot," said Neil. We were already red-faced and sweaty, and we'd only biked a mile. "It's perfectly cool," I huffed, in sheer denial, as I slurped the already warm water from my CamelBak.
Our crushed white limestone bike path was like a sun sponge. I stared at my bike computer, convinced it was broken. Eight mph. Nine mph. On a good day, we can carry a pace of at least 15 mph and not break a sweat. Here we were in the single digits, trying not to hyperventilate. "We can always get a one-way car rental if we need to," said Neil. I scoffed. We'd been planning this for months. A little heat wasn't going to stop us.
That nurse won't let up. "You know, you're supposed to drink six to 10 cups of water a DAY on a normal day," she admonishes. Neil lists the beverages we've consumed that day, and between Gatorade and water, we're at nearly 600 ounces. She's unimpressed. "How are you feeling?" she asks Neil, who is sunburned and exhausted. "I'm drained, but ok," he says, sheepishly. She kindly gives him a cup of water. We joke that it will add $100 to the hospital bill.
The route blurs together from Kenosha, Wisconsin to Racine, Wisconsin. Subway here, Burger King there. We eat a little and drink a lot—Gatorade, Icees, strawberry lemonade, water, blessed water. Few people are out on the streets, because by now it's 102 degrees. A splotchy rash begins to appear on my legs. I shrug it off. We're almost there. We'll be fine.
When we make it into Milwaukee, around 6 p.m., we both catch a second wind. Finally, temperatures are dropping into the low 90s. There are buildings to look at, people are out and about. We made it!
It's not until we've showered and left the hotel for dinner that it really starts to hit. Facing a 30-minute wait at Rock Bottom Brewery, we sit at the bar, and I start to lose it. I'm dizzy. Then nauseated. I walk outside for fresh air. Unsteady, I suggest we get our food to go.
My legs start shaking as soon as we get back to the hotel. I try to eat my food, but can't get more than a nibble down. I take a warm bath. Around 9 p.m. we decide that a good night's sleep is probably all we need.
I awaken at 1 a.m., sick to my stomach. After crawling back into bed, my legs start shaking again, and I begin to panic. The same thought keeps repeating itself: I've ruined our vacation. Could we really call the ride off and slink home, defeated? And if we did so, could our relationship withstand it? Could I carry that kind of guilt? My legs start shaking harder, rumbling the bed. I tap Neil. "I need a doctor," I whisper.
The doctor is much kinder than the nurse. He explains that my sodium levels are very low—so low, in fact, that ordinarily they would admit me. "Hyponatremia," he diagnoses.
Because I'd been on a long bike ride in such heat, he chalks it up to a combination of heat exhaustion, too much water and not enough Gatorade. Two IVs later, my brain is starting to de-fuzz and my sodium levels go up slightly. The doctor, still concerned, asks what we plan to do with the rest of our vacation. To assuage him, I say we'll rent a car and figure it out. But really, I have no idea what we're going to do.
While we'd planned a seemingly footloose and fancy-free trip, it's suddenly beginning to feel quite the opposite. We have hotel reservations for each night, ferry tickets across Lake Michigan and plane tickets from Sault Ste. Marie, Michigan to Chicago in 10 days. Temperatures for the next two days are going to be in the 100s. We're both freaked out—scared about my health, unsure of this trip, saddened by the prospect of cancellation. We decide that we'll spend an extra night in Milwaukee and then decide what's next.
The next morning, we're both feeling more optimistic. We look at multiple weather forecasts. We study our route. We realize that if we can find a one-way car rental and drive to Traverse City, Michigan, where we have a two-night stay booked, we'll ride out the heat wave. By the time Monday brings 70-degree temps, we can hop back on our route and continue on our bikes, according to plan.
After ferrying across the lake to Muskegon, we pick up our rental car and make it to Traverse City in just a couple of hours. Located right on the shores of Lake Michigan, the pristine beaches and views are postcard-worthy. The bike racks are brimming with bikes (giant, bright, beach cruisers with thigh-thick tires) and the town has miles and miles of bike trails throughout (aka the TART Trail). We ride our bikes downtown and stop at the first brewpub we find, savoring local beer, local fish and chips and a local burger. It's hard to believe that just 36 hours ago, our outlook was so grim. From here, all we can see are possibilities.
As we bike the 250 miles a head of us, we see the world's two largest cherry pie pans, a tiny church with only four pews built to give rest to travelers, mushroom-shaped houses and a taxidermy museum, along with endless lake views, an array of amazing food, beers and characters. We also spend two days longer than we should have in a tiny Michigan town, eat far too much ice cream and go on one too many ghost tours (i.e. for a total of one ghost tour). On our last day, we cross the border, by bike, into Canada. It's not exactly the romantic crossing that either of us expected—picture a three-mile bridge with no bike lane, dominated by large vehicles pulling trailers, with a dagger-eyed customs agent waiting at the end of it to grill you.
We came out of it with a renewed strength. Yes, we'd put in a lot of miles on the bike and could certainly flex those strong legs. But more than that, we'd overcome extreme heat, stared into the face of near-disaster, averted that disaster, and made the best of every possible moment. In the end, it seemed silly to think that physically crossing into Canada would actually be the pinnacle of the trip. A three-mile-long international bridge is, after all, just another slab of concrete. It's the roads leading to and from that bridge that give it meaning.
Other Voices you might like