Fun and Funky Shopping in Lunenburg
Melanie Strong, owner of Dots and Loops Handmade, photo by Lola Augustine Brown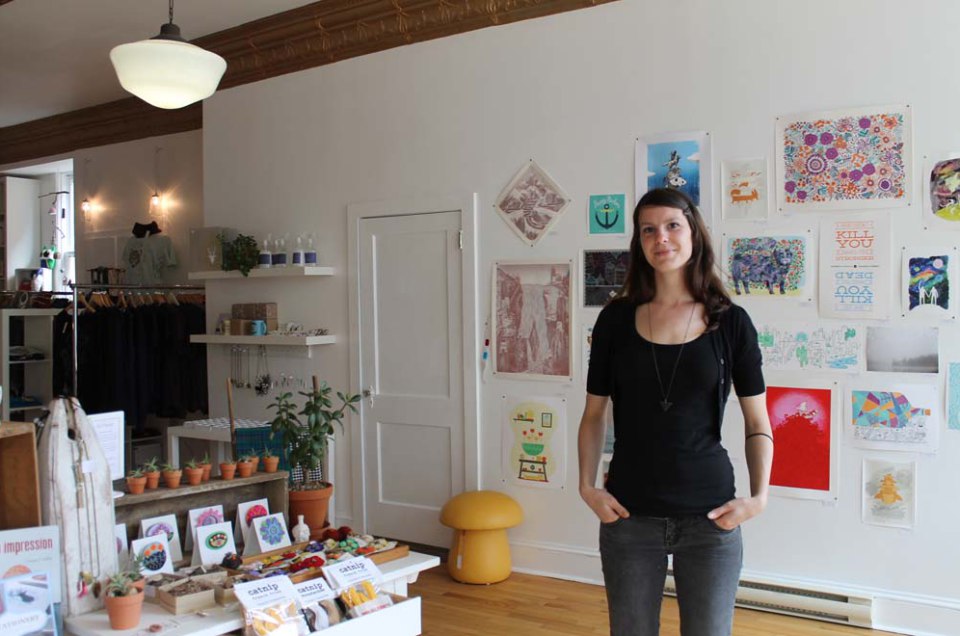 Melanie Strong, owner of Dots and Loops Handmade, photo by Lola Augustine Brown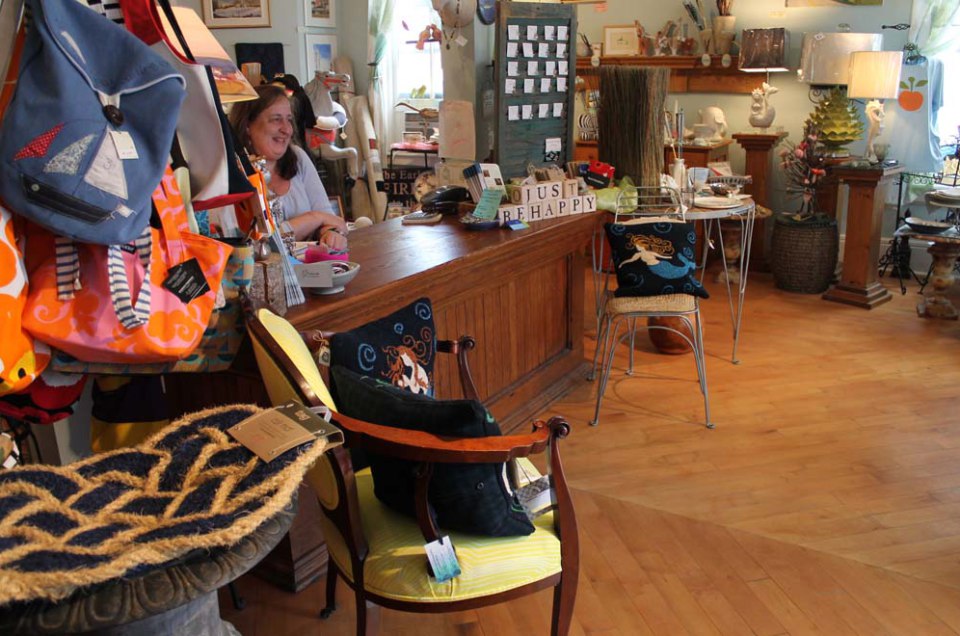 Jenny Burwell amongst the goodies at her store Jenny Jib, photo by Lola Augustine Brown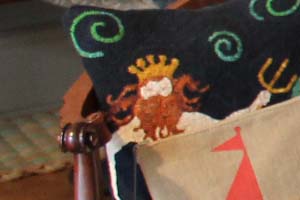 Hand hooked cushion at Jenny Jib, photo by Lola Augustine Brown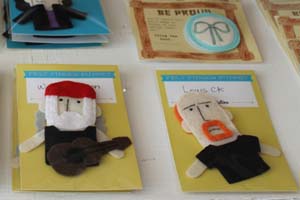 Louis CK finger puppet at Dots and Loops, photo by Lola Augustine Brown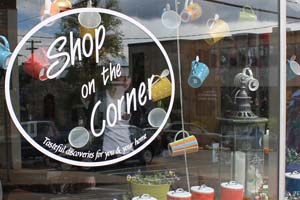 Shop on the Corner window display, photo by Lola Augustine Brown
A UNESCO World Heritage Site, Lunenburg is a gorgeous fishing town on Nova Scotia's South Shore that draws many visitors. They come to see the historic Bluenose II tall ship, visit the Fisheries Museum, eat great seafood, or check out the gingerbread style houses and churches. In the past few years however, downtown Lunenburg has become a really hip place to shop, with lots of new indie stores opening up and offering lots of unique finds that make it worth visiting for the shopping alone.
Here's a list of neat stores that you should seek out there:
Dots and Loops Handmade (183 Lincoln Street) features beautiful handicrafts sourced locally and from further afield. Here you can pick up original artwork and prints, clothes, jewelry, stationary, kids stuff, and whatever else owner Melanie Strong deems cool enough to bring in (such as a line of finger puppets portraying comedians, including Louis CK).
Jenny Jib (174 Lincoln Street) is crammed full of excellent stuff for your home and garden, as well as cards, artwork, and beautiful children's goods and clothes. A mix of locally crafted/ handmade items and thoughtfully curated higher end products (such as Marimmeko fabrics from Finland, which have also been used to reupholster an antique couch that is for sale in the store). Whether you're looking for a designer plate, or a hand hooked rug, you'll love this store.
Shop on the Corner (263 Lincoln Street) is home to the Laughing Whale Coffee Roastery and if you are a coffee lover, then you really should pick up a bag to take home with you as it is very good indeed. You can also have a cup there in the café, or grab a bite to eat, and then browse the foodie products and high-end kitchenware that they sell there.
Ironworks Distillery (2 Kempt Street) is an artisan distillery, where every one of their delicious hand-crafted liquors is made one batch at a time from the same still. Because it is such a small operation, when we visited the staff were apple to tell us that the apple brandy (so yummy!) was made from russets, our favorite apples, so of course we had to buy some. They also sell rum, vodka, and an ever changing selection of fruit liquors. The packaging is beautiful, and so their booze makes excellent gifts to take home with you.
Cilantro (3 King Street) is a really good shop for those who cook. You can get everything from posh Japanese knives to cute cookie cutter sets to cast iron pans and everything in-between.
Lunenburg Makery (228 Lincoln Street) is a sweet little space where you can rent sewing machines, take craft lessons, or buy nifty craft supplies. It is a little niche, but if you are the type that kills hours browsing on Etsy, you'll love this place.
Laurie Swim Quilt Gallery (138 Lincoln Street) showcases the amazing work of art quilt maker Laurie Swim, and even if you can't afford to drop thousands of dollars on one (these are not your grandmas quilts) you could pick up prints of her work, or postcards, and admire what is on display.
Other Voices you might like