Budapest: The Capital Of Spas
The aristocratic Gellért baths. Photo courtesy of Hungary Tourism.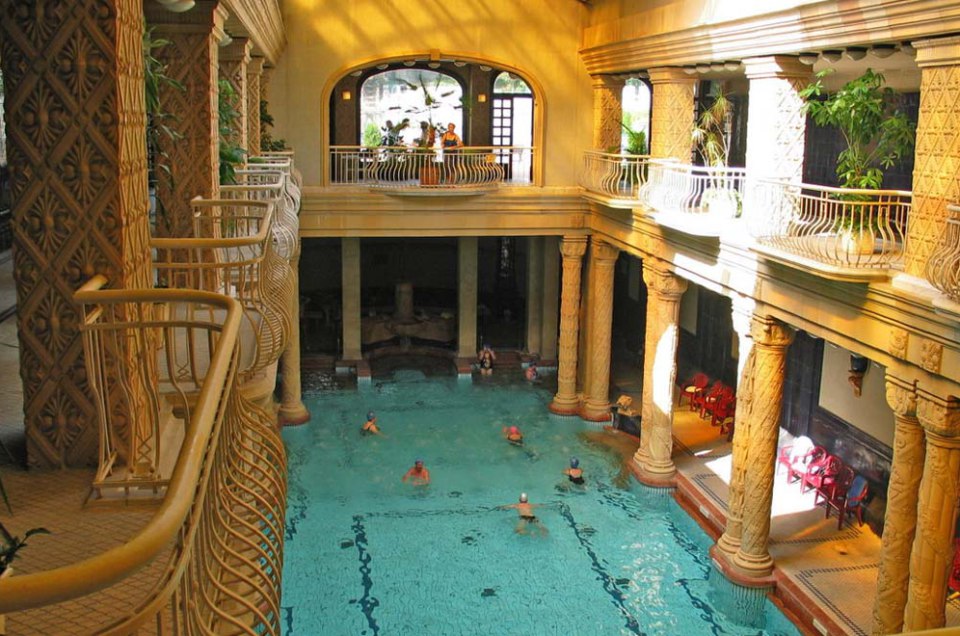 The aristocratic Gellért baths. Photo courtesy of Hungary Tourism.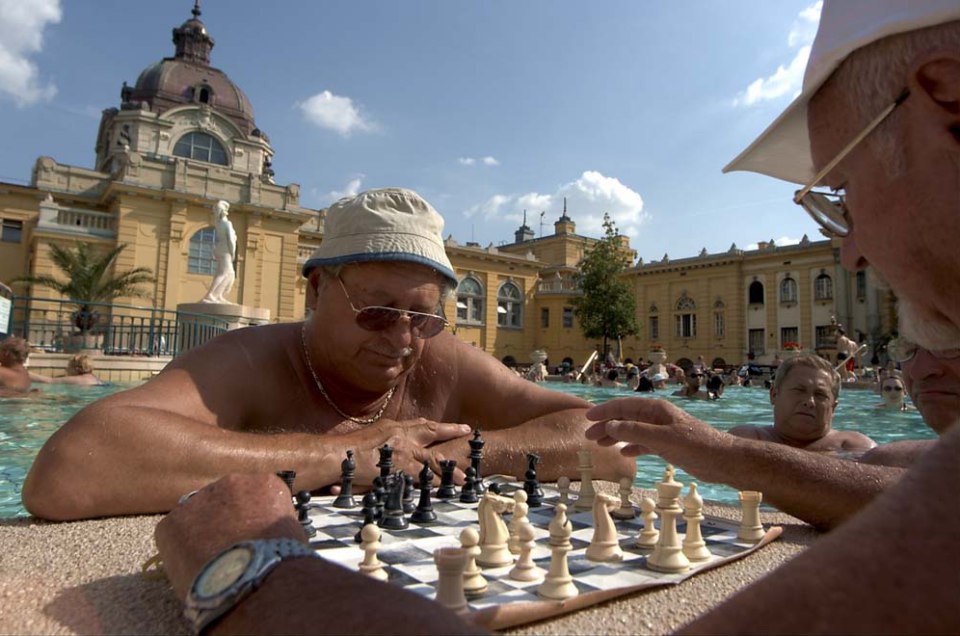 There are outdoor baths to enjoy too, such as Széchenyi, and they are a way of life for locals. Photo courtesy of Hungary Tourism.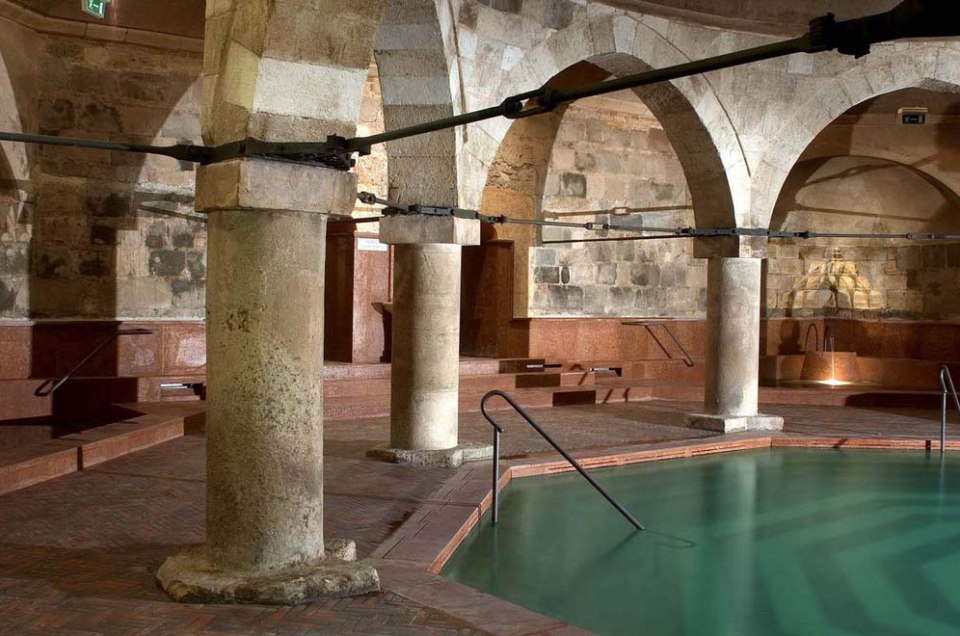 Stepping into the baths, and back through history. Photo courtesy of Hungary Tourism.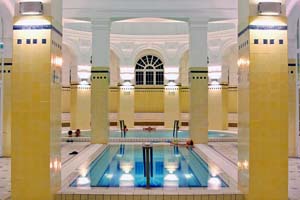 szÇchenyi interior. Photo courtesy of Hungary Tourism.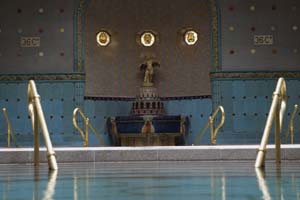 Gellért baths detail. Photo courtesy of Hungary Tourism.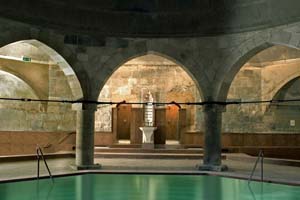 Rudas detail. Photo courtesy of Hungary Tourism.
Do you know the nightmare you have sometimes before you get up? The one when you are totally naked in a plush hotel? You walk through the ruby-carpeted corridors and turn corners heart-in-mouth in case a granny emerges from her room and lays her astonished eyes on your manhood? (And women have many more spots to protect!)
Well, this is it and it's not a nightmare. It's real life. I am in the Gellért Hotel, one of the top luxury hotels in Budapest, and I'm totally naked except from a small white apron that barely preserves my modesty at the front, while the strings tied around my waist leave my behind mooning over the – you guessed it – ruby-carpeted corridors.
I'm heading towards the famous Gellért Baths, but there were no locker rooms in 1918, when they opened. My clothes are in the small wardrobe I left behind, overseen by what I presume to be a valet, and I have to cross a high-ceilinged, fin-de-siècle foyer with my bare feet barely tousling the thickly-woven carpet yarn. And there is nothing, how shall I put it, wet in sight. Where are the baths for goodness' sake?
I look to the valet behind me in desperation. He points at a double door three times my size in front of me. It's closed. With trepidation I turn the handle. If this is a nightmare, I want to wake up now, before I barge bollock-naked into a conference amphitheatre and every delegate turns my way and points at me.
The humidity gets me before the spectacle: for I am, indeed, in a soaking, dripping chamber and, while thankfully dozens of men in similar white aprons ignore me, it is my jaw that drops to the ground.
The Gellért baths stand in front of me in all their Art Nouveau brilliance: marble floors, glass roof, golden fittings, carved columns, exuberant statues and glazed mosaic tiles stare back at me with aristocratic disdain: if you are overtly impressed, you are not worthy..
The Gellért Baths, while architecturally the most dramatic, are just one of a series of baths in Budapest spanning many centuries. This is a city of spas that are based on the abundance of its mineral hot springs; you can spend a week there just popping from one to the other. Like I've done so many times.
The multidomed Király baths were built as early as 1565 and have remained authentic to their Ottoman look and feel: there is still some worn out stonework or some original rust stains testifying to their long history, though you wouldn't know from the spic-and span entrance and changing rooms. I've always thought that they are too good to be used as baths and not as a living museum.
This is an idea that has caught up in a different form in the north of Budapest: here, the relatively modern Lucács baths have been the focus of rave parties on Saturday nights, where punters don flip-flops and swimsuits, and dance to techno rhythms in and out of the pool. And in case you're wondering, yes, there's a strict code of conduct posted on the premises.
During the summer the parties move downtown to the neo-Baroque Széchenyi baths, possibly the most famous outdoor lido in Hungary. This is a massive outdoor complex – a typical Mitteleuropa kind of place, full of kids jumping into the odd sprinkler fountain, families lazying around and old men playing chess inside the pool. In high summer it is packed, so don't try to break your personal best swimming from an end to another; it was bad enough trying to breaststroke gently and accidentally slap people in the face like I did.
Finally I really must mention the Rudas baths that fight it with the Király in their claim to be the oldest in use in Budapest. Again they date from the Ottoman era, but these are my favourites, maybe because they were the very first ones I visited. I remember vividly walking into their central octagon of a Turkish bath and imagining that I entered an antique Istanbul gravure. I'm told I might not recognize them today, after they reopened after an extensive renovation. I'm dreading it.
I hear the Gellért baths have been renovated, too, and finally brought into the twenty-first century. Easily-scrubbed lino and regular bath tiles have replaced the ruby rugs in the changing rooms. The small aprons are being phased out and families are welcome in swimming suits into the central bath. Maybe I won't recognize them today either.
Or maybe they were a dream, after all.
For addresses, opening hours prices of all baths described here see http://www.budapestbaths.net
Other Voices you might like