Unplugged and Stoked in Belize
Accommodations on the Island, photo by Celeste Moure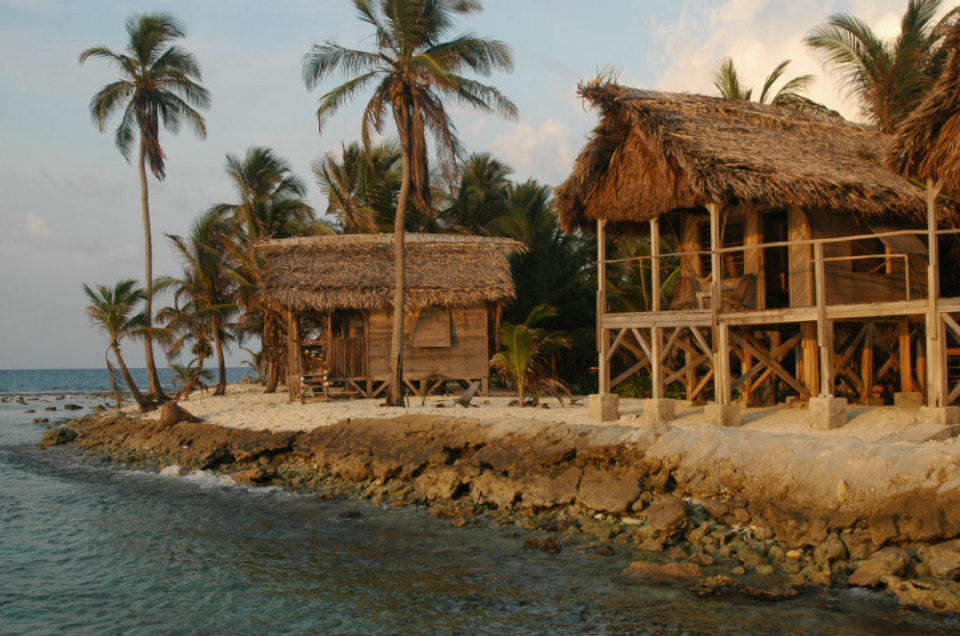 Accommodations on the Island, photo by Celeste Moure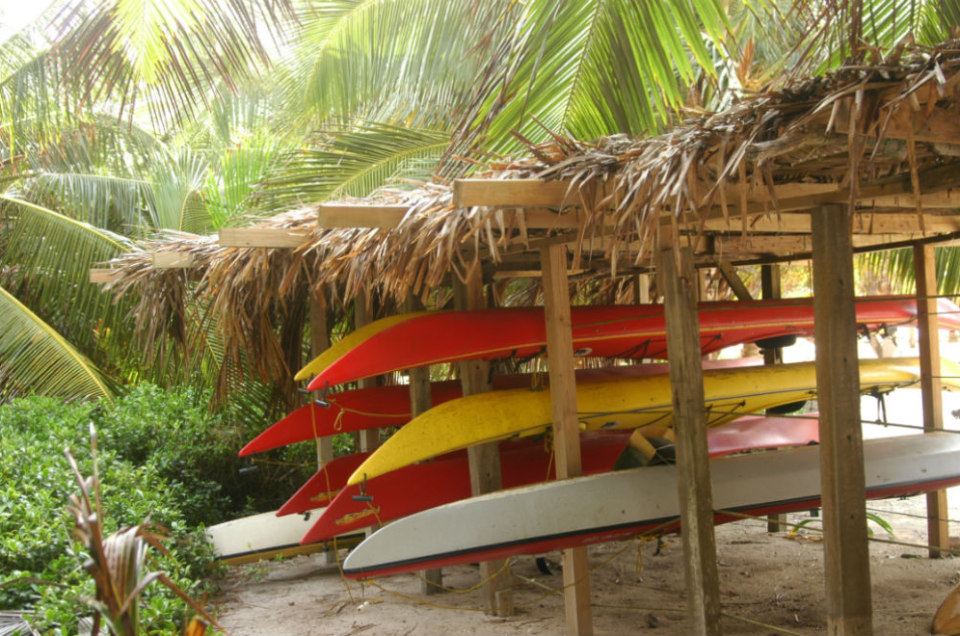 Kayaks just ready and waiting, photograph by Celeste Moure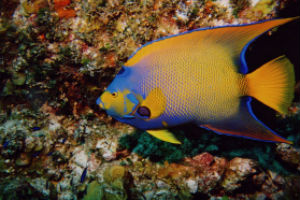 Angel fish, photo courtesy of Slickrock Adventures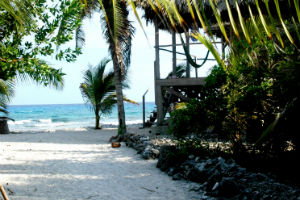 View out on to the beach, photograph by Celeste Moure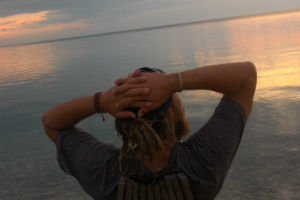 Taking it easy at Sunset, photograph by Celeste Moure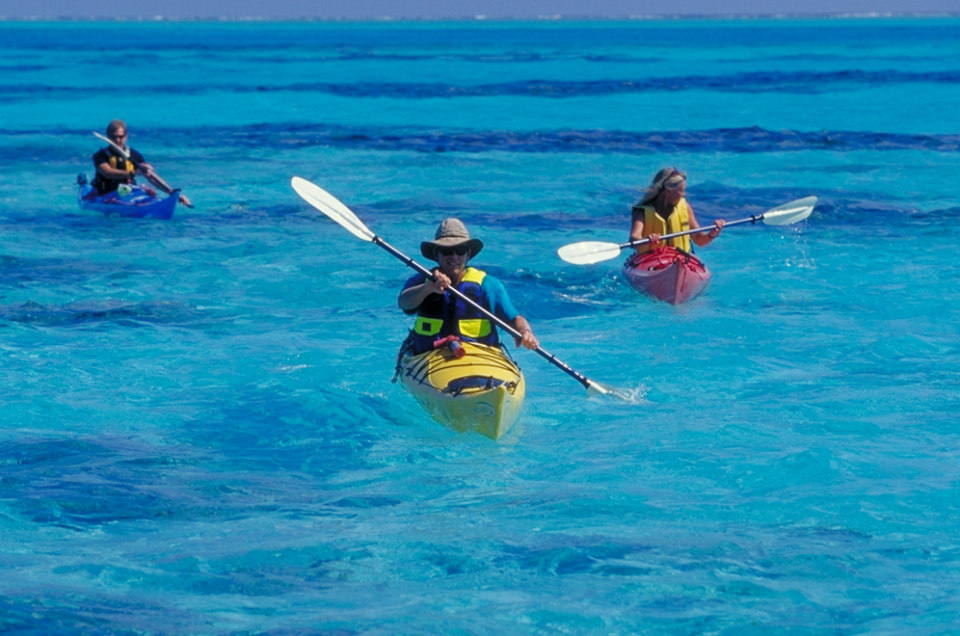 Sea kayaking in Belize, photo courtesy of Slickrock Adventures
I keep a list of things I must do before I die. High up on this list is a deserted tropical island getaway where palm trees sway on a white sandy beach and an indigo blue sky melts into crystalline waters. Problem is, I'm not the type of girl who can sit around the beach doing nothing all day. What I want is a place that offers a smorgasbord of activities ranging from scuba diving to kayaking and windsurfing. Most importantly, I want expert guides to teach me how to do all that stuff. But don't get me wrong: on this adrenaline-pumped getaway there's also room for some good old hammock time.
After some research, I discover that multi-sport vacations, which combine several activities into an action-packed journey, are quickly becoming the most popular segment of the travel industry. I narrow my search by looking for a reputable adventure company that offers trips in that most desirable of settings: a private Caribbean island. A few months later, I am among 13 other thrill-seekers who have signed up for one of Slickrock Adventures' all-inclusive packages in Belize—one that provides a nice balance between sweat, scenery and serenity.
After a bumpy, two-hour boat ride, we slow down and the island comes into focus. As if on cue, all 14 of us stop whatever we're doing: conversations come to a still, iPods are quickly turned off and we all stick our heads out the windows to get a better look. While many private islands make a lot of noise about forgetting the outside world, this one means it. To get here, you fly into Belize City then take a three-hour boat ride to Long Caye, one of five slivers of islands in an atoll and national marine reserve called Glover's Reef, 35 miles off the coast.
Long Caye has a wild and magical vibe—much like the setting of the TV show "Lost" but without those creepy "others" lurking in the jungle. Forget AC, room service and checking your email. Undeveloped and eco-friendly is the modus operandi here. And that translates to seashell-lined pathways zigzagging through coconut palms that lead to 12 two-person rustic beachfront cabanas perched on stilts above the surf and outfitted with air mattresses and a solar-powered light for night reading. The cabanas are widely scattered for optimum privacy and feature conch-decorated porches with hammocks and lounge chairs. Meals take place in a sand-floored dining hall featuring three long communal tables, a propane stove and a refrigerator stocked with Fantas and Belkin, the national beer.
After dropping off our bags in our cabanas, we waste no time getting in the water. I am surrounded by a school of rainbow parrotfish when they all dash away in a frenzy. I turn my head and am suddenly face to face with a barracuda. Neri, our native-Belizean snorkeling guide, grabs my arm and directs my attention to a spot on the sand. I'm not sure what I'm supposed to be looking at and then I notice what appear to be bulging eyes sticking out of the sand. Neri free dives to the bottom where he carefully moves the sand around and a stingray unburies itself and swims away. Back on terra firma, he lectures us on proper sand walking techniques. "Stingrays don't want to sting you anymore than you want to be stung," he says. "If you shuffle your feet on the sand, they'll hear you coming and swim off."
I take my first al fresco shower that afternoon. Pumped by the sun, the well water shower is a perfect 70 degrees and it feels wonderful. Until some of it gets in my mouth and stings my eyes and I realize that it's actually a bit salty. Back in my cabin, I sip a chilled cerveza while the sun begins to set and surrender to the fact that an itchy salt layer will be stuck on my body throughout this trip, pre- and post-shower. There's nothing more predictable than Technicolor descriptions of sunsets over smooth Caribbean waters. So I'll spare you the details. Except to say that Belize's brand of setting sun delivers a little something that other destinations don't.
The next morning, two shy but skilled Garifuna cooks prepare Belizean fry jacks and eggs with Creole potatoes. I squeeze some orange juice and sit down to eat as Victor Myers, one of our zealous island guides, goes over the plan for the day. During the sea kayak orientation we learn paddle strokes, rescue techniques and how to enter and exit the kayak while in the water. That afternoon we split off into groups; the certified divers go on their first dive and a smaller group takes a windsurfing orientation class. Meanwhile, the rest of us paddle to a nearby patch reef where we hook our bowlines to a piece of dead coral and practice exiting the kayak without tipping it. I carefully slip out of my seat and slide into the water where I struggle to don my mask and fins in between giggles and mouthfuls of seawater. "Next time, you might try putting on your snorkel gear before jumping out of your kayak," laughs Victor as I nearly choke on seawater. Thanks, mon.
Every day before sunset, guests and staff get together for some friendly beach volleyball. But after downing one too many Bilkins and rum punches we can barely keep our eyes focused, never mind setting and spiking the ball. Back in the dining hall, we grab various marine life guidebooks from the extensive library and look up the fish we encountered in the Aquarium, the aptly named reef. "If you think you saw some cool fish when you went snorkeling today, wait until you go diving!" says Jim Schofield, the dive master and zany island jester. An Arizona-native and long-time island resident, Jim has a sun bleached mop of hair, a sun-weathered face and piercing eyes the color of the sea. "People call me Lord Jim," he says with a sparkle in his baby blues. For the rest of the week, I don't hear a single person, guest or staff, calling him Lord anything.
Avid scuba divers swoon at the mention of Belize, a tiny nation with the second longest barrier reef after Australia. Named after John Glover, an English pirate who used this secluded ring of islands and coral reefs as the headquarters from which to raid Spanish galleons laden with riches, Glover's Reef is the country's remotest atoll, a UNESCO World Heritage Site and home to "the Wall." After a 10-minute boat ride, we dive along an incredible coral-covered face of the continental shelf where the sea floor drops to 3,000 feet in less than a mile. A small group of us are so thrilled after our Discover Scuba course—we spot tiger grouper, spotted eagle rays and green moray eel swimming around purple sea fan and elkhorn coral—that we end up diving again later in the week and completing a PADI certification course.
As our island getaway inevitably comes to an end, many of us try to prolong the fun and games till the last possible moment. In the distance, I can see four brave souls paddling surf kayaks into the pounding swells on the south side of the island, each looking for a perfect wave to ride back to shore. On the windier lagoon side, another couple is windsurfing while Victor, on a yellow kayak, bestows handy tips and takes pictures with his waterproof digital camera. Me? I am just happy to kick back on a hammock while a gentle breeze and the sound of the waves lapping the shore lull me to sleep—turns out, my adrenaline needs a break.
On the boat ride back to the mainland that afternoon, I think back on my before-I-die list and mentally check off about half a dozen items. Swimming with turtles. Check. Learning to windsurf. Check. Spending the day on the beach doing nothing at all was never on my list, though it should have been.
Suddenly I discover that if fantasy mirrors desire, then Belize reshapes it.
Established in 1986, Slickrock Adventures is the oldest outfitter in Belize and the only one with a private island. The Adventure Island at Glover's Reef package includes hotel and island accommodations; use of top-notch gear and instruction on kayaks, windsurfers, surf kayaks and surfboards; and all meals and beverages, including beer. www.slickrock.com
Other Voices you might like