Close encounters of the animal kind: Making friends (and a few enemies) with the wildlife in Bali
Dad & kids posing with an elephant, photo by Shandley McMurrary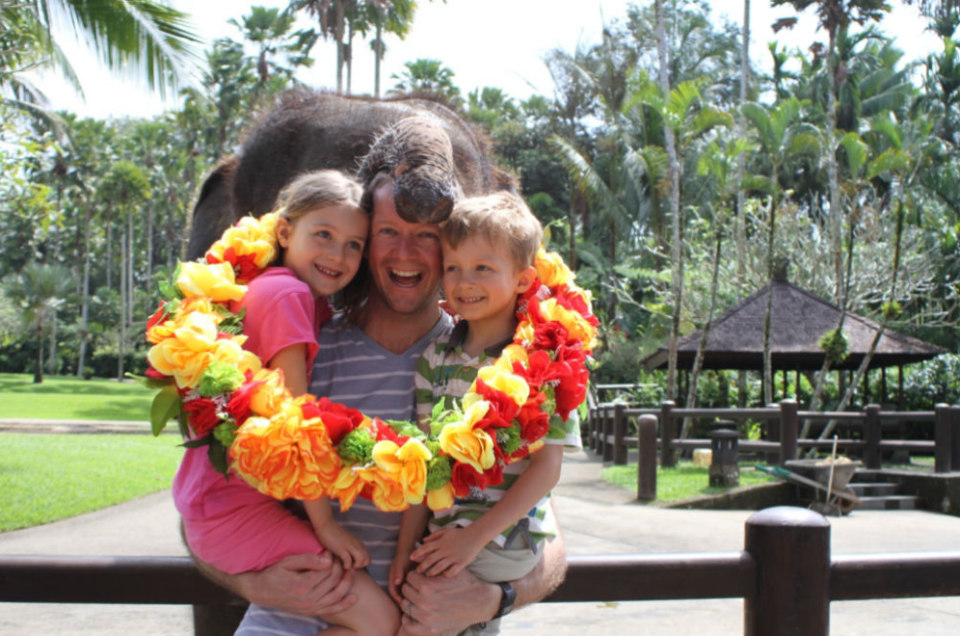 Dad & kids posing with an elephant, photo by Shandley McMurrary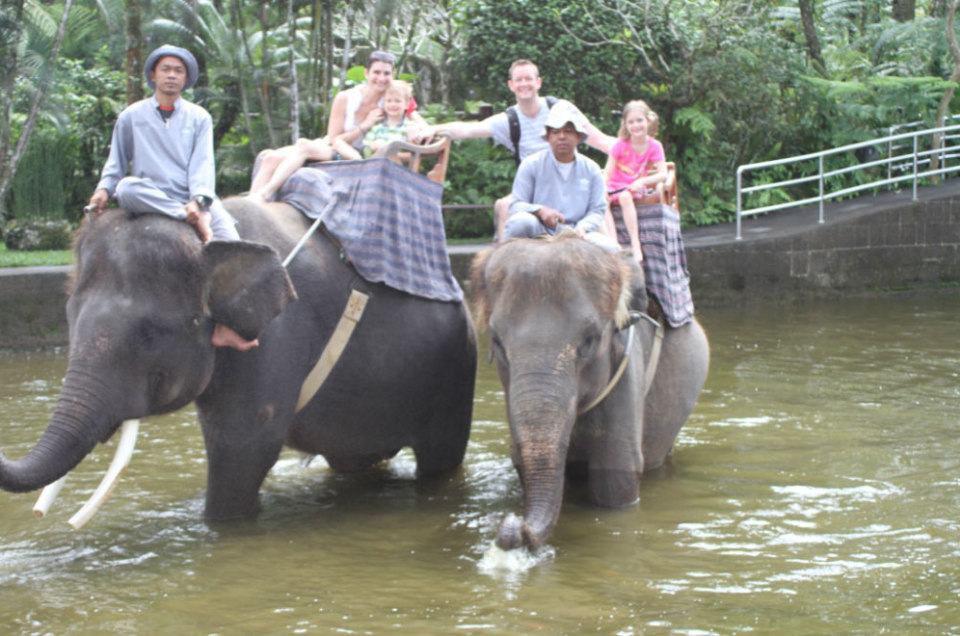 Family elephant ride, photo by Shandley McMurrary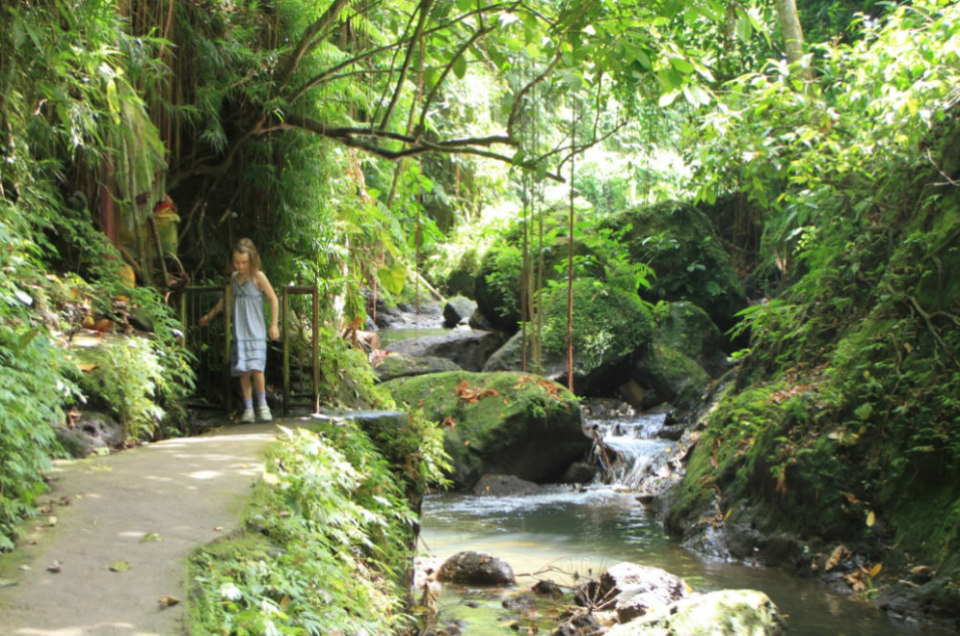 Walking along the Monkey Forest River, photo by Shandley McMurrary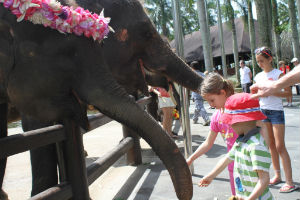 Elephant feeding, by Shandley McMurrary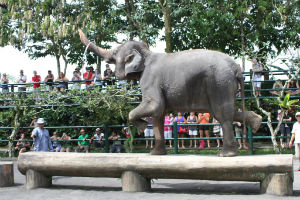 Elephant Show, photo by Shandley McMurrary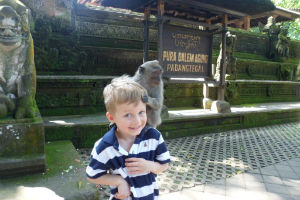 Monkeyhead, photo by Shandley McMurrary
We weren't expecting to be attacked by monkeys when setting off for the Sacred Monkey Forest Sanctuary in Ubud, Bali. The staff at our beautiful hotel (Furama Villas & Spa) had warned us to bring nothing but our camera with us, claiming the monkeys could sniff out even empty water bottles buried deep at the bottom of a backpack. And if they smelled something they wanted, the staff assured us, those little primates would climb aboard any unsuspecting visitor to get it. So despite the 40 degree heat we entered the forest minus water, hats and sunglasses, with money tucked in a secret place (i.e. my bra) and a camera securely strapped to my front.
The kids were amazed as they spotted the first monkey of the day (and the first we'd ever seen outside the confines of a zoo). "Look at that," five-year-old Pierce squealed in excitement as he pointed to a brownish grey monkey lounging in the crook of a tree ahead.
He skipped along gleefully past a large female looking for nits in her male counterpart while Marley, our six-year-old daughter, held back a bit, clinging to her father's leg. "Walk slowly and quietly," a Balinese man warned as he heard us approach. "And never look a monkey in the eye. He'll think you're a threat and will attack. Keep your children close and remember not to run."
Mere seconds down the path towards the forest's main Hindu temple, we witnessed a war between three long-tailed macaques over a water bottle they had quickly plucked from a man's hand. The largest monkey won, taking his treasure to a branch high above his opponents, happily cackling at them from his perch as he opened the bottle for a drink. Below him sat a mother macaque, nursing her baby while her other little one chewed on a sanctuary map he stole from a woman's back pocket. They didn't flinch when the victorious monkey threw his now empty bottle in the bush beside them.
It took poor Marley a good half hour before she felt comfortable enough to let go of our legs in the forest. But soon she was running free through the main temple, dancing with a bright yellow sash we had rented to enter the sacred space, or Pura (meaning "a space surrounded by a wall"). To gain access to a Pura, visitors must wear a sarong (you can often rent or borrow one from outside the larger, touristy temples) and/or a sash. Much larger than the Pura found in the middle of small villages, the main temple at the Monkey Sanctuary was beautifully well-preserved. Made mostly of soft, volcanic rock, it's almost impossible for the buildings to stand the test of time in such a hot, moist climate, so although the structures look ancient, many have been preserved within recent years.
Back outside the temple, the kids posed for pictures, leaning against the mossy rocks while revealing their dimples to be preserved for posterity. As I released the shutter, Pierce let out a screech loud enough to draw the attention of other visitors. A monkey had climbed up his leg and was now perched high on his back, reaching for his blonde hair. At the same time, another monkey chased the first onto Pierce's little body, this time climbing up his front to try to attack the monkey that was now perched atop Pierce's head. As the chaser bared his teeth in warning to the first monkey, I screamed and chased them both away from my son, thanking God they hadn't bitten him as we had opted out of the suggested Rabies shot before leaving London for our vacation.
With Pierce safe, we decided to move away from the highly-populated monkey temple to a quieter part of the forest. After a relaxed and enjoyable trek near a huge banyan tree with long roots hanging like a canopy, we walked along a stream at the area's heart (there were very few monkeys down near the water, thankfully). We followed the water to a beautiful old gate and gazed up at the impressive ceiling of trees above. Feeling small in such a magical place, we inhaled the lush fragrances and basked in the coolness offered by the shade of the trees.
Returning up a stone staircase we found our way to the exit where for some reason my husband, Austin, decided to buy a bunch of bananas for each child (about $2US each for a tiny handful). He thought they'd enjoy feeding them to a few of the monkeys hanging out by the exit gate. Much to his chagrin, Austin was attacked for the tasty treats before he even had a chance to put the change back in his pocket. One climbed atop his head while another hung from his outstretched arm, climbing his body viciously in an attempt to secure a snack. Austin finally gave in, dropping the fruit to the ground as the monkeys jumped off him to retrieve it, the kids laughing hysterically at the image of their six-foot-four-tall dad trying to fend off an attack by two small and feisty primates.
The next day, Pierce turned five and we treated him to a birthday he would always remember – a trip to ride elephants at Elephant Safari Park in Taro (about a 45-minute drive from Ubud). A 3.5-hectare park complete with an Elephant training centre and performance arena, feeding area and open-air restaurant that overlooks the elephants' waterhole, this adventure was definitely the highlight of our trip. Marley and Pierce were all smiles as they patted baby elephants and fed bits of bamboo to the eager cows and bulls (adult female and male elephants) awaiting a treat. The kids were rewarded with a large flower lei placed over their heads by the well-trained mammals.
Before watching the elephants paint, play soccer and complete math questions in a show, we were escorted two by two onto an elephant of our own. The guide, who perched atop the elephant's head, his feet resting in the crook of its ear, led us on a 40-minute trek beside rice fields and through the jungle. Pierce and I took off our shoes so we could feel our bull Bruno's prickly, wiry hairs beneath our toes. He giggled as Bruno met up with Austin and Marley's cow Sophie for a cool-down in the waterhole. Utterly relaxed after our ride, we thanked Bruno and Sophie for carrying us upon their enormous backs and headed towards the restaurant for the buffet lunch we were promised with our family package.
As we munched on chicken satay with peanut sauce, shrimp crackers and fresh fruit, the kids talked non-stop about their elephant rides, the amazing tricks they'd witnessed in the show and the fact that they could now tell everyone at school that they had fed real, live, actual elephants. Before leaving the table to head back to the hotel, we all sat in silence, watching the elephants playfully spurt water at each other and listening to their trumpeting calls, revelling in the fact that we were lucky enough to enjoy such an amazing experience in such a beautiful country
Other Voices you might like