Bedding Down, Azorean Style
Angra do Heroísmo is the historical capital of the Azores; it is also the archipelago's oldest city, dating back to 1450, photo by MarcoDerkson on Flickr.com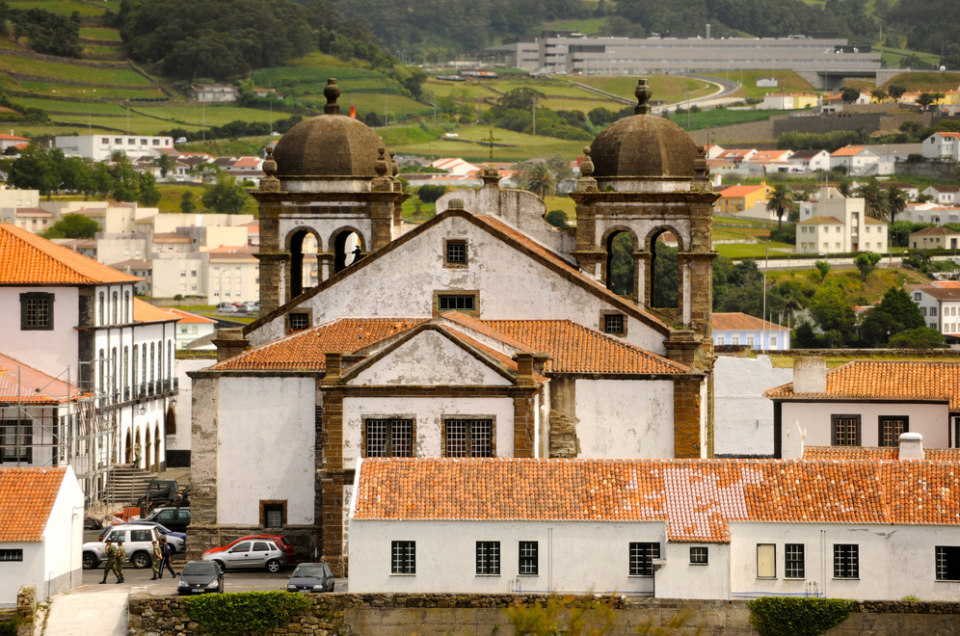 Angra do Heroísmo is the historical capital of the Azores; it is also the archipelago's oldest city, dating back to 1450, photo by MarcoDerkson on Flickr.com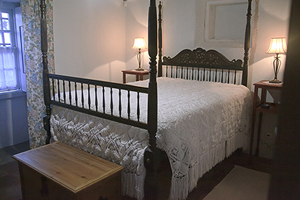 An antique-filled cosy room in Prof. Maduro-Dias' B&B on the Azores. Photo by Paul Ross.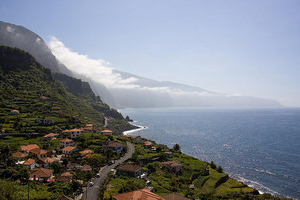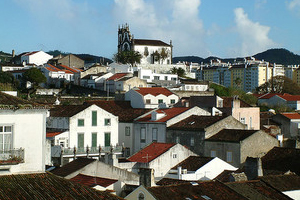 Roofs in Ponta Delgada, photo by darijus on Flickr.com
Yawn. Yawn. Yawn. That's how it began to feel every time my husband Paul and I checked into another rectangular-shaped hotel room. Flat-screen TV. Overpriced minibar. Cutesy shampoo, soap, sewing kit and other amenities encased in pastel colored wrapping. Breakfast of sugar-laced pastries, clumps of eggs, sad sausages, a bowl of fruit salad, white bread denuded of all nutrients.
When we arrived in the Azores—a dramatic, volcanic Portuguese archipelago in the middle of the Atlantic Ocean and only four hours from Boston on SATA airlines I was ready for another boring lodging experience, but boy was I wrong.
Close to the town of Angra do Heroismo, on the island of Terceira, is the small village of Sao Bartolomeu, where Francisco Maduro-Dias, an archeologist, historian and museum curator, just opened his 18th century rural, basalt stone home as a B+B, and, in his words, wants to accommodate "educated, intellectually and culturally-curious guests for great conversations and exchange." Bravo, Mr. Maduro-Dias!
The courtyard of the house and colorful mosaic bench were designed by Maduro-Dias's father, a well-known Azorean painter. A plaque on the wall includes a mysterious and lyrical line from one of the painter's poems: "Let me be the solitary stone that only desires to be a rock in the sea."
Among the lush foliage and fruit trees on the property of the historic home, chickens and ducks roam freely and birds chirp wildly; a few perch on terra cotta ollas and an old millstone.
Guests can choose to stay in the main house—where six generations of the family have resided—or in two small apartments with whitewashed limestone walls that once housed the servants. They are equipped with a fridge, stove and washing machine. Anyone who travels a lot knows that a washing machine is like an angel of mercy, sparing the wearer from another day of the same shirt and jeans.
Inside the main house, an old wine cellar with an antique press adorns a sitting room. The two simple, comfortable guest rooms and private baths are decorated with antiques and paintings by the owner's father, and the dining room, where breakfast is served, is peppered with old maps, paintings and antique furniture. Sleep comes quickly, and is bathed in the deep peace and quiet of the house and the land.
At breakfast, over fresh, local breads, cheeses, ham, paté, and fruit, Maduro-Dias talked with us about the worship of the Holy Ghost in the Azores, the history of the Jews on the islands, the six-volume historic chronicles that were written in the l6th century, and why he is a fan of bull-on-a rope, which takes place in the Azores and is like dozens of Pamplonas that go on all summer and involve a lot of local men jumping, leaping and crawling out of the way of running bulls as young women watch in admiration.
Later that day, we drank local wine with the owner, and at night he drove us to a deserted spot along the jagged coastline. We stood under a canopy of stars that dotted a black sky, and Maduro-Dias told us that this was where people could stand, hundreds of years ago, to watch ships laden with silver from the New World heading back to Europe. We spoke quietly of the age of discovery of the Americas, native populations, and the mindset of early explorers. It was deeply personal and moving.
The price for staying with the local luminary and his wife (who was out of town when I visited)? 60-80 Euros with breakfast. www.quintadoespiritosanto.com or geral@verdesfragmentos.pt
We spent two nights at the glam, 18th century Quinta das Merces, outside of Angra do Heroismo, also on the island of Terceira. It took five years to restore the property, and I shudder to think of the expense. The elegant sitting and dining rooms, outdoor dining overlooking the ocean, infinity pool, gym with Turkish bath, game building, private chapel and antiques from Macao, where the owners lived, made this an elegant place to stay. (http://www.quintadasmerces.com)
Also on Terceira was the spanking-new Angra Marina Hotel, the first five-star hotel on the island (http://www.angramarinahotel.com). The lobby looks like a sailboat, and features huge sofas that face inclined picture windows which frame the marina. Our luxurious suite included a large balcony, a bathtub in the bedroom that overlooks the harbor, a sitting room with velvet armchairs, a white leather sofa, and two marble-floored bathrooms. Alas, the service was still rough around the edges, and a little time, I hope, will add the needed polish.
In the city of Ponta Delgada, on Sao Miguel island, my fave was a four-star, converted primary school built from basalt and dripping with history, stone arches, and charm. It is located on a narrow street with black, volcanic paving stones (Hotel do Colegio– http://www.hoteldocolegio.com/pt/index.php?lang=en). The chef who helms the hotel's Colmeia restaurant cooks for the president of the Azores, so you can imagine that regional specialties like octopus with broad beans, pork in red wine and stuffed horse mackerel were impeccable.
On Pico island, the Aldeia da Fonte is a four-star, sustainable, rural hotel where we slept in a two-story stone house with a red tile roof, constructed and designed to resemble the local architecture. The idea behind the hotel –which was built on an abandoned vineyard near the edge of the ocean and dramatic, rocky coastline– was to open the property to visitors without destroying nature and, when possible, to enhance it through design and landscaping. The hotel was built by a doctor and his wife, and they offer guests yoga, a fitness room and sauna, palm trees, gardens, a rock pond with goldfish, a whale watching tower, and stone steps that lead down to swimming in the summer and crashing surf at other times of year.
Graciosa is small, breathtakingly beautiful, and has been dubbed "the white island" because of the white buildings in the historic area. We lodged at the three-year-old, four-star Graciosa Hotel (www.graciosahotel.com), which is situated in the middle of an old vineyard. The food was jaw-droppingly good, and I dropped my jaw as I ate for two hours. The hotel itself is a marriage of ancient and ultra modern– polished basalt stone and glass, and the reception area features black marble flooring. Our room was furnished in light wood with rattan furniture. The only art was the ocean, visible from the balcony.
For people with a real sense of adventure who appreciate rural tourism, cultural preservation and the devoted attention to historical accuracy, check out Quinta do Martelo on Terceira (http://www.quintadomartelo.net). The 2,000-acre property was once a functioning farm village with a barber shop, post office, school, general store. The owner—whose grandfather worked on the farm– has spent 22 years restoring the property (he calls it a "recomposition") and you can stay in rock house apartments with authentic straw beds; of course you don't sleep in them, as the accommodations are equipped with modern comforts. For 100 Euros a night, you get room, rental car, breakfast, and you can wander into the shoemaker, pottery and winemaker workshops. It's like staying in an ethnographic museum that happens to modern tourist amenities.
Just writing about these little-known islands and the delightful array of hotels makes me homesick for that crashing surf, and anxious to go back again.
Other Voices you might like