Sustainability Meets Budget Travel off the Beaten Path in Arizona
Amazing views from Arcosanti. Photo by Ayelet Weisz.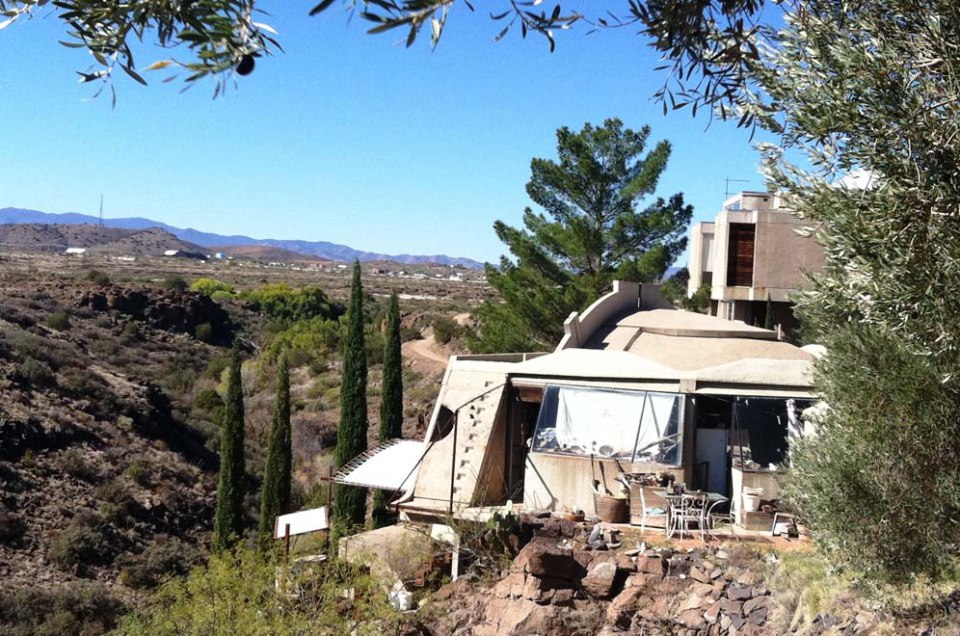 Amazing views from Arcosanti. Photo by Ayelet Weisz.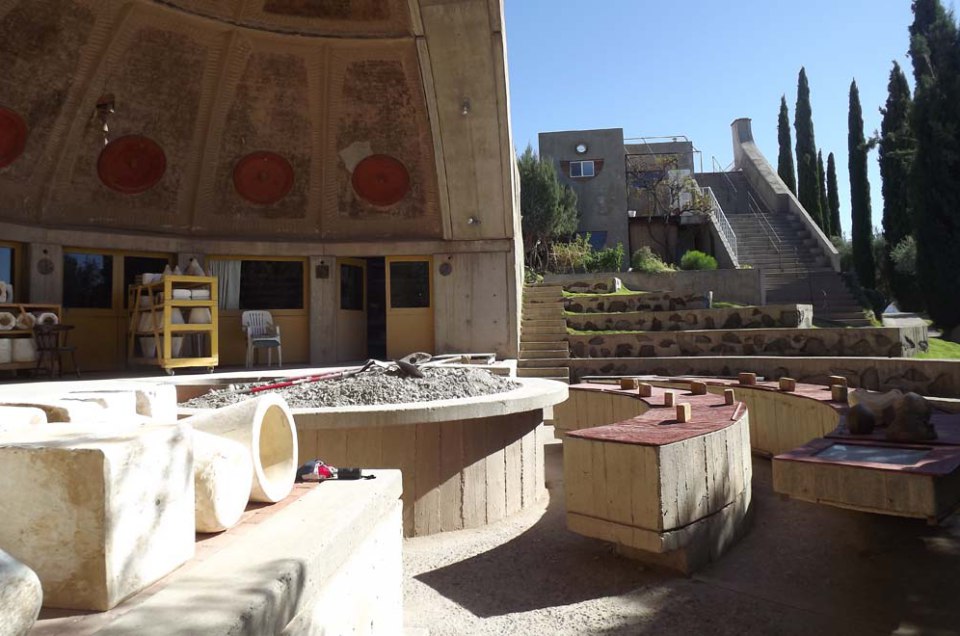 Architecture at the "resort" is interesting, but unfinished. Photo by Ayelet Weisz.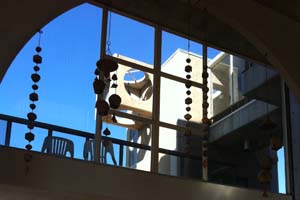 Everywhere you look are interesting details. Photo by Ayelet Weisz.
Ceiling feature. Photo by Ayelet Weisz.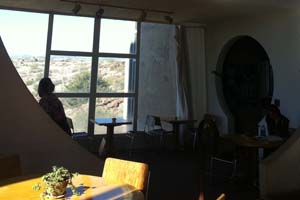 The whole place is unique. Photo by Ayelet Weisz.
Dark shadows are everywhere as our car lights give us a peak at a sign – "Welcome to Arcosanti – an Urban Laboratory", it says. Founded by the recently deceased architect Paolo Soleri, Arcosanti is located between Sedona and Phoenix, Arizona. 7000 volunteers that have passed here through its 43 years have helped move Arcosanti toward a realization of an eco-friendly, sustainable urban community – yet their scarcity has caused the project to progress at a turtle's pace, and it's still incomplete.
At night, my relatives and I barely see how to park the car, let alone find our way, suitcases included, through the stairs to our rooms. We look up instead, as white lights in the city-free sky reveal themselves to us – the Milky Way.
Picking up the keys left for us in the almost entirely abandoned kitchen, we make our way to our homes for the night. With rooms ranging $30-65 a night, it's a budget alternative for travelers in central Arizona. Artworks by Soleri adorn the ceilings. The one in my room seems to be a combination of a tree branch, a couple of leaves and a moon.
The rooms are small, containing a ventilator instead of an air conditioner, and a vast desert view of Agua Fria National Monument. Trees and high rocks stand in front of mountains, which wait as far as the eye can reach.
In some rooms, you'll share a shower with your neighbor. You can lock it from inside to ensure privacy (just remember to unlock it when you're done, to enable your neighbor to use it as well) – or book an en suite room in advance. If you want to splurge or share a room with more than two people, pay a $100 total and receive the only Sky Suite, which contains two bedrooms, a living room, a kitchen and a private bathroom.
As I wake up the next morning, the big window reveals the end of the sunrise. When I finally make my way to the kitchen for breakfast, I make a stop in nature surrounded by construction areas to look at the Prickly Pear Cactuses and the fruits that grow on them. Some of these fruits' red color will later be used to dye food and drinks.
The great price I paid for the possibility of watching sunrise from bed includes breakfast. If you're staying at the Sky Suite, know that only two Sky Suite guests a night get a complimentary breakfast. Each additional guest needs to pay $5 for the meal – bread, eggs, vegetables and fruits from Arcosanti's organic farm. The dining room's structure is dominated by round shapes with big windows and a balcony, the desert view around it.
After breakfast, we make our way to Arcosanti's store, where we each pay $10 to watch a movie about the place's history and take the Daily Arcosanti Site Tour, offered every hour on the hour at 10 AM – 4 PM, noon excluded (Additional tours focus on architecture, bird watching and archeology, and cost $150-300 each).
See handmade bells and structures, with trees, mountains and cactuses visible almost everywhere you look. Learn about Arcosanti's intention to minimize the ecological footprint, the usage of automobiles, pollution and waste through smart urban planning. The intention is to put the emphasis on community instead of disconnection, and on a sustainable lifestyle, which would reconnect people and nature as well.
Sit at the amphitheatre and explore handmade carvings, and construction that still holds hope of becoming useful art. Pay attention and you'll get a glimpse of an artist's studio, a classroom, a pool, a child's bicycle – and even some laundry hanging on the line. Learn about the few people who dare calling this place home, embracing an architecture that supports the ecology. In one word, as Soleri coined it, they call it arcology.
Other Voices you might like