Los Angeles Ahead of the Curve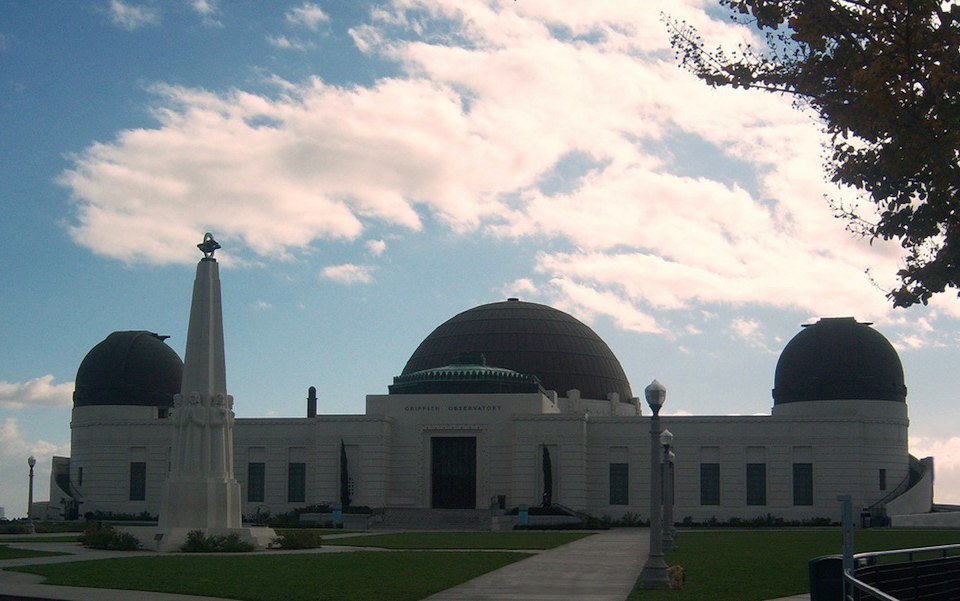 Griffith Observatory in Griffith Park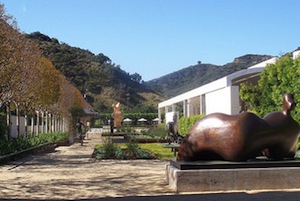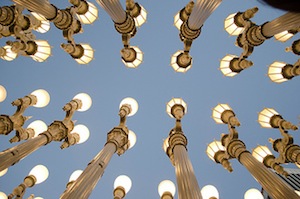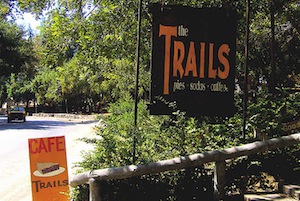 Trails, a trail side restaurant in Griffith Park by ficken on Flickr.com
The thing about Los Angeles, residents will tell you, is that you get so used to being defensive about your hometown that you quickly learn to look past the La-La-Land clichés—the traffic, the Malibu beach bunnies, the Beverly Hills star maps and velvet ropes—to find a spirited city at turns flamboyant, exotic and unpredictably idyllic. And thanks to an ever-changing landscape Los Angeles, and downtown in particular, is finally emerging as a vital, breathing city with a first-rate cultural scene.
When a friend from out of town announces that she's coming to visit for a long weekend, I embrace the opportunity to reveal the L.A. that I've grown to love in the decade I've lived here. Having already done the Walk of Fame, Santa Monica's Third Street Promenade and other tourist traps on a previous visit, she is ready to explore the L.A. that insiders brag about: the top-notch nightlife, the architectural gems, the artsy neighborhoods filled with independent boutiques and galleries and what may be one of the most exciting restaurant scenes in the country.
what makes the city unique is its collection of small towns, each of which possesses a distinctive character worth exploring
Those who dismiss L.A. as a suburban sprawl fail to see that what makes the city unique is its collection of small towns, each of which possesses a distinctive character worth exploring. In recent years, the vanguard has arguably tilted eastward thanks to downtown's many developments including the undulating stainless steel expanse that is the Walt Disney Concert Hall. Built by "starchitect" Frank Gehry and opened in 2003, the gleaming structure is the exclamation point that Los Angeles, and downtown in particular, needed.
Our first stop on a sunny Friday morning is downtown's Museum of Modern Art, which recently showcased works by the likes of Basquiat and Roy Lichtenstein. MOCA's after-hour opening parties, featuring DJs and cocktails, are as much about what hangs on the walls as an opportunity for the city's culture vultures to see-and-be-seen. Down the street from MOCA, past the Disney Hall, is the Cathedral of Our Lady of the Angels, the first cathedral to be built in the U.S. in more than a quarter century. Designed by Jose Rafael Moneo, the majestic adobe colored concrete building features a 150-foot bell tower and a beautiful cloister garden full of young oak and sycamore trees.
Eager for more art, we set off for Gallery Row, a pedestrian-friendly district along Main Street chock full of galleries, art studios and cafés. The neighborhood is still in transition and can feel a bit seedy, especially at night. But it really comes alive during the art walks that take place the second Thursday of every month. "It's amazing to see how much this neighborhood has thrived in just a couple of years," says gallery owner Bert Green. His gallery, like most in the area, exhibits the works of contemporary and up-and-coming artists. For Green, the allure of having relocated both his gallery and home downtown was to be part of the artistic development and creative dialogue that's currently taking place in the city. Further down the street is M.J. Higgings, another popular gallery with in-the-know locals who arrive for after-hours parties every Thursday night. "It's a word of mouth kind of thing so sometimes we have just 30 people show up and other times it's more like 150," the curator tells us.
It is now dinnertime and we head to Ortolan, a glamorous French restaurant where romantic chandeliers, cream leather wraparound banquettes and weathered hardwood floors set a scene that is at once stunning yet relaxed. In the rear is the seductive bar where a wall lined with rows of fresh herbs serves as more than just a design element. The dishes concocted by chef Christoph Eme are anything but ordinary, from velvety sweat pea soups capped off with a foamy celery root emulsion and served in little test tubes to crayfish with rabbit meatballs and rosemary gnocchi. On her way back from the restroom Susana leans over and whispers excitedly, "You're not going to believe who I just saw."
My friend has asked—OK, begged—me to ditch my old Honda and borrow something a little bit more fun and sexy. And as L.A. clichés go, I can imagine worse than driving in a slick Jaguar XK with the top down in perfect 70-degree weather. Heading west through Echo Park and Silver Lake, two east side enclaves filled with sidewalk cafés, independent record stores and trendy bars popular with the city's hipsters and bohemians, we finally arrive in Los Feliz, a coolly sophisticated neighborhood at the bottom of the city's biggest playground for outdoor enthusiasts, Griffith Park.
Five times the size of Central Park, the park features miles of hiking and mountain bike trails as well as an old-fashioned merry-go-round and an art deco observatory, which was immortalized in James Dean's Rebel Without a Cause. Daddy-Os and swing kids descend upon Los Feliz Village on weekend nights to cut some rug at the Derby and get their kitsch on at the Dresden, where lounge singers Marty and Elaine have been performing classics for decades. During the day, though, we mostly see yoga moms heading to class and actors practicing their lines in between bites of tuna sandwiches at Fred 62, a retro burger joint. Susana immediately spots Figaro Café, a quaint bistro that gives the street an air of Parisian cool. She announces it's time to go shopping after we devour the quiche, onion soup and spend the requisite time chatting up the cute French waiter.
Never mind The Grove, the city's huge open-air shopping mall featuring usual suspects likes the Gap and Victoria's Secret. Instead we park the car and stroll around Melrose (who says nobody walks in L.A.?). Once upon a time, if you said you were going shopping on Melrose Avenue, chances were you were barely 21 and you were hunting for vinyl records, slinky club clothes or perhaps another pipe from one of the area's many headshops. But in the last few years, the stretch of avenue west of Fairfax and east of La Cienega has become the destination for jetsetters whose closets are filled with up-to-the-minute threads by Paul Smith, Miu Miu and Betsey Johnson. We stop at Agent Provocateur for beautiful lingerie, at Decades for vintage couture and at Sweet Lady Jane for the best cupcakes in town.
That evening we score a last-minute table at Pizzeria Mozza, wherein Nancy Silverton of Campanile and La Brea Bakery has partnered with Mario Batali of Babbo to bring Angelenos what is without a doubt the city's best pizza. The dough is thin, light and airy and loaded with Cal-Ital toppings like squash blossoms, egg and speck. Between bites of our pizza, we pretend we're not looking at Orlando Bloom at a nearby table.
It is well past midnight on an unusually cold Saturday evening, the air charged with a feeling of excitement and anticipation as the shimmering swoops and swirls of the Disney Hall come into view. Though it was conceived before that other gleaming structure by Gehry—the celebrated Guggenheim Museum in Bilbao—the new home to the L.A. Philharmonic took nearly two decades to complete thanks to a seemingly endless series of setbacks and procrastinations. "And it was wrongly thought that building a classical music hall is very elitist," says the Philharmonic's previous music director Esa-Pekka Salonen. "This hall belongs to everyone, by its very existence," he adds.
Indeed, standing in line at will-call is an eclectic crowd of well-heeled women, hipster Latinos and chic geeks who've driven from as far as Orange County to check out the opening night of a minimalist music festival that features DJs and electronic musicians playing hypnotic dance floor anthems while visual artists project trippy videos on the wooden walls. The event, which starts at midnight and ends at 6am, is sold out. If the younger crowd has come to witness one of its own perform in what is deemed the greatest concert hall in the world, then an older crowd is here not just out of curiosity but perhaps also to endorse Gehry's desire for the hall to be, as he put it, the "living room of Los Angeles."
If downtown's Disney Hall is the living room then Hollywood is the city's trendy chill-out lounge. But just five years ago, a stroll along the Walk of Fame was not only uninspiring but also ill-advised. Yet these days, the neighborhood's old strip joints, cheesy curio shops and tattoo parlors have been converted into some of the hottest bars, restaurants and clubs in the city. To be sure, Hollywood's recent makeover would make Liz Taylor proud.
"The thing about L.A. is that you have to kind of work to really get it. It kind of reveals itself to you slowly."
It's a sun-drenched Sunday morning and my friend and I are feeling invigorated after last night's music event despite getting only a few hours of shut-eye. We stop at the Hollywood Farmers Market, a great place to people-watch, shop for hand-made candles or soaps and listen to one of the three ever-present live music acts. We get a couple of lattes and chocolate croissants and sit at a small table set up in front of the trio performing old jazz standards. When William H. Macy and his wife, the recently Academy Award-nominated Felicity Huffman, walk by arm-in-arm, Susana—like everyone around us—doesn't even bat an eye. "You could be a local," I tell her.
At around noon, prices begin to drop at every stall so we hurry to pick up some fresh bread, artisanal cheese and organic fruit and head to the beach for a picnic. We spend the rest of the day exploring the picturesque Venice Canals then rent 10-speed cruisers and ride on the paved trail along the beach, checking out the surfers, street performers and odd characters. As the sun begins to drop below the Pacific Ocean, unfurling along the impossibly cerulean sky is a splashy show of lilac and mauve wispy clouds.
On the way to the airport, Susana promises to visit again. "In New York or San Francisco you just walk around and fall in love with the place. There's not much to it," she says. "The thing about L.A. is that you have to kind of work to really get it. It kind of reveals itself to you slowly. And that's the point, isn't it?"
Other Voices you might like