Belgium by Design: Antwerp Takes Its Place as a Leader in Fashion.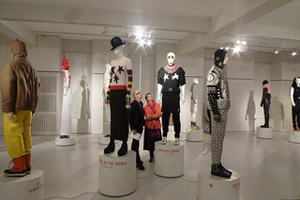 Fashion exhibit at MoMu, photo by nearnearfuture on Flickr.com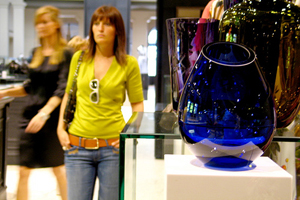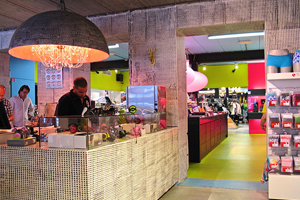 What could make a better vacation spot than one that offers the best in diamonds and design, fashion and fries? Welcome to Antwerp, Belgium, a city that has quickly become a magnet for the trendsetters and followers. It's a place that unfolds slowly in front of you, like a freshly picked rose, revealing its beauty around every corner, whether it's a stunning Art Nouveau façade, a world-class art museum, a tiny medieval inn from the 1500s, or a cobblestone laneway that winds its way to a utterly sleek boutique hotel. Antwerp dishes up surprises at every turn.
But the Flemish city's reputation as a mecca for fashion and design is a recent one. Dating back to the nineth century, it was a rough and tumble port town, full of merchants, sailors and ship builders. Fast forward to 1988. The fashion department of the Antwerp Royal Academy of Fine Arts spit out half a dozen, freshly minted designers. The new graduates hang out together, went clubbing and come up with the bright idea of renting a van and crossing the English Channel to participate in London's fashion week. The Antwerp Six, as they were labeled, made the world perk up its ears and listen to the strong design vibe that was emanating from Belgium.
To soak up the best of the style scene, visit Antwerp's fashion museum, MoMu, on Nationalestraat. It opened its doors in September 21, 2002, and has done wonders to demystify the design process.
It takes a common basic like the trenchcoat and shows its evolution from military staple to high fashion must-have with samples on mannequins, video footage of current runway shows and sketches. When you see a wacky version done by Belgian designer Martin Margiela, you can step back and understand how the lapels pay homage to a Burberry trench and the side panels take inspiration from an evening dress. It's those light bulbs, ah-hah moments that make this museum so fascinating as you wind your way through displays devoted to laced boots, lingerie, gloves, and hats. It's not just the best of Belgium on display, but the world, with works from Chanel, Rochas, and Comme des Garcons.
Plan your visit to Antwerp in June so you can attend the annual fashion show featuring the city's top talents, an event attended by over 6,000 style lovers. But you'll get a behind the seams look at fashion any time of year. Pop into Dries Van Noten's posh flagship store, featuring marble floors and glittering chandeliers, or that of Diane Von Furstenberg (at Steenhouwervest 44), one of the earliest Belgian designers to receive global recognition. While you're in the neighbourhood, visit FCS, one of the best shops for vintage clothing (and some furniture), from Pucci to Gucci, that you'll find anywhere. Treat yourself to a pair of exquisite, handmade gloves in the season's hottest colour from Huis A. Boon. It has been selling exclusively only gloves since 1884. Pick up an Antwerp fashion map at the tourism information booth to help guide you to the best shopping spots.
The Academy's approach to teaching fashion is to treat it like a craft, an art, not as a glamorous pursuit. The same attitude applies to diamonds – and Antwerp is the capital for buying, cutting and polishing them. Amuse yourself by spotting the diamond dealers walking along the street. You'll know them right away. Their briefcases are handcuffed to their wrists with a long metal chain, and in the diamond district, there's a visible police presence and surveillance cameras everywhere. An estimated eight of 10 diamonds come from Antwerp. The city has been in the business of bling for more than 500 years.
Wander through the diamond museum, located near the main train station (a jewel of a different kind), to get a crash course in these gemstones, how they're created, mined, cut and polished. It's amazing to see just how ugly uncut and unpolished diamonds look. They look much look the salt that you might spread over your sidewalk to melt the ice this winter. Unimpressive. But gawk at what they eventually become in the hands of craftsman who painstakingly cut them to reflect the maximum amount of light. Pieces on display range from tiaras to tennis trophies, and monster pieces, like the Blue Hope diamond, a whopper at 45.52 carats – about the size of a ping pong ball. Sadly, the guards watching these gems won't allow you to try them on for size.
However, if you do want to do some diamond shopping, slip on some baubles, Antwerp is a good spot to do it. Ask to see a bunch of loose diamonds. You can have the one you love best put into a setting of your choice in about 15 minutes at a shop like Diamondland. Note: Salespeople get cranky if you touch the diamonds with your fingers. They leave invisible dirt and grease marks on the gems. To remove them, diamonds have to be "boiled" using acid or lasers. In Antwerp, they are priced at 15-25 per cent less than elsewhere. Do make sure that you shop at reputable retailers like Diamondland that will offer you what's called an HRD gemstone report. It confirms a diamond's authenticity and describes in exact terms the 4C's – colour, cut, clarity and carat. It prevents you from coming home with a very expensive chunk of cut glass. Still out of your price range? A suitable consolation prize is a box of diamond-shaped chocolates from Del Rey on Appelmansstraat.
Though less glittering, the Art Nouveau houses in the Zurenborg district are well worth a look. Just look for the curves, in the shape of windows, ironwork, carvings on doors, and awnings. It's a very feminine form of architecture and you'll even spot mosaics featuring women with long tresses blowing in the wind on some homes. The Art Deco that came after Art Nouveau is the polar opposite – strong vertical lines, geometric shapes and sharp corners – as seen in the Boerentoren from 1931, the first skyscraper in Europe.
Some of the best of modern design can be found in very old spaces that have now been transformed into hotels and restaurants. With just 11 rooms, Hotel Julen in the centre of the city is a good example of the high style that is created when a historic house meets funky Belgian design. Or seen at Hotel 't Sandt, a former toll house that now houses a four-star inn that incorporates grand features like an elegant staircase with modern art pieces and furniture.
Restaurants too tap into the new world flirts with old world design. At Hecker Dinner/Wine Bar, the in place for the in crowd, its modest row-house beginnings have had an extreme makeover with plain walls adorned with dramatic food photography. For fun, try its four-course Surprise Menu where the chef creates dishes based on your wine choices. Het Pumphuis is a bold example of what happens when an industrial building is turned into an upscale eatery. Tables are set around a large open space in the middle where giant wheels, cogs and hoists remain. With natural light pouring into the windows, the effect is surreal and mystical.
While you're dining around looking at beautifully designed spaces, try the famous Belgian beer – even if you're a non-beer drinker like myself. The cherry beer (kriek) is divinely sweet and fruity. If you like traditional brew, order a "bolleke," served in a bowl-shaped glass filled with De Koninck, a light amber ale. And to go with those drinks, a plate of Belgian frites goes perfectly. French fries are practically an art form here, cooked up fresh and crispy with a big dollop of mayonnaise on the side.
Remember first and foremost, that Antwerp is a city of surprises. It's where a legendary tale about a battle between giant and human was born, the site of castles and the birthplace of artists like Peter Paul Rubens. Nothing perhaps demonstrates the joy of the unexpected better than an evening walk I took around Zorenburg, a quiet residential neighbourhood. I turned a corner and was amazed to see a tunnel under the railroad tracks transformed into a dance floor with couples doing the tango in the moonlight, the beat of the music echoing off the concrete walls. It seemed to be something that could only happen in Antwerp.
Other Voices you might like