Visiting Antelope Canyon
Hauntingly beautiful Antelope Canyon, photo by Amanda Williams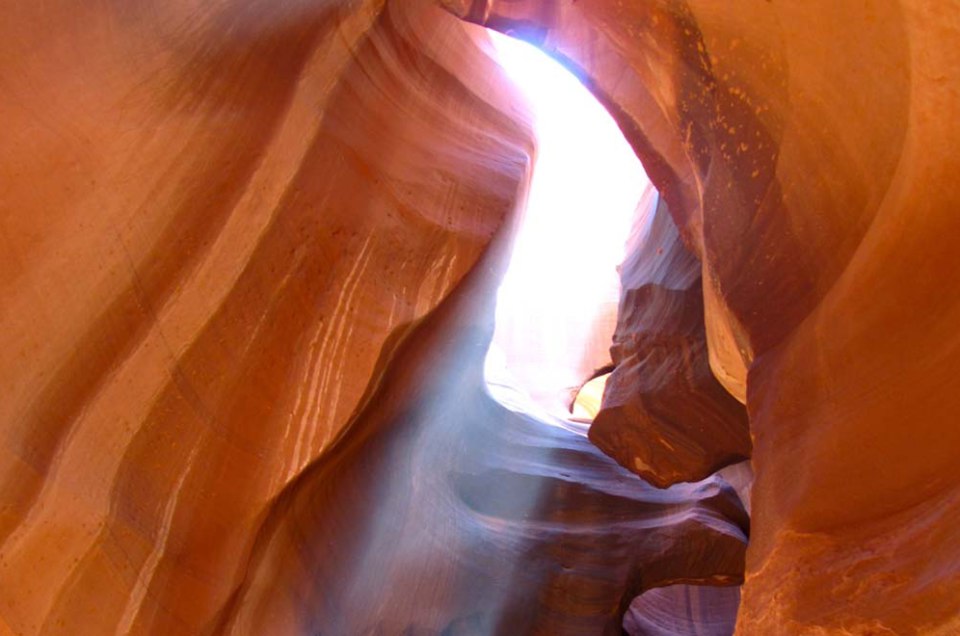 Hauntingly beautiful Antelope Canyon, photo by Amanda Williams
You've seen the photos.
You know, the ones where a beam of dazzling white light pierces down into a narrow orange canyon? The ones you look at and immediately get a sense of longing from, thinking wistfully, "I want to see that"?
Well you absolutely can.
This oft-photographed canyon is none other than Upper Antelope Canyon, a slot canyon located on Navajo land in northern Arizona. The canyon is a mecca for photographers thanks to the famous light beams that shine down into the narrow canyon for a few hours each day, putting on a dramatic display.
But you don't have to be a photographer to enjoy this natural wonder. If you visit during the right time of day/year, there's no way to adequately capture the beauty of this place through a lens anyway.
The smooth, curvy walls of Antelope Canyon have been shaped and molded by years of flash flooding that have slowly eroded away the sandstone – in fact, the Navajo name for Upper Antelope Canyon translates to "the place where water runs through rocks." This is evidenced in the wave-like formations in the rust-colored sandstone.
There is also another less-visited portion of Antelope Canyon located across the road, known as Lower Antelope Canyon. This part – known as "spiral rock arches" to the Navajo – is less dramatic and requires a bit more climbing/hiking to truly enjoy.
The Upper part of the canyon is really the star of the show, though, making it the most-visited and most-photographed slot canyon in the American Southwest. Yes, this means that the canyon can be very crowded during peak light beam hours. But you know what? It's still absolutely worth a visit.
Visiting Antelope Canyon
Thinking of visiting Antelope Canyon while in Arizona? Here are a few tips to keep in mind:
The closest town to Antelope Canyon is Page, Arizona – a tiny tourist town that is also close to Lake Powell and the Glen Canyon National Recreation Area. If you plan to visit in the summer months, be sure to book accommodation early, as hotels/motels in Page fill up quickly each summer season.
Visiting both parts of Antelope Canyon requires a permit and guide since the slot canyon is located within a designated Navajo Tribal Park. You can book a tour in Page that will include all fees, or you can simply show up at one part of the canyon an hour or so before you'd like to go in to get a ticket for a specified entry time. (I paid $31 total to visit the Upper portion of the canyon – $25 for the hour-long guided canyon tour, and a $6 Navajo park fee.)
If you want to catch the famous light beams in Upper Antelope Canyon, plan to visit between 10 a.m. and noon on a clear summer day – the beams appear the best when the sun is high in the sky.
If you want truly amazing photos inside the canyon, be sure to bring a tripod and a camera that allows you to take longer exposures!
Beware of the weather. The flash floods that helped shaped Antelope Canyon still occur from time to time, and you definitely don't want to be stuck inside when a wall of water comes roaring through. This means no trying to skirt the fees and sneaking in outside of operating hours!
Other Voices you might like