Florida's Hidden Amish Community
Playing shuffleboard in Pinecraft, photo by Kimberly Button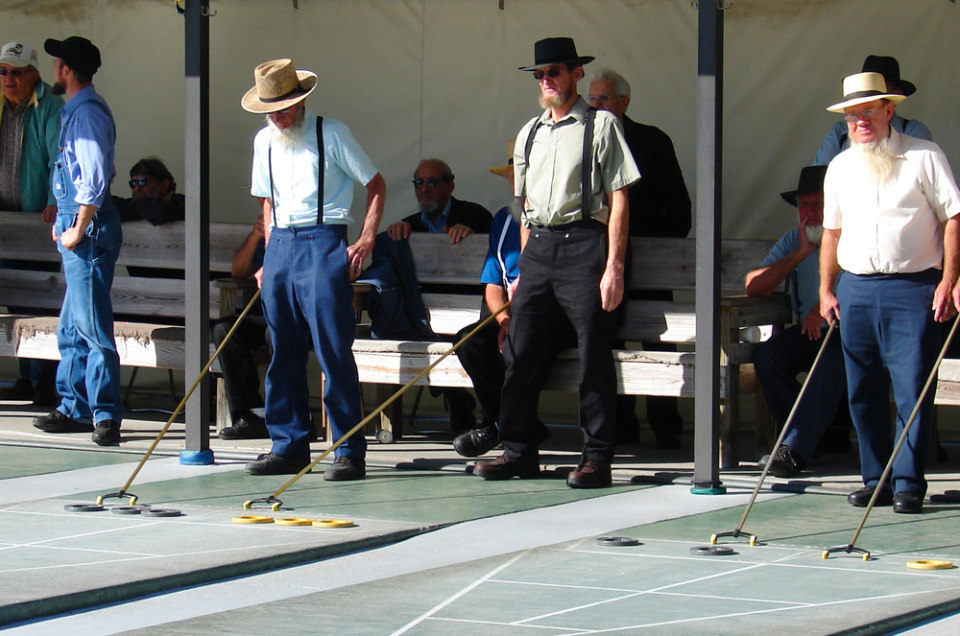 Playing shuffleboard in Pinecraft, photo by Kimberly Button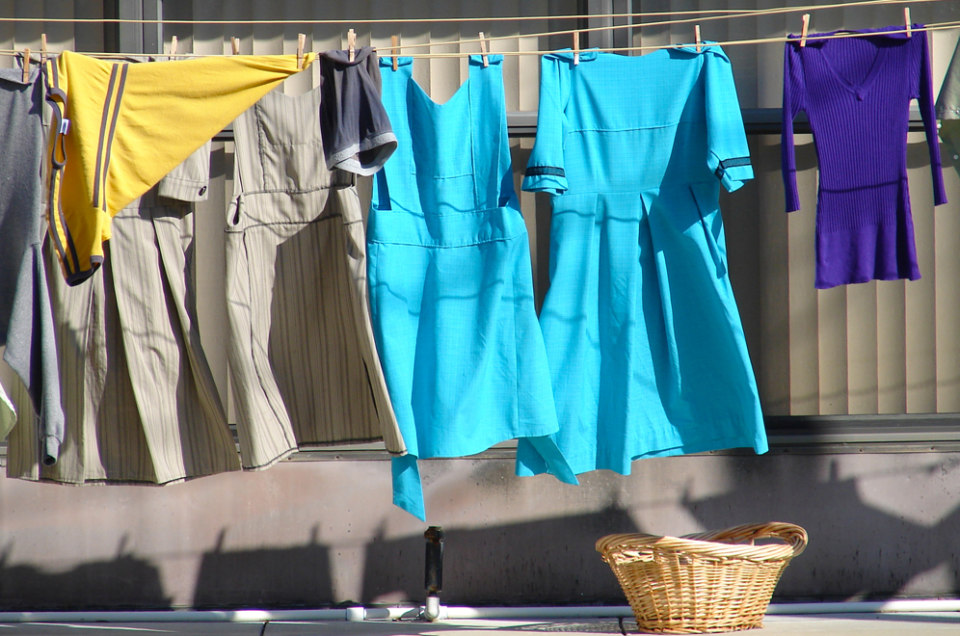 Laundry drying in Pinecraft, photo by Kimberly Button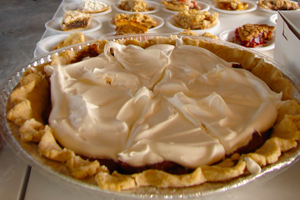 Mmmm pie, photo by Kimberly Button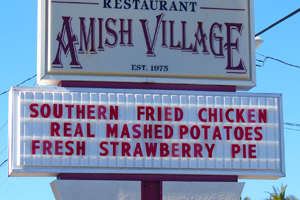 Closeup of the Yoders sign, photo by Kimberly Button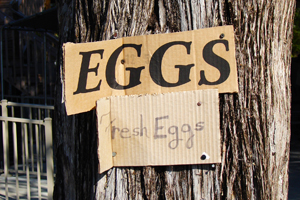 Eggs for sale in Pinecraft, photo by Kimberly Button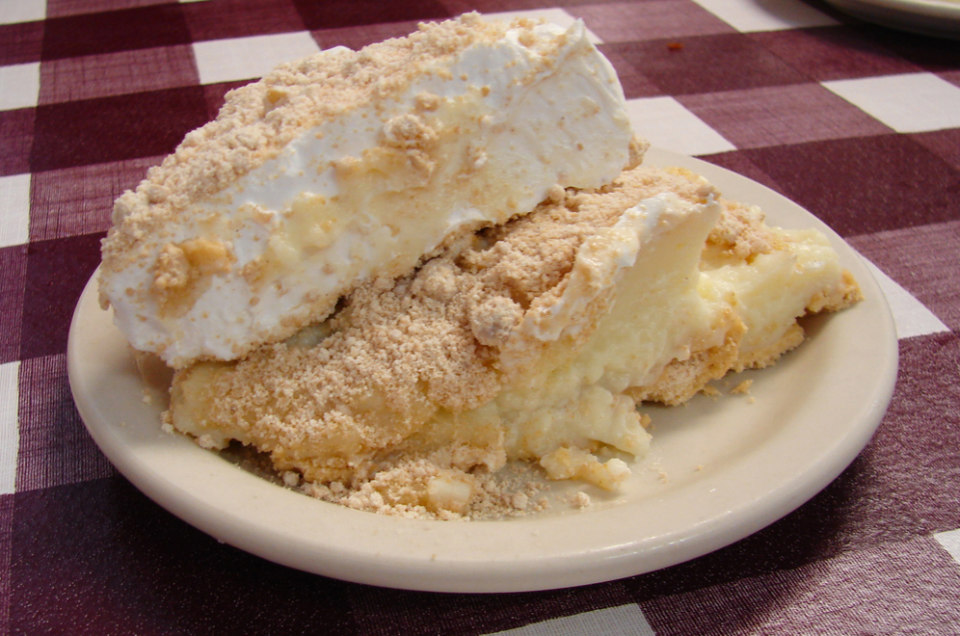 Perfect peanut butter pie, photo by Kimberly Button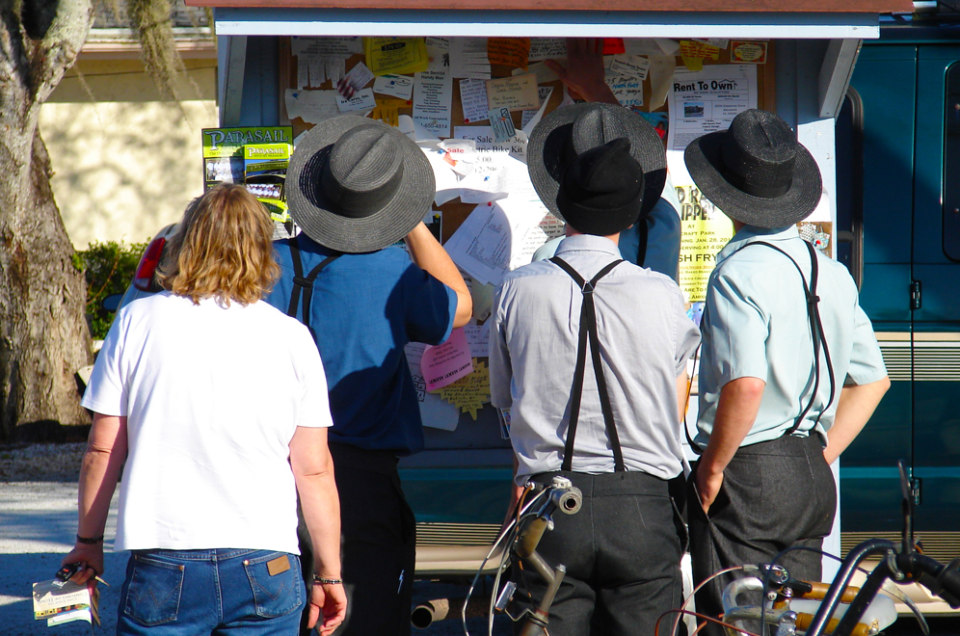 Pinecraft's bulletin board, photo by Kimberly Button
The scene couldn't have been more idyllic. Four women gathered around a large quilt, intently sewing and averting their eyes from curious gazes. Their plain, black dresses and hair covered in a cap instantly identified them as being Amish. Faint strains of German could be heard in their muted conversation.
Then a cell phone rang and intrusively broke the peaceful silence. The oldest Amish woman lunged for her purse, dug around for a cell phone and, successfully finding it, screamed "Hello?" into the modern contraption.
Such is life in Pinecraft, a small community in Sarasota which has become the winter vacation home of people of the Amish and Mennonite faith from across the country. Somehow the dichotomy of strict religious beliefs and a tropical vacation paradise entwine themselves successfully in this tight-knit community of approximately 3,000 situated not too far from the famed white sand beaches of Siesta Key.
You won't find traditional Amish images, such as tending fields on horse-drawn carriages or barn raisings, in Pinecraft. Instead, you will find young Amish and Mennonite teens zipping down the road on a foot-powered scooter, secretly hoping to develop a Florida tan.
The colors of the Amish clothes are brighter here, with many women wearing pastel shades of blue and green instead of traditional black and brown. A thick-bearded gentleman walks by with suspenders holding up his black pants, yet a pair of leather flip flops peeks out from beneath his cuffs.
Driving through the town of Pinecraft, I soon realized that the main attraction in Pinecraft is eating, with the unequivocal hub being Yoder's Restaurant and Amish Village. This place has it all. Looking for a great meal? Check. Need to pick up a handmade quilt? They got them. Want to bring back some homemade whoopie pies to show off to your friends? They're bagged and ready to go.
Yoder's isn't a tourist attraction, it is an authentic social hub of the community. Locals gather around the huge bulletin board laden with hand scrawled paper fliers. If something's going on in Pinecraft, this is where you will hear about it. The market sells fresh, local produce and the community's groceries.
I stood next to Amish families in a line that snaked out the door, waiting to be seated in Yoder's tiny restaurant that authentically serves up hearty Amish meals and their infamous pies. Oh, the pies. They come in too many flavors, piled alarmingly high with whipped cream and in portions that make your waistband scream. No matter, the peanut butter cream pie is an absolute must.
At Yoder's I met Sherry Gore, the editor of the community's newspaper and author of The Taste of Pinecraft. Sherry is of the Beachy Amish Mennonite faith and is perhaps the community's biggest cheerleader. She suggested that for a true glimpse into the community, I needed to see a benefit supper. Not content to just give me directions, she offered to show me where it was and hopped into the front seat of my shiny red car.
Together, like yin and yang, we drove into the private neighborhoods of the Amish. Sherry waved happily to her friends while I nervously worried that I would be thrown out of town.
Benefit suppers are a community event, and are often held at Pinecraft Park. Everyone is welcome, but the majority of people who come are Amish or Mennonite. On the night that I went, it was a fish fry with – what else? – long tables packed with homemade pies for dessert.
While the fish were frying, the children played out back on the monkey bars. Older gentlemen enjoyed an intense game of shuffleboard or bocce ball. I stood frozen with my camera in hand, desperately wanting to take pictures of the unique setting, yet not wanting to offend anyone.
"It's okay to take pictures," Sherry said while standing beside me, "just don't take images of someone's face." Even with her blessing, I just couldn't intrude on their private moments.
The next day, it was clear I would need some sort of exercise if I intended to eat any more pie, which I did. Three wheeled bikes are more common than cars in Pinecraft, and you can rent one and pedal among the neighborhoods lined with tidy houses.
Along the streets I spotted a sign nailed to a tree that simply stated "Fresh Eggs." I stopped at a garage sale with the most unusual items. I stared at lines of laundry hung out to dry, the stark black dresses dramatically swaying in the wind.
For lunch, I tried Troyer's Dutch Heritage Restaurant, the second of the two main Amish restaurants. With more than 500 seats, it stands in stark contrast to Yoder's Restaurant, yet the fried chicken and the pie are just as good.
The Amish-Mennonite community has an amazing fondness for sweets. A bakery in the lobby of Troyer's astounds visitors with the selection of pastries and pies. The message is not so subtle. You will leave with a sugar high.
I got caught up in the culinary indulgences of Pinecraft. I grabbed a chocolate cream pie to go. Then I added red velvet whoopie pies for good measure. When slowing down to enjoy life's simple pleasures, pie clearly tops the list.
Other Voices you might like