Piranhas and Pisco Sours: Peru's Amazon
For the people who inhabit the riverbanks, the river is a highway and dug-out canoes are still the primary mode of transportation. © Richard Ryel / International Expeditions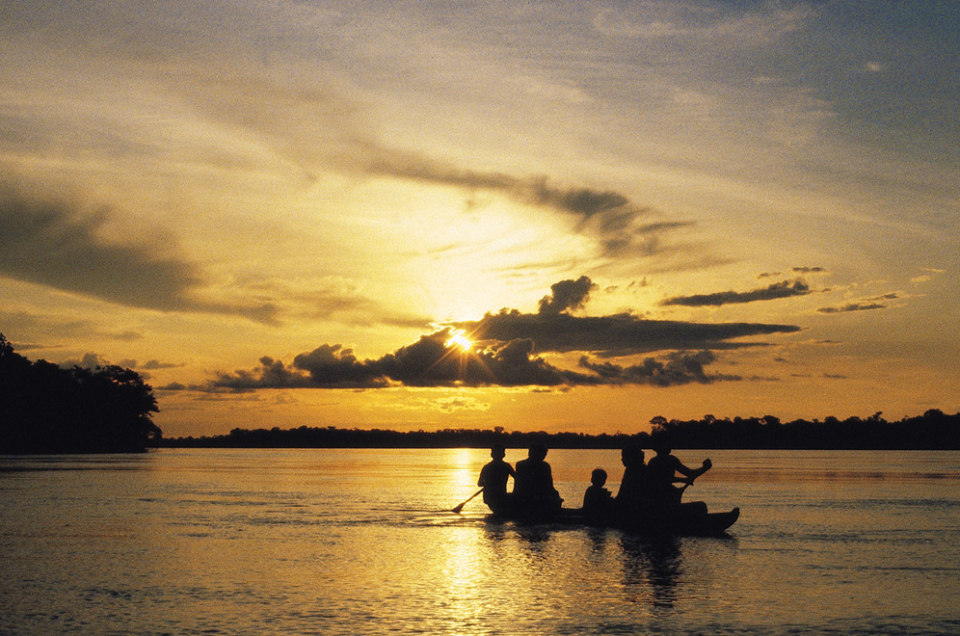 For the people who inhabit the riverbanks, the river is a highway and dug-out canoes are still the primary mode of transportation. © Richard Ryel / International Expeditions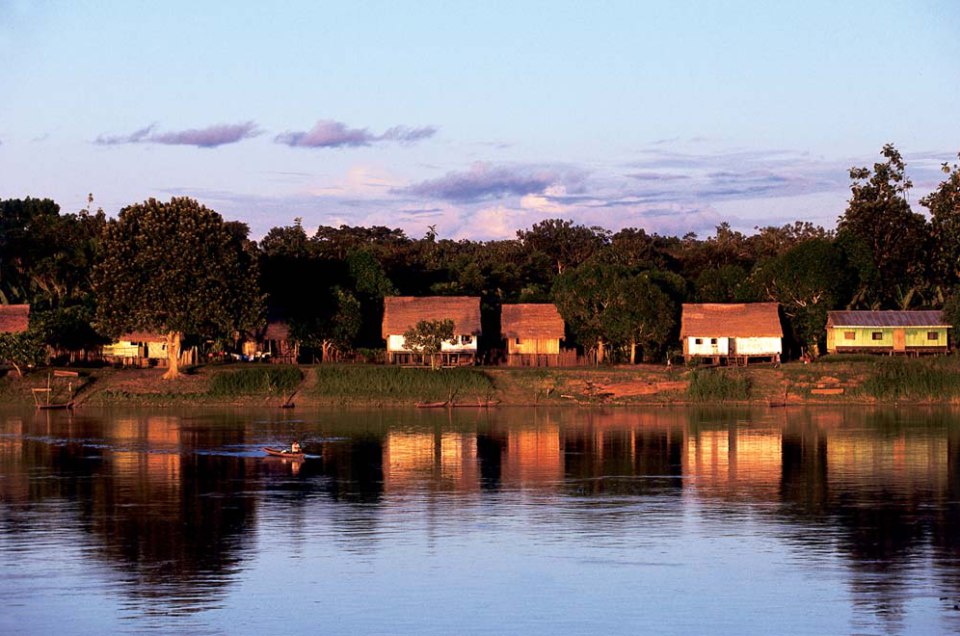 International Expeditions varies visits to villages along the river so that guests enjoy an authentic look at life in the Amazon. © Charles Seifried / International Expeditions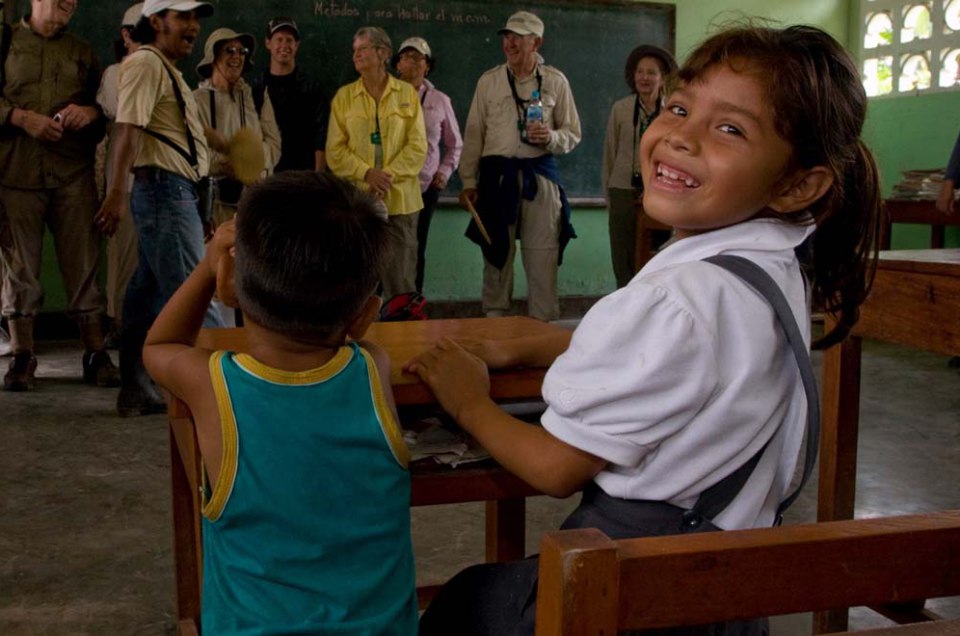 Smiling children welcome guests into their school to sing songs and learn about education in the tropical rainforest. © Jorge Salas / International Expeditions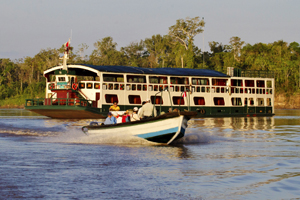 The purpose-built riverboat allows you to explore the Amazon in unpretentious comfort. © Jorge Salas / International Expeditions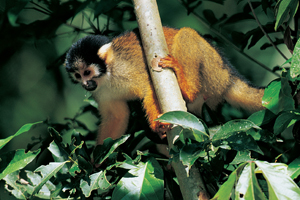 The Amazon is home to eight species of primates, including the frequently encountered squirrel monkey. © Mason Fischer / International Expeditions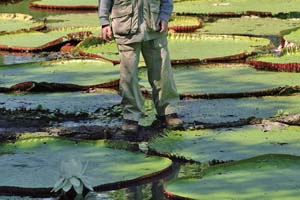 Giant water lilies are up to four feet long. © Seth Griffin / International
"Tomorrow morning, please dress in full jungle attire."
An urban resident for 55+ years, my wardrobe is sorely lacking in such outfits – I'm familiar only with the concrete jungle. But here in the Amazon rainforest in northeast Peru, it's the daily request of Renzo, our handsome expedition leader.
On our very first excursion on a skiff on the Ucayali River, which forms the Amazon by merging with the Maranon River, we hit pay dirt: a pod of pink and gray dolphins frolicking in an oxbow lake. More dolphins than I've ever seen before in the wild are doing somersaults next to us in the mocha-colored water – many a pearly pink. Dolphins are common here because natives don't hunt them, believing them to be spirits who turn human under the full moon and harm villagers.
Before you know it, we've spotted hoatzins, birds so unusual – who climb and hop but rarely fly – they're the only species in their bird family. Chicken-sized, they have bright red eyes surrounded by blue skin, and a crest of spiky long feathers topping their heads makes them resemble birds with severe hangovers in Mohawk haircuts.
Our first monkey sighting has us giddy with excitement: saddle-backed tamarins, whose backs are covered by yellow-gray "saddles," monkeys with feminist leanings (males do most of the child-rearing).
Let's get some superlatives out of the way. The Amazon jungle, which accounts for half the world's moist rainforest, has more varieties of animals and plants than anywhere else on earth. Over one-fourth of the world's plants – about 60,000 species out of roughly 250,000 – grow here. Peru's Manu National Park in the Amazon boasts more bird species than the entire U.S.
The world's biggest river system, the Amazon starts in Peru, and ends in Brazil at the Atlantic Ocean, covering 40% of South America. The river and its tributaries produce such a staggering amount of water, the flow of water into the Atlantic in one day is said to be enough to supply water to New York City, my former hometown, for nine years.
Our week-long voyage with nature tour operator International Expeditions on an old-fashioned-looking wooden riverboat with a dragon figurehead soon settles into an easy routine. After breakfast, a morning ride on the skiff to explore. Then, a lunch of Peruvian specialties – like chicken in chile cheese sauce with olives or stir-fry of beef tenderloin – in the dining room, whose floor-to-ceiling windows offer views of the mocha-colored Amazon. Time to read or relax, then an afternoon skiff ride.
A lecture often follows. This isn't a party-hearty cruise with a casino and gaudy nightlife – my fellow passengers include avid bird-watchers, two sets of grandparents who've brought their grandkids, two boys age 9 and 13. One grandfather is a former Oxford University professor who lives in Austin. Peru has more types of birds than any other country in the world except Colombia, boasting over 1,800 bird species, we learn. It's also the #1 country for butterfly species, with over 3,700 different kinds.
"Happy hour" means time for pisco sours, Peru's national cocktail, in flavors like camucamu (a Vitamin C-rich citrus fruit) and mesquite tree, which tastes remarkably like Baileys with a kick, while a band perform Latin American songs on guitars, keyboards and drums. The band looks hauntingly familiar – no wonder, they're our cabin Housekeepers. But they're so talented, I fervently hope they'll trade origami towel-folding and fanatically cleaning our bathrooms several times daily for careers as musicians.
Our fauna and flora count keeps piling up. In Peru's Pacaya-Samiria National Reserve, we marvel at gigantic water lily pads – almost six feet wide – and their purple, pink or white flowers, named Victoria Regina in honor of Queen Victoria by a British naturalist. A "meadow" of lavender water hyacinths, and lots of red lobster-claw heliconias and candlestick gingers.
Our guides' cries alert us to squirrel monkeys, small and furry, whose wide round eyes, accented by white "spectacles," make them resemble adorable infants. Capuchin monkeys, named because dark-brown or smoky gray "caps" atop their heads recall Capuchin friars, and spider monkeys, whose elongated legs and arms and sitting-down position makes them look terribly human. Sloths hang upside-down from trees, and leave then only once a week, we hear.
A flash of blue-and-gold through the air signals a flock of macaws. Jewel-like hummingbirds, tiny and fast, are spotted only by the passengers clutching binoculars. We hear and see "car alarm" birds, so-called due to their oscillating cry, and horned screamers, called "donkey birds" for their bray-like calls.
One day, we fish for piranhas, notorious for their razor-sharp teeth. Soon, most of the guests on our skiff are reeling them in using meat as bait, whooping and hollering. But they're small, so there's no piranha for dinner, despite my eager anticipation.
One night, we're on the skiff to hear what our guide calls the "jungle symphony." We watch multitudes of fireflies illuminate the pitch-dark night, and look at tiny tree frogs he scoops up – hard to believe a creature an inch long causes so much din – and a baby caiman, an alligator-like creature that will soon outgrow its cuteness and reach nine to 12 feet long.
A shaman, or medicine man, in a village of river people or riberenos, people of mixed European and indigenous ancestry, gives all of us a blessing, chanting and blowing smoke above our heads. He also shows us four bottles of potions – one the famous ayahuasca, a hallucinogenic brew that both Allen Ginsberg and William Burroughs experienced.Riberenos fish and farm yucca, plantains, bananas, breadfruit and other tropical fruits, and live in palm thatched-roof huts along the Amazon. In one village, we donate school supplies and see the water-treatment plant built by
International Expeditions, so villagers will have pure water, both for health reasons and to reduce the incentive for logging by encouraging them to make more foods to sell.
Our last day on the Amazon, we glimpse a family of capybaras, unfairly classified as part of the rodent family, who resemble goofy-looking hamsters over three feet long, swimming and hanging out in the jungle.
Some nights on our riverboat, a sunset streaks the sky with pink, orange and purple, stretching across the limitless horizon, where I spot not one thing on either side created by the hand of man, filling the vast sky since there's nothing to block it out but trees.
I spend my downtime reading a book on our recommended reading list,
Tales of a Shaman's Apprentice, by a Harvard- and Yale-trained ethnobotanist who studied healing plants in the Amazon.
I'd once met author Mark Plotkin at a talk in the U.S., where he described the work of the Amazon Conservation Team, a US-based nonprofit he now heads. The group has set up shaman's apprentice programs to pass on medicinal plant wisdom from native healers before it dies out, and teaches tribes to map the Amazon jungle using GPS technology to protect against deforestation and help in securing their land rights.
Recalling the Harvard presentation by the father of ethnobotany, Professor Richard Schultes, that spurred his career, Plotkin noted, "From that moment on I was hooked – hooked on plants, hooked on Indians, hooked on the Amazon."
"People often ask how I can deal with the heat, mosquitoes and corruption in some South American countries," he added, eyes twinkling. "I remind them I grew up in New Orleans."
In Iquitos, the jungle city where we fly to Lima to return home, I see the shantytown of wooden huts on stilts where Werner Herzog filmed Fitzcarraldo, the tale of a man driven to build an opera house in Iquitos, played by Klaus Kinski with, as usual, a mad gleam in his eye. Our riverboat looks strikingly like the boat dragged over a mountain in the movie. But I also spot mansions built as homes for "rubber barons" during the zenith of the rubber boom, from 1880-1912. Facades decorated with colorful glazed ceramic tiles and lacy iron balconies, with materials imported from Europe, attest to the immense wealth of these magnates, who fed the demand for latex tapped from rubber trees after Charles Goodyear invented the vulcanization process.
Our final night, we watch a photo presentation of all the birds we've seen, and one of Macchu Picchu and Cusco, an optional side trip, taken by a passenger. Dramatic shots of the breathtaking Incan clifftop archeological site, discovered 100 years ago this year, alternate with those of llamas and vicunas, who serve as lawnmowers, eating grass in the ruins, and natives clad in brilliant rainbow-hued textiles in the 11,000-foot-high former Inca capital.
IF YOU GO
For information, see http://www.ietravel.com or call 800-633-4734.
Tips:
"Full jungle attire" means lightweight long pants (not jeans, which don't dry quickly), long-sleeved shirts, closed shoes whose soles provide traction, socks, and a brimmed hat. Rainwear – a lightweight hooded jacket – shorts, t-shirts, and a light sweater/jacket are recommended. Bring insect repellent (or you will regret it).
Other Voices you might like