Testing Your Limits at Adventures on the Gorge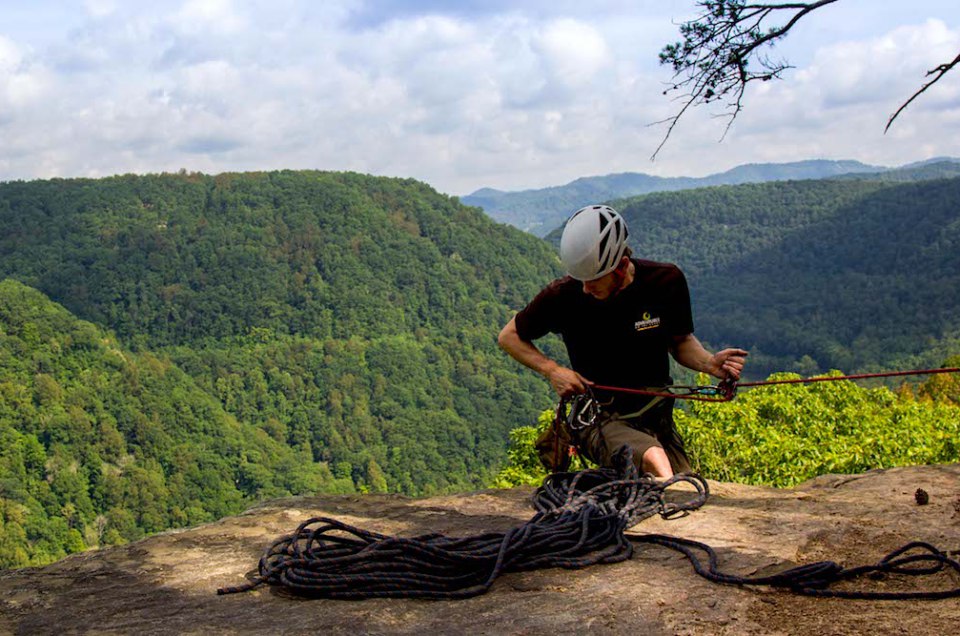 The rolling landscape has a completely different feel when you're about to drop down through it. We're standing a few feet back from the cliff's edge, and for right now we have a nearly uninterrupted 180-degree view of the New River GorgeValley. Though, this million-dollar vista is short lived as the clicking of carabineers draws our attention to the spindly treetops poking up at us from below.
Our guide, #Kyle (his nickname really was hashtag Kyle!), has the smile of a 10-year-old boy with a handful of firecrackers, as he says "Hey guys, let's give this a try."
Everyone's going to walk off the ledge.
All travel begins with the hope of finding adventure, doing something memorable. The Half-Day Climbing and Rappelling Tour with Adventures on the Gorge delivers, making the most of West Virginia's jagged landscape with several tiers of climbing routes and hands-down one of the most memorable repels I've ever done. Even while I'm still in the middle of the trip, I know I'm gong to be talking about this for a while.
Backing off the ledge, we each jut out solemnly into the sky. Too high for the trees to reach us, we're completely uncovered, and stand in space.
Everyone stops just after stepping over an outcropping that makes them invisible to us at the top. I discover, when I'm finally on my way down, that this rest stop is the last clear view of the entire stretch of wilderness, reaching across to both horizons, and if you lean back just right it's a 360 degree sight.
This has been the kind of trip where anything seems possible. For a group like ours, 2 newbies, a retired tri-athlete, and myself (somewhere between Clark Kent and Superman), it's been exhilarating. #Kyle has judged us not on our experience but our desire and perfectly shaped the trip to surpass our expectations. No where is this more clear then now below the cliff, looking up, with our guide flashing his firecracker smile one last time.
The rock face we are looking at is the kind of climb I've always wanted to go on, a sheer face with a vertical crack, just large enough to wedge in a fist or foot, snaking its way to the top. I can't wait to finally get a shot to go up.
Finally climbing, #Kyle's suggestions have gotten me further than I could have gone alone. I have one hand flat against the stone, the other slipped into a hole that on any other day I would avoid because of spider reasons, and my feet are dancing on a ledge below. This is the limit of what my body can do, but not beyond it. I'm contemplating how to continue, knowing that I've always wanted to climb something like this and I can't give up.
I ram my foot sideways into the serpentine crack, willing myself to trust in #Kyle's "believe in your feet" mantra, delivered calmly from forty feet away. No matter how hard I try and believe, I'm expecting to slip off the rock again and swing out like I did when rapelling down.
Right as I am unable to force myself to trust in my wedged foot anymore, my right hand finds a root and I make it further up.
It's hard to say what is most memorable on the Rock Climbing and Rapelling tour. While the pictures of each of us standing in the air are probably some of the coolest photos we have, making it to the top of a climb that I've wanted to do for years is an accomplishment I'll never forget. Either way, this tour was the highlight of my trip.
Start planning your extreme rock climbing trip- or if that's too much, try whitewater rafting, ziplines or hiking at Adventures on the Gorge in West Virginia.
Other Voices you might like