Celebrating First Nations Culture at White Point Beach Resort
Elder Todd Labrador prepares the sage for smudging. Photo by Lola Augustine Brown.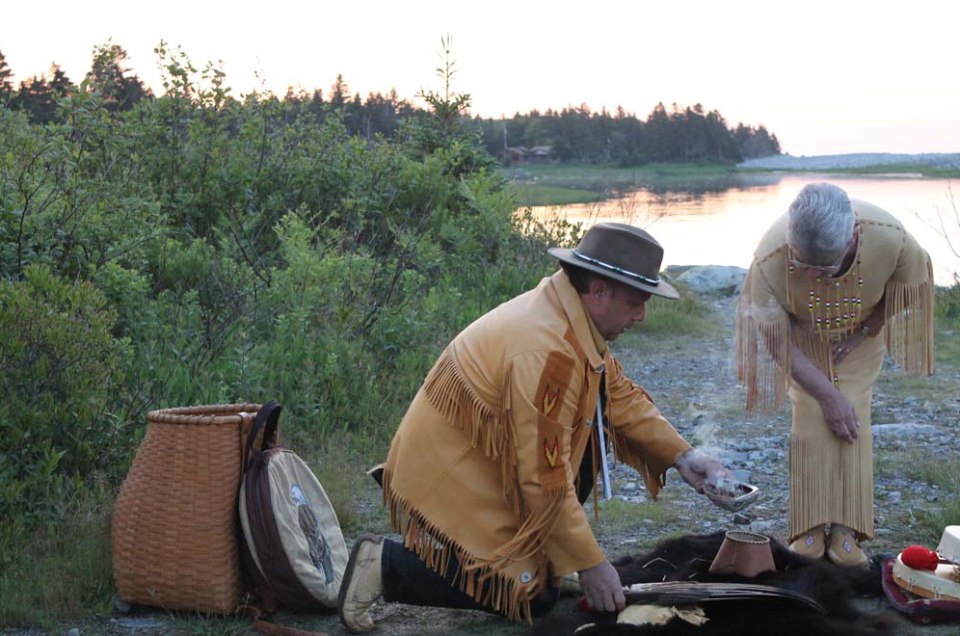 Elder Todd Labrador prepares the sage for smudging. Photo by Lola Augustine Brown.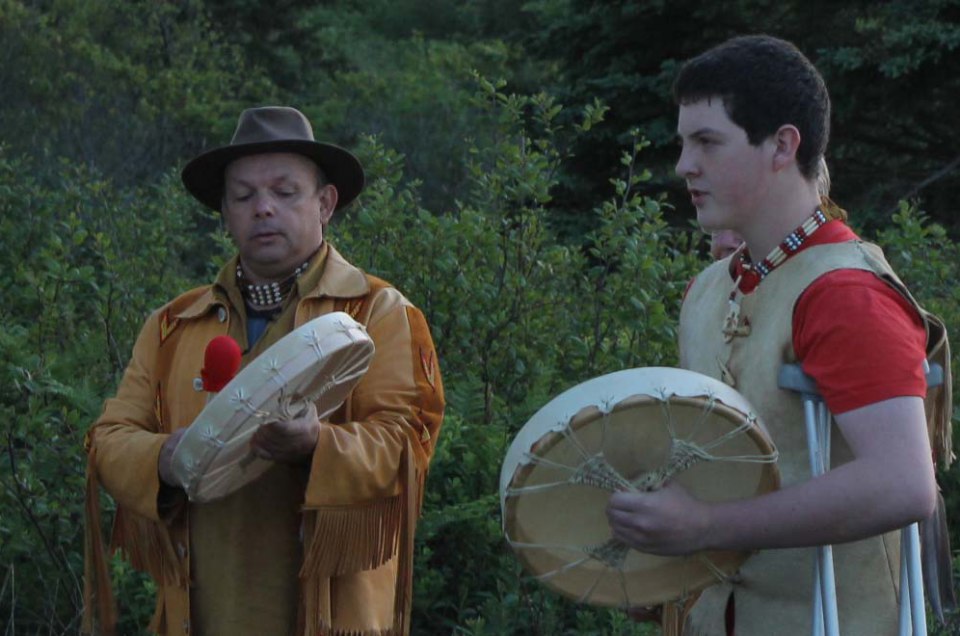 Ceremonial chanting and drumming as the sun rose. Photo by Lola Augustine Brown.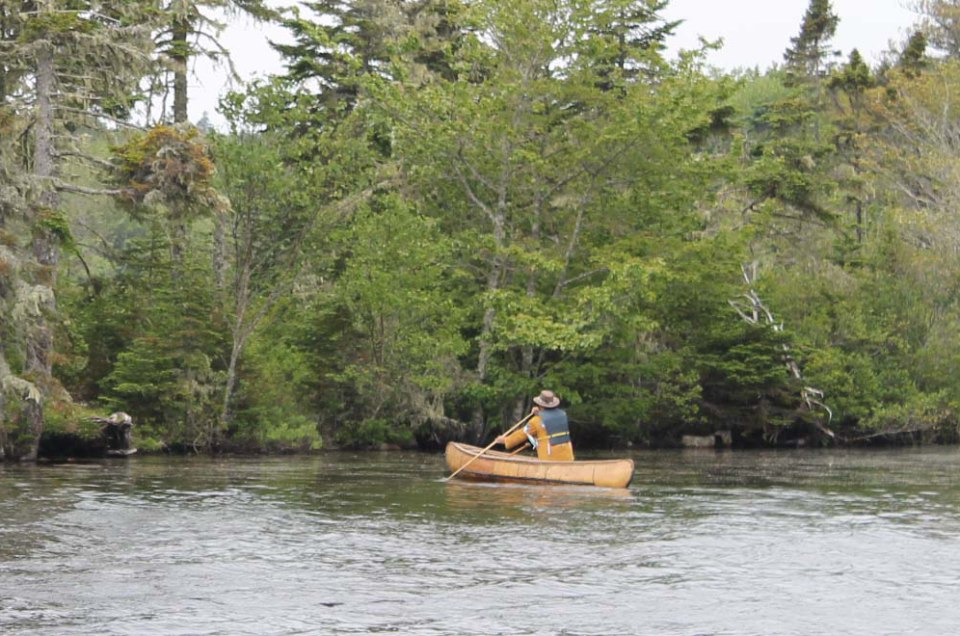 Todd Labrador paddling the lake in a traditional birch bark canoe. Photo by Lola Augustine Brown.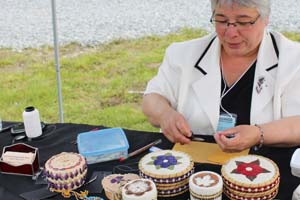 Sheila Porter demonstrating traditional porcupine quill work. Photo by Lola Augustine Brown.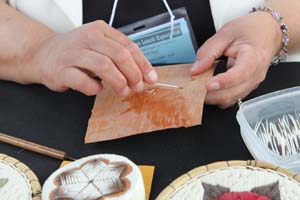 Creating beautiful pieces from porcupine quills. Photo by Lola Augustine Brown.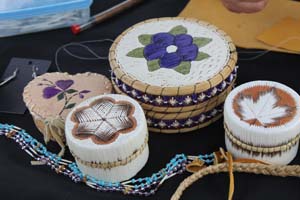 Some of the beautiful works on display. Photo by Lola Augustine Brown.
It was just past 5am, but there was a buzz of excitement as we started to make our way along the nature trail along the coast at White Point Beach Resort, our destination a clearing overlooking the ocean, where we were to witness a very special First Nations ceremony welcoming the summer solstice as the sun rose.
Elder Todd Labrador led the ceremony, starting with the lighting of a pipe, then a bundle of sage that he then went on to smudge attendees with (smudging is the burning of herbs to help clear negative energy and replenish positive energy). Then there was ceremonial chanting and drumming to accompany the sunrise. It was wonderful, and felt very spiritual. I felt so fortunate to have attended such a beautiful ceremony, something that I would never usually have had an opportunity to take part in.
This sunrise ceremony was part of two days of events celebrating and honoring Mi'kmaw culture and heritage being held at White Point Beach Resort. There were talks covering petroglyphs at nearby Kejimkujik Park (the largest collection on the East Coast of North America), and the wealth of ancient artifacts that have been discovered in the area, a reception, an intertribal gathering, an art show, a story and sharing circle around a camp fire, as well as a specially created village area where there were teepees and local artisans showing their creative talents. It was a very special two days, and one that was met with great enthusiasm by all that attended.
Donna Hatt, White Point's Marketing Manager says that the resort has been working with Acadia First Nation for several years to celebrate and showcase the area's aboriginal heritage. This two-day event was a culmination of this work, and a desire to tie in that culture to the reopening of the resort after it was nearly devastated by a huge fire 18 months ago. "There is incredible archeological evidence of more than 10,000 years of a First Nations presence here, and more than 10,000 artifacts have been discovered, which is pretty unique in Canada, and we wanted to showcase and profile that in a real and authentic way. It was always an Acadia First Nations project, we just enveloped who they were and what they had, into this event."
As well as being the first day of summer, the solstice, June 21st is National Aboriginal Day in Canada, which is why it made sense to hold the event on these days, "It made it authentic and true to hold those events then," says Hatt.
"We had a fabulous response from the First Nations community that attended, and many were wowed by the research pieces that were presented," says Hatt. "It was a moving and engaging experience to be welcomed into this culture, this was a really amazing opportunity for people outside of that community to be invited to join in."
Labrador says that he has had a lot of great responses from people, and he sees the event as a great success. "When we have an opportunity to share and educate people about our culture I always think it is a great thing to do, so I was really pleased that we were able to do it at White Point," he says. "My father always told me that this area was extremely important, and when we grew up we were always finding artifacts along the river so I thought it was a common thing. Now I know that it isn't that common, and that this area is unique because of how many artifacts have been unearthed here."
Because of the success of this event, Labrador is keen for it to happen next year too, as are many other artists eager to show their work there, and members of the First Nations community hope to meet again at White Point. However, this was in no way an event that is any way exclusive to the First Nations community – anyone could attend. "We always know that our own people will come and participate, but we also like to have people from other parts of Canada, and the world, experience our culture too," he says. Attending an event such as this is such a unique and moving experience, and one that you shouldn't hesitate to attend should you get the opportunity.
Other Voices you might like