A Solo (And Vegan) Friendly Guide to Memphis with Travel Lushes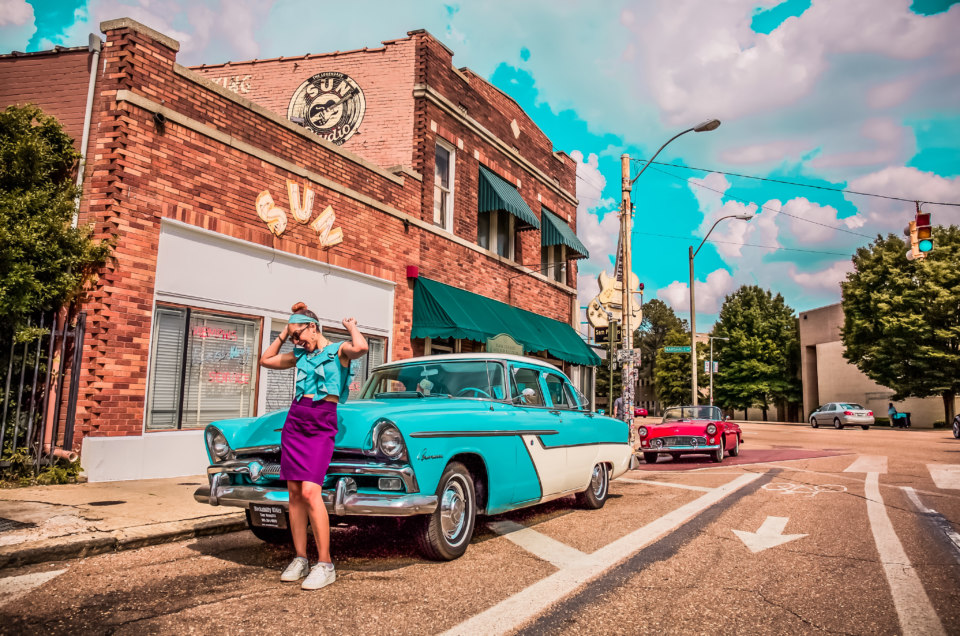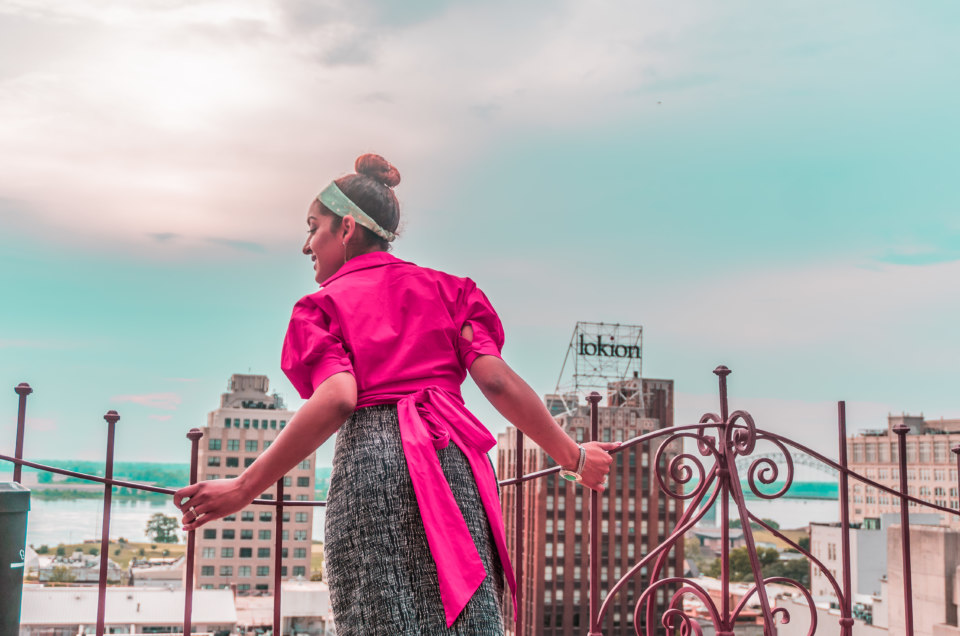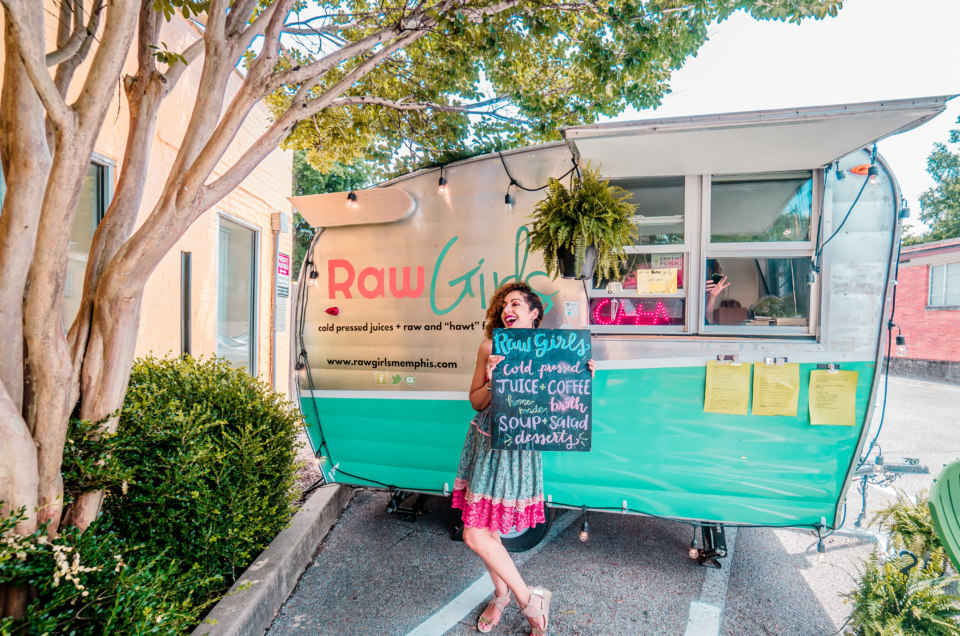 Traveling solo doesn't have to be a lonely affair, especially in Memphis, Tennessee. Just ask Ashley of Travel Lushes. What began as a solo, go-at-your-own-pace trip through the streets of Memphis quickly turned into an energetic, upbeat and vibrant trip for Ashley. Whether it was staying at the historic Peabody Hotel, touring the city in a 1950s turquoise Plymouth Belvedere, or sampling the vegan finds in a city known for its barbecue, Ashley is sharing all her best travel tips to Memphis — and explaining why it was the musical side of Memphis that will make you feel right at home.
Hi Ashley! Thank you so much for joining us today! Can you tell us a bit about yourself and how you got into travel writing and photography/videography?
Thank y'all for having me! Some people figure out what their passion is later on in life, while some find out early on, and, for me it was both! I discovered my love of video production when I was in high school – I was a reporter, videographer, editor, and executive producer for our school news program and pretty much became obsessed with all things video at this time.
After graduating, I majored in film & video and got an internship at The Weather Channel where I was able to begin a professional career as a producer and editor at the age of 19. But then I went abroad for the first time at age 20 where I discovered my passion for travel. It wasn't until years later that I decided to combine those two passions. After I tasted the creative freedom of documenting my vacations on YouTube and Instagram, I abandoned my corporate career to launch my own video agency that would combine my love of creative content development with travel.
When I'm not producing videos professionally for businesses, you can find me somewhere around the world vlogging about how to live an adventurously green life. If you do literally find me, you'll probably also catch me in the act of doing an awkward wardrobe change in the middle of somewhere beautiful as I attempt to stunt for the 'gram.
So, we have to ask then – where did the name Travel Lushes come from? How does it reflect your travel style?
Here's a little known secret that made me cringe at one point, but now I just laugh at it. The truth about "Travel Lushes"….are you ready for it? Here it goes.
When I decided to start a travel blog I had no clue what I was doing. I was trying to think of something original so I thought to myself:
"How about I pick a niche! Traveling and drinking sounds good. I can travel the world and blog about local beer and cocktails. And I'll call myself…a travel lush!"
I thought it was clever at the time.
I quickly realized I didn't love drinking enough to make a whole blog about it. I kept the name and now I have a silly story to tell. I just convinced myself I'd make it work. A lush is someone who is addicted to drinking. A travel lush is someone who is addicted to travel. Boom.
You recently got back from a fun, fast-paced 48-hour trip to Memphis, Tennessee. What were some trip highlights?
Even in such a short amount of time, I was still able to feel the soul of the city. I mean it's Memphis. There's a whole lotta soul there to soak in. Historically, it preserves its past by paying homage to the cultural contributions music legends and civil rights activists have made to not only Memphis, but the American South as a whole. On the modern side of the spectrum, Memphis acknowledges its past without staying stuck in it. For example, the city was progressive in many ways and fit right into my green lifestyle, which is something I wasn't really expecting!
You're known for seeking out very bright and vibrant areas across the globe. What were some bright spots you found in Memphis that are great for the 'gram?
I initially thought it would be hard to find bright spots in a place like Memphis, but my thinking was way off. Urban escapes don't always mean brown buildings and monochrome vibes. Memphis brings its color out artistically. Whether you're exploring the street art scene or taking in the bright, colorful lights of Beale Street at night – there's no shortage of vibrancy. Two spots that excited the art lover in me were Overton Square and Broad Avenue Arts District.
Memphis is all about soul food and barbecue. As a vegan, was it a challenge to find options in the land of smoked meat? What are some restaurants you'd recommend?
Not a challenge at all! You'd think it would be but nope. There's a rapidly growing community of health-conscious foodies in Memphis, and the city has definitely kept up with the demand. There were all-vegan spots as well as vegan-friendly restaurants, which I loved having the option to go to both. When I go back with friends, we can hit up restaurants that cater to both vegans and non-vegans, which is awesome.
Here are the vegan gems I enjoyed in Memphis: Mama Gaia (organic vegan), Otherlands Coffee Bar (vegan-friendly), Lyfe Kitchen (vegan-friendly), Raw Girls Food Truck (vegan), and Next Door American Eatery (vegan-friendly).
You cruised around Memphis in style — literally! Tell us about your tour in a super cute, bright blue vintage car with Rockabilly Rides.
Yeah, I totally cheated on Tesla that day. On YouTube, I vlog about being an electric car fan girl, but I'd gladly take a ride in that vintage beauty all over again! Rockabilly Rides has several different vintage cars in their collection, yet by luck I ended up being driven around in the perfect one for me (I'm obsessed with blue hues).
I low-key felt like a celebrity. Brad, who was behind the wheel, tried to prepare me for the looks we were going to get, but I wasn't ready! Everyone loved our ride. On top of the celebrity status, I also felt like I had been transported back in time. Not just because of the car itself, but because of the amazing history lesson I got on Rockabilly Rides' "Red, Hot & Blue" tour. I was taken on a journey all the way back to a time before Elvis became known as the King of Rock 'n' Roll, and was literally transported there by way of a '55 Plymouth Belvedere.
It's basically a sin not to see a live show while in Memphis. How did you embrace the rock 'n roll side of Memphis?
So one thing I love about solo travel is the freedom to go off and have some completely random fun. My very first night in Memphis, I did just that! Brad from Rockabilly Rides is a classic car driver by day and a rock star by night – and guess who got invited to go see him perform at a bar on Beale Street? This girl right here!
When I first arrived at Beale Street, my senses were overloaded. It was Bike Night, so there were motorcyclists zipping past, bright neon lights for what seemed like miles, people happily walking around with beers in hand, and the distinct sounds of live, soul-infused rock music wafting in and out of various venues. As I was taking it all in, a sign with a familiar name caught my attention:
Live Music 7 Nights a Week
Brad Birkedahl Band
7:00pm
PUT SOME SOUTH IN YOUR MOUTH
Wait, wait, wait. So I felt like a celebrity earlier that day because of Brad's car, but now I'm finding out that he actually is a celebrity? Needless to say, for my first time in Memphis as a solo traveler, I didn't feel lonely at all. From seeing a familiar face rock out on stage to bonding with strangers as we allowed the soulful rock 'n' roll tunes of Beale Street to mesmerize us, it was the musical side of Memphis that made me feel right at home.
If you're touring Memphis, what's the best way to get around town?
Believe it or not — by bike! I'm an active traveler. Instead of just Ubering everywhere, I often find the most fun ways to explore a city are by foot or bike. I was stoked to find out that I had just arrived at the same time Memphis was officially unveiling Explore Bike Share, its new bike share program. They have bike stations allll over the city and are super simple to use. Just download the BCycle app and enter the code on the bike to unlock it. Everything can be done through the app including payment.
For first timers, what are some not-to-miss sites that must be added to the itinerary?
Even though 48 hours isn't a whole lot of time, I was surprisingly able to see quite a bit. First timers can find things to do all around the city, from downtown to midtown, sun up to sun down. Some must-see sites include The National Civil Rights Museum, Sun Studio, Stax, Broad Avenue Arts District, Overton Square, and Big River Crossing. Also check out what events are going on at night. I went to Bike Night on Beale on Wednesday and the Peabody Rooftop Party on Thursday. Apparently, both are weekly things in the spring and summer!
Are you ready to embrace the energy and history of Memphis like Ashley? Check out the content on her blog for all the tips, tricks and hacks to the area's music venues, vegan delights, and hidden gems so you can craft the perfect itinerary! 
*Interview conducted by Corinne Edmiston
Other Voices you might like