Roaming through Provence with kids
Cheeses at L'Isle-sur-la-Sorgue Market, photo by Alison Delory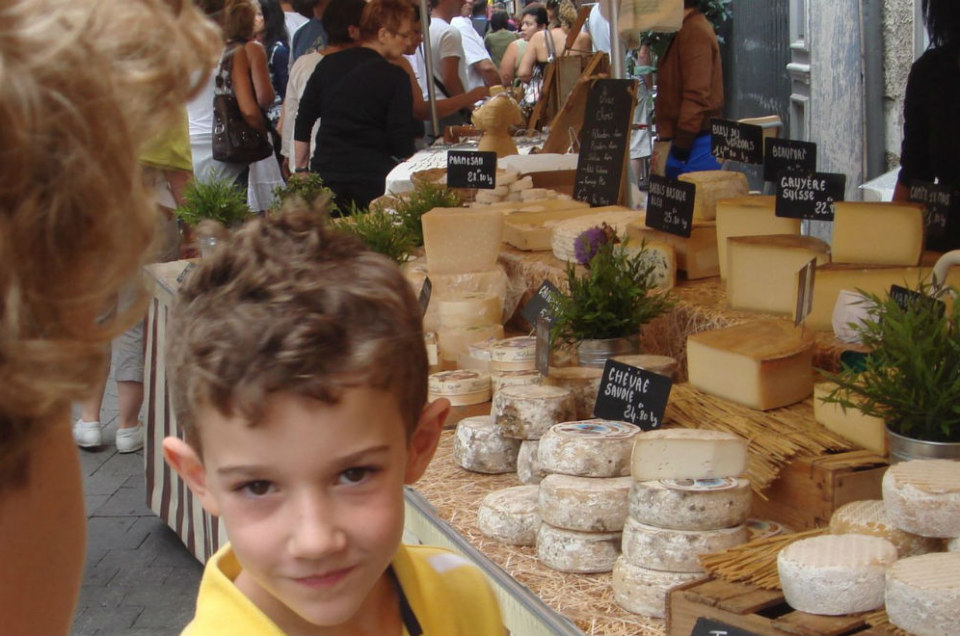 Cheeses at L'Isle-sur-la-Sorgue Market, photo by Alison Delory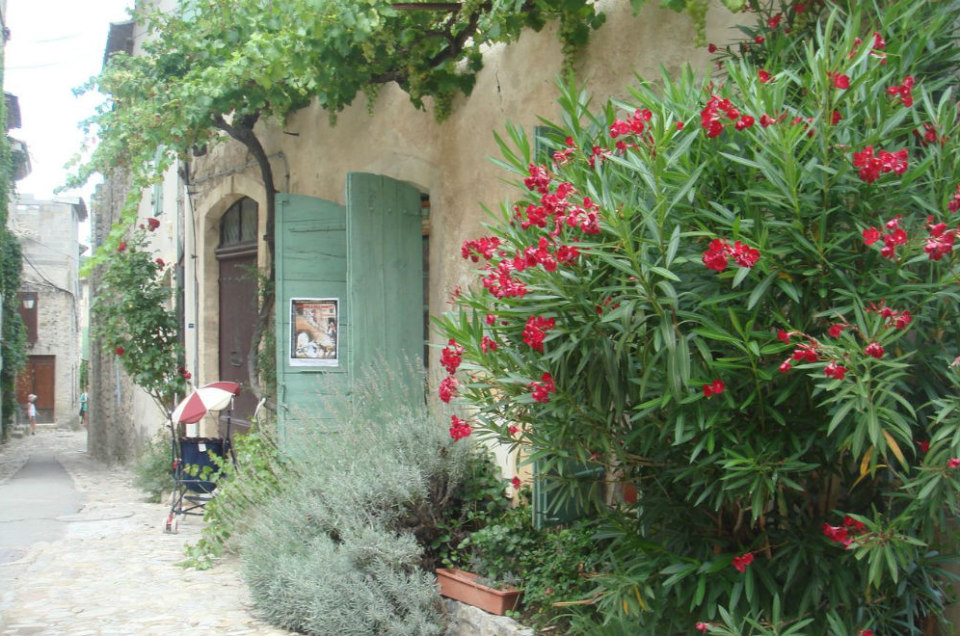 Medieval Vaison, photo by Alison Delory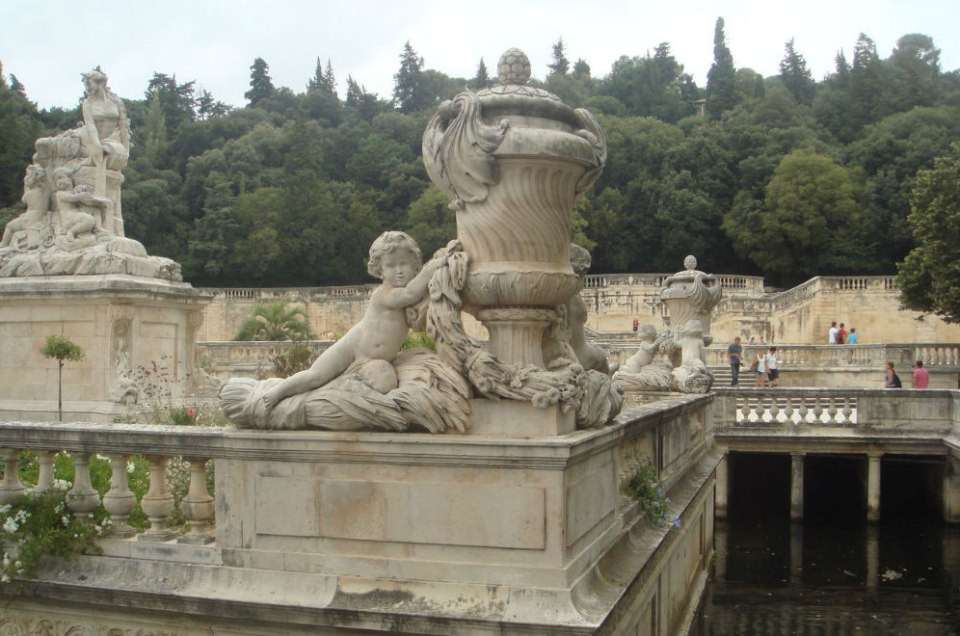 Nimes Les Jardins de la Fontaine, photo by Alison Delory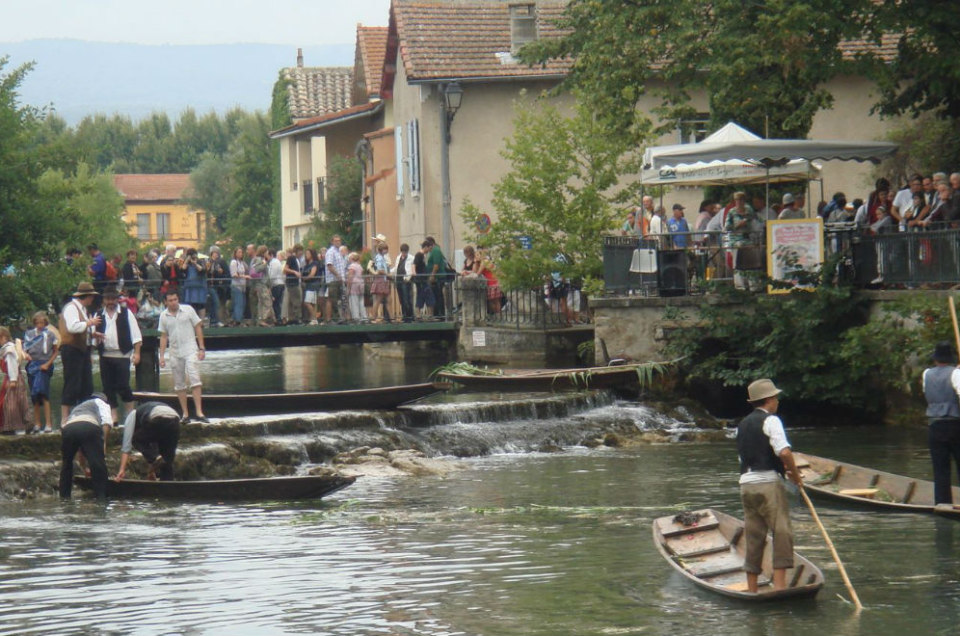 Gondoliers L'Isle-sur-la-Sorgue, photo by Alison Delory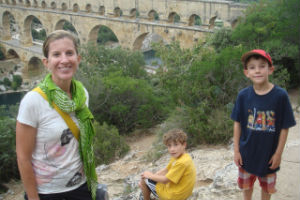 Alison and her boys at Pont du Gard, photo by Alison Delory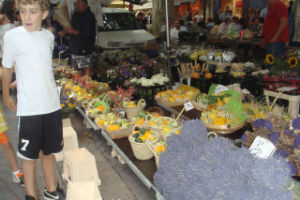 Lavendar L'Isle-sur-la-Sorgue, photo by Alison Delory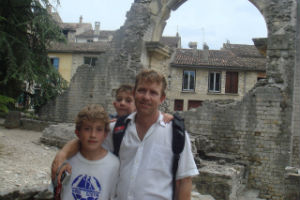 Vaison Ruins (Rental Home in Rear), photo by Alison Delory
When friends ask if you want to stay at their cottage for a few days the correct answer is always: "Yes." When, instead of a cottage, it's a week at a vacation home in Provence, France, the correct answer is always: "Oui. How soon can we go?" This is how my husband, our two boys aged eight and 11, and I ended up in Vaison-la-Romaine, a stunning town located 30 miles (48 km) northeast of Avignon.
What we didn't realize was that although officially our holiday was in France, we would also experience some of the most fascinating culture Italy has to offer. Vaison-la-Romaine was built on the site of a former Gallo-Roman city, the ruins of which were directly across from our rental home. The nearby archeological museum is chock-a-block with 2,000-year-old artifacts, from ordinary objects like cooking utensils and weaponry, to ornate jewelry. You can also tour outside through the statues, amphitheatre and remnants of aristocratic homes, learning as you go with multi-lingual handheld audio guides.
Both fascinating and beautiful, I imagined my boys in togas and leather sandals as they circled the marble columns, climbed through archways, and splashed in the fountains.
Kids being kids and it being summer, our days were punctuated by multiple outings to one of the gelato shops that appear on most corners. Lavender, which grows copiously in the nearby fields in springtime, is a popular flavor, and the pale purple balls sure look pretty on top of a cone, but it was too perfume-y for my palate. I stuck to the nut and fruit flavors. We also went for daily swims at the municipal pool as there's no seaside in Provence and the temperature climbed above 30 C most days. Pool rules make Speedo-style bathing suits mandatory for boys, as they are considered "more hygienic" than boxer-style swim shorts. Interestingly, smoking on the pool deck didn't seem to raise any hygiene concerns and here, as everywhere else in Provence including inside cafés and restaurants, the French puffed away contentedly.
Like most Provençal towns, Vaison-la-Romaine has a central town square with a resplendent mosaic fountain, and radiating shops, bakeries, and courtyards where men play boules both day and night. It's nestled between the Alps and the Mediterranean at the foot of Mont Ventoux, the "giant of Provence" (altitude: 1,912 m). If you start at the cathedral, cross the Roman bridge over the Ouvèze River and walk up the steep cobblestone streets, you'll discover art galleries, restaurants and inns tucked into the hillside medieval architecture. A vast castle crowns the hilltop, where my children role-played as rulers of the kingdom.
The surrounding lush, fertile countryside produces some fantastic wines from two regions: Côtes du Rhône and Côtes du Ventoux. We particularly enjoyed choosing wine to have with dinner from among the extensive selection of mini-bottles that are sold for three or four Euros at any corner store. Served with plates of cured meats, cheeses, olives, figs and fresh baguettes, we enjoyed many of our favorite holiday meals back at our rental home this way. The local restaurants were fine too, but service was leisurely and our children didn't often have the patience for two-hour, three-course meals.
In a tradition dating back to 1483, Provençal towns have a market day, which burst with the colors and flavors of Southern France. With as many as 450 exhibitors selling art, textiles, jewelry, truffles, aromatic plants, honey made from Provençal flowers, herbs, fougasse bread, and sausages, market day is not to be missed. We chose the Sunday market in L'Isle-sur-la-Sorgue, called the Venice of France for its canals. Gondoliers paddled through the canals while on the narrow streets we held our children's hands tightly so they wouldn't become separated from us in the dense crowds. The kids plugged their noses at the "stinky cheeses" on display but I found the pungent aroma alluring, and managed to procure some samples. At the markets as in the shops, the locals were very patient with my attempts to speak French, slowing down and enunciating carefully so that we might understand one another. I actually found it easier to communicate here than in French-speaking parts of my native Canada, and each day became a little more fluent. If you learn only two phrases make them "s'il vous plait" (please) and "merci" (thank you) as these will help you secure free cheese and gelato samples.
Vaison-la-Romaine was also a great starting point for day-trips to the many beautiful towns nearby. A cautionary note, however, is that the towns appear very much alike, usually with a walled inner city and a town square at their centre. We drove our rental Renault through Orange, Nyons and Carpentras, charmed by each one but struck by their similarities. That said, each town has some unique features and is lovely in its own right, so you can enjoy a variety or just plunk down in one town for your entire time in Provence and not feel like you're missing anything. Avignon and Aix-en-Provence are both larger cities in the district and reputedly great for visiting, however we simply ran out of time in which to see them.
There are two side trips, however, I would strongly recommend. The first is to Nîmes, an ancient city settled before Christ was born. Augustus, founder of the Roman Empire, ruled the region from 27 BC until his death in 14 AD. My top three points of interest in Nîmes are: 1) the heavily columned Maison Carrée, a small Roman temple built circa 19 BC that is immaculately preserved. In the adjacent courtyard, if you're lucky, you'll see parkourists running up vertical walls and flipping acrobatically in the air. My boys were enthralled; 2) Les Jardins de la Fontaine, gorgeous civic gardens crowned by a Gallo-Roman monument called the Tour Magne, and 3) the Arena of Nîmes, which was inspired by the Coliseum in Rome and in which you can extensively tour the area once used for bull-fighting and gladiator competitions.
The second "must see" in the region is the Pont du Gard, a three-level ancient, Roman aqueduct bridge about 20 km northeast of Nîmes that used to transport water across the small Gardon river valley. So grand it must be seen to be believed, the Pont du Gard was built in the first century BC and is the highest of all the Roman aqueduct bridges. It is immaculately preserved and listed as a UNESCO World Heritage Site because of its historical importance. The museum is magnificent, explaining how rudimentary tools were used to build this engineering marvel. You can walk across the bridge and around hiking trails on either side, but the highlight for us was jumping off the embankments and swimming in the Gardon river below. The current carries you swiftly downstream, so it's not to be attempted by weak swimmers. There are kayak outfitters who offer river tours below if you prefer. The backdrop of Pont du Gard makes for unbelievable views from every angle.
Unlike Peter Mayle who famously lived "A Year in Provence" and wrote a 1989 bestselling book by the same name, we only had a week in Provence and it wasn't nearly enough time to see and do all that the region has to offer. If the goal of a holiday is to leave desperate to return again soon, then we succeeded. The area is not only rich in French history and culture, it inspired our understanding and appreciation of ancient Roman civilizations, too. Until the next time—à bientôt— Provence!
Other Voices you might like