Collect Autographs Like a Pro at Disney World
Scoring Mickey Mouse's autograph, photo by Lola Augustine Brown.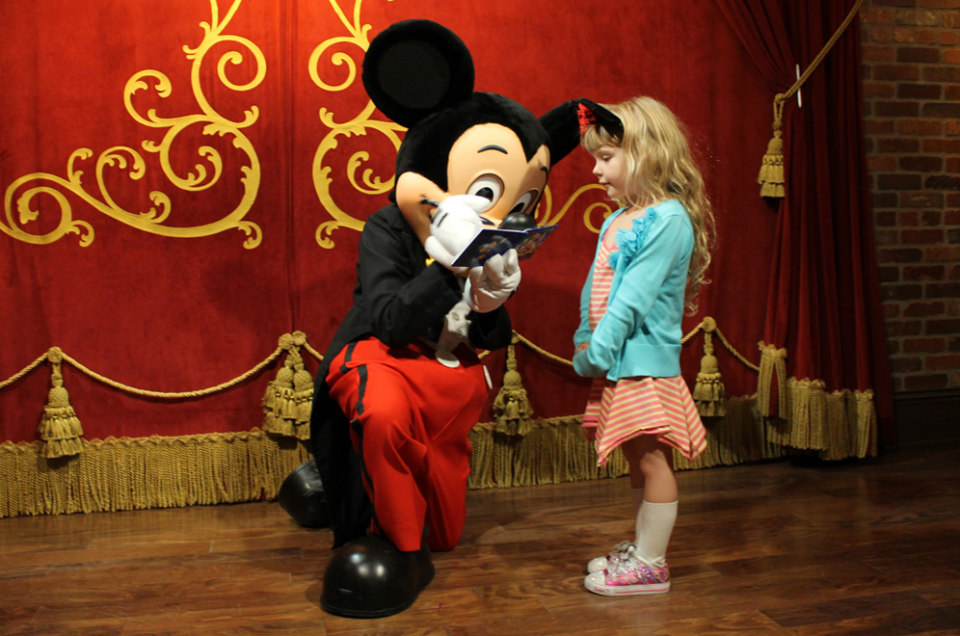 Scoring Mickey Mouse's autograph, photo by Lola Augustine Brown.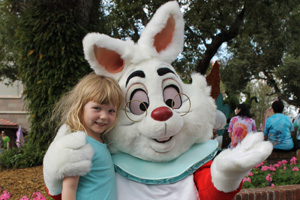 The White Rabbit was our first score, photo by Lola Augustine Brown.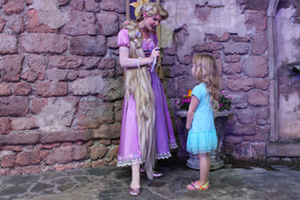 We waited way too long to get Rapunzel's autograph, photo by Lola Augustine Brown.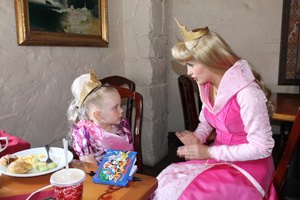 Sitting with Aurora over brunch, photo by Lola Augustine Brown.
Armed with the Mickey Mouse autograph book and pen she'd bought at the gift shop, my then four year old daughter Perdida waited patiently in line for the White Rabbit from Alice in Wonderland. She nervously pushed the book into his hands, he signed, then gave her a huge hug.
"I met him mommy! He signed my book! Who is he again?" she said.
Although something of a minor character in the Disney scheme of things, he was a great introduction to collecting autographs at the park, because the line up was short and we just stumbled into him. Collecting other autographs took a lot more time, we lined for an hour to meet Rapunzel from Tangled, but there are ways to fill that autograph book quicker and more efficiently, here's how:
1) Go to Epcot. This was the least busy of the parks we visited, and if you follow the path that winds around the lake past all the various World Showcase Pavilions (areas dedicated to specific countries), you'll find character staked out there just waiting for your little darlings to accost them (pick up the map as you enter Epcot to find out what characters are where, and take a stroller if you have smaller kids as it can be a bit of a trek).
2) Eat at a character restaurant. Akershus Royal Banquet Hall has a princess dining experience for breakfast, lunch, and dinner, where each princess comes directly to your table to sign autographs and chat with your child (we scored seven autographs in an hour this way, and they were the ones my daughter really wanted). You can do the same thing at Cinderella's Royal Table restaurant in the Magic Kingdom, Chef Mickey's at Disney's Contemporary Resort, and various other eateries on site at the parks. Dining at these places isn't necessarily cheap, but the experiences are well worth paying for, and will make your kids really happy.
3) Plan for getting the big ones at quieter times. Whoever the hottest character is right now is going to have the biggest line-up, and usually their own area set up especially for these meet and greets. Rapunzel and Ariel had huge line-ups, which my daughter waited patiently in the first afternoon we arrived, but when we got to the park first thing the next morning, there were much fewer people waiting. Lesson: we should have done those characters at a less busy time (first thing in the morning is a great time to collect autographs).
4) Read the signs. At every character station, there's a sign stating the estimated wait time. Keep an eye out, because sometimes you score with ridiculously short wait times that mean a five minute diversion from your plan gives you a premium autograph. Case in point, after seeing posted wait times of over an hour to meet Mickey at his station just inside the gates of the Magic Kingdom, we happened to glance up and see there was no wait time. In we went, hardly waited ten minutes and got to have an extended experience with Mickey because things were so quiet there.
Other Voices you might like