Hola, Mexico City! Five Reasons to Adios the Clichés about North America's Largest City
Xochimilco's festive fleet of gondolas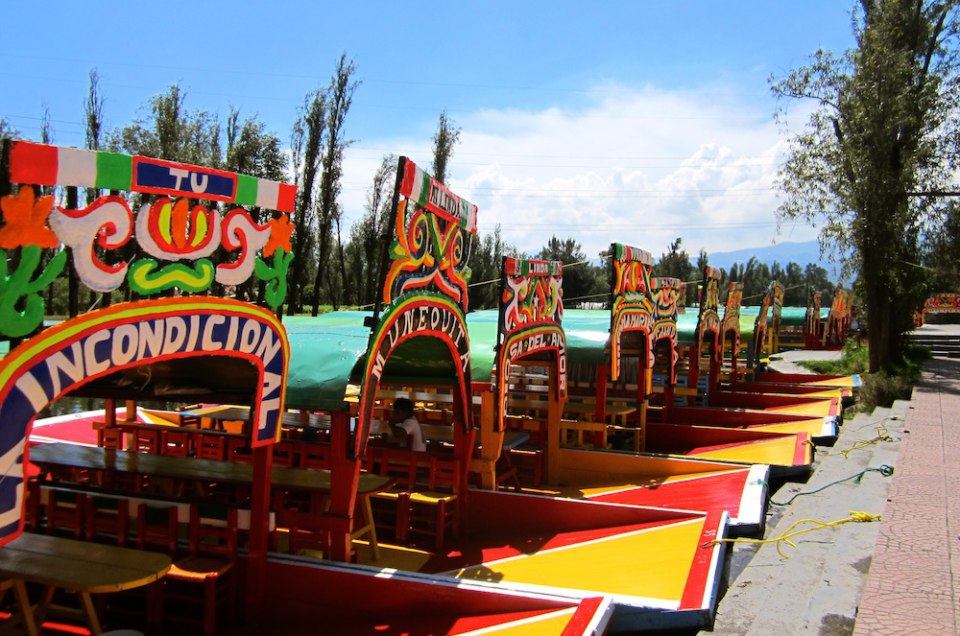 Xochimilco's festive fleet of gondolas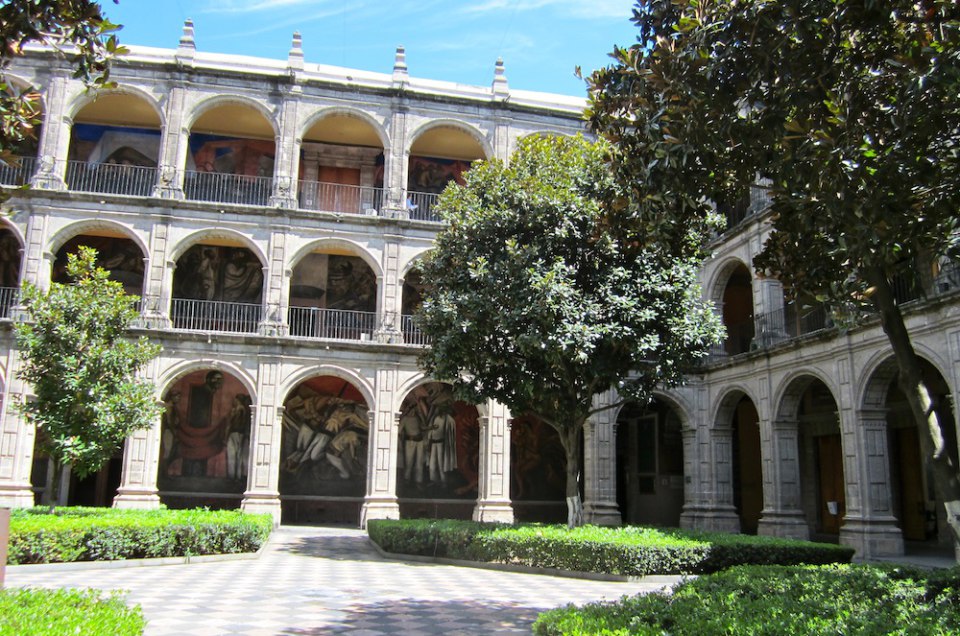 Take a mural tour at San Ildefonso College and Cultural Center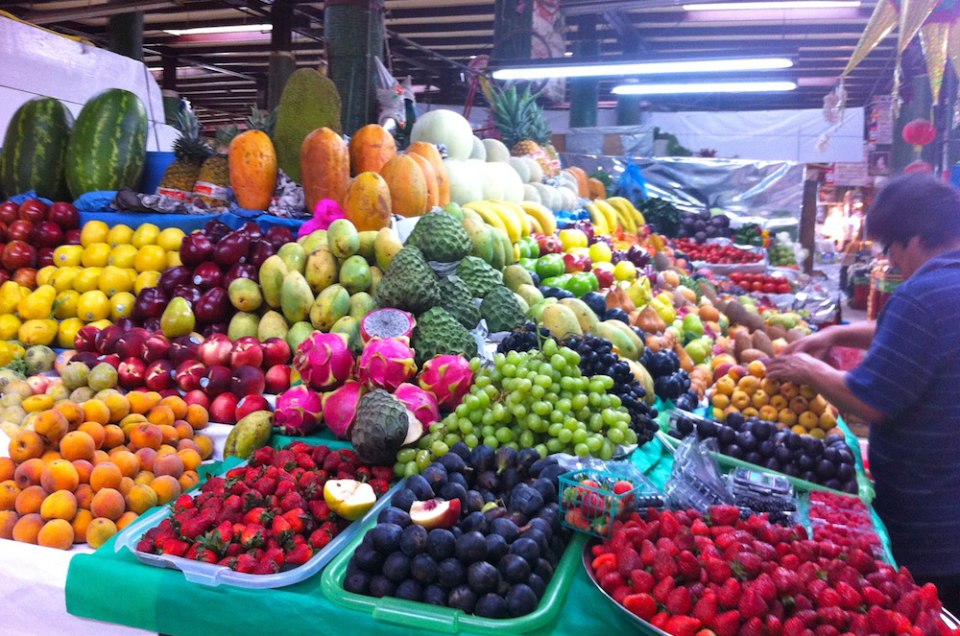 San Juan Market's produce rainbow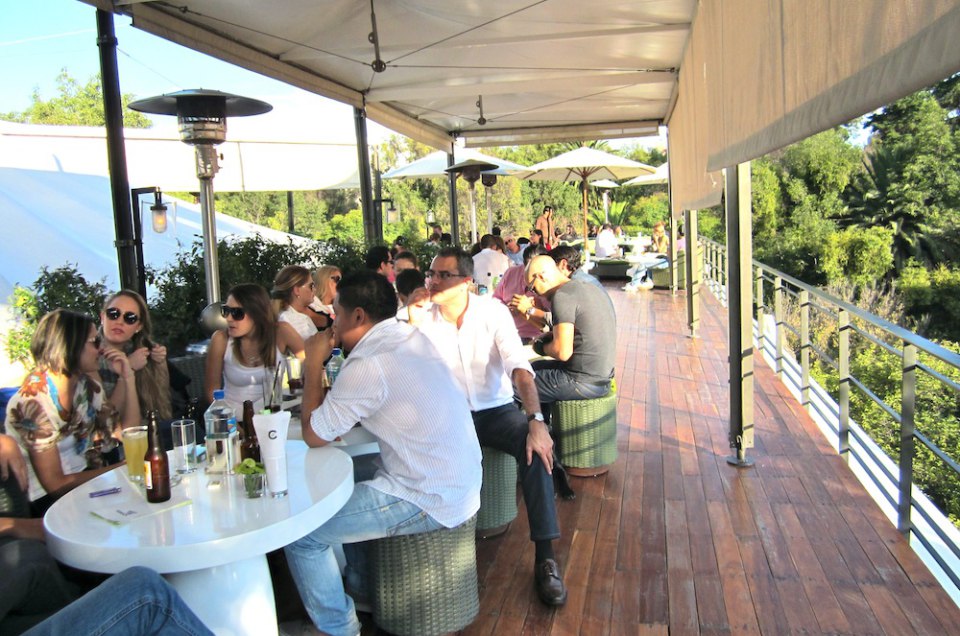 Condesa DF's lively rooftop terrace and sushi bar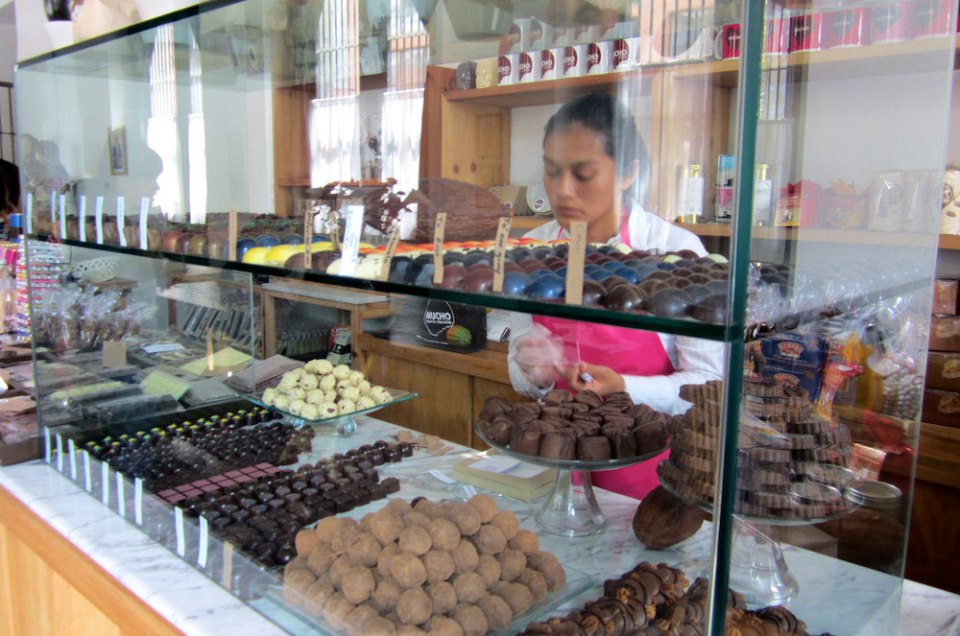 Mucho Mondo Chocolate Museum: Tap that glass for your favorite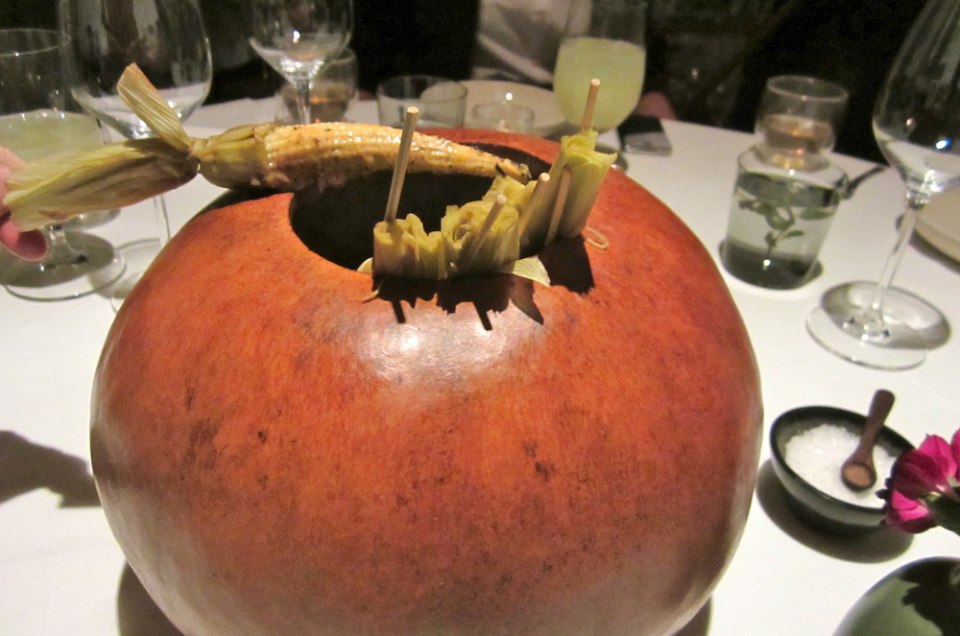 Pujol's baby corn with chile, coffee and chicatana ants (when in Mexico!)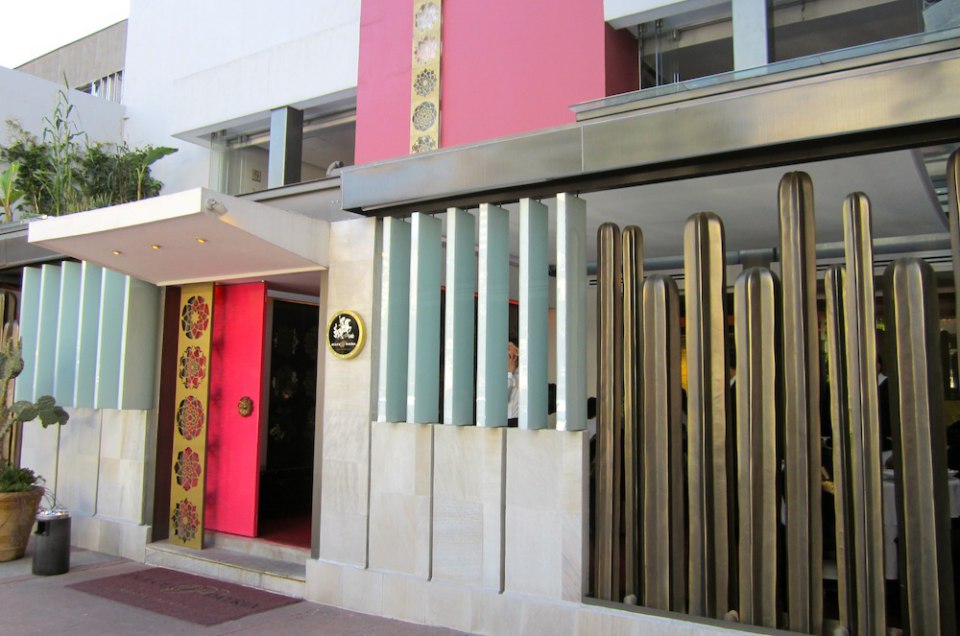 Dulce Patria's beauty starts with its exterior
You've probably heard the Mexico City rumors.
Most are true. North America's largest city is awash with crowded streets and honking gridlock. The sky is blanketed in smog and crime reports flood the media. I'll admit the storied warnings gave me reservation hesitation. But as someone with roots in both Houston and LA, I know there's more to big cities than meets the cliché. So, I packed my bags.
Upon arrival, I expected colorful chaos and delicious tacos – two things I've been bred to love – but I didn't expect palaces and temples downtown, majestic mountains and volcanoes in the distance, and a welcoming vibrancy weaved into the vast cultural patchwork. As the new tourism tagline suggests, you really do have to "live it to believe it."
Here, five reasons to become a believer and discover the beautiful truth beyond Mexico City's stereotype hype:
1. Mexico's "Little Venice"
Just south of the city lies Xochimilco, aka "Little Venice," where painted trajineras (gondolas) glide through a fluid maze of juniper-lined canals. This Unesco World Heritage site is all that remains of Tenochtitlan, the Aztec capital city's ancient waterways and Chinampas (floating islands). Today, this oasis invites visitors to experience the wet history first hand.
Docks bustle with crowds weaving through festive souvenir shops and eateries. Mariachis create a buoyant atmosphere as passengers board the splashy promenade of open-air boats, each propelled by oarsmen wielding poles.
Our boat, "Princesa" (an ode to our regal tank tops and Capri pants), soon became a floating picnic as we feasted on tamales and guacamole made with ingredients farmed on the islands. Preorder refreshments or come stocked; but don't fret if you wind up hungry and adrift – floating vendors offer regional specialties like grilled elote (corn on the cob) sprinkled with lime, spices and queso fresco.
Loaded boats dot the water, from booze cruises and family birthday parties to Mariachi vessels offering songs – so remember your pesos. Tours are $15US per hour with various routes available.
2. Culture — beyond sombreros and maracas
Mexico City boasts more museums than any other city in the world. This cultural mecca, divided into 16 distinct boroughs, is home to hundreds of exhibitions and most are free on Sundays.
In Centro Histórico, the famed San Ildefonso College turned cultural center features Mexican muralists like José Clemente Orozco and Diego Rivera whose work chronicled and sometimes satirized history. The architecture and grounds alone are worth a stop.
Nearby is Templo Mayor, another World Heritage site where excavation continues today. Sections of unearthed structures (pyramids, shrines and carvings) are open to visitors along with a museum displaying relics from the era.
Capital City's thriving art scene boasts more than 100 galleries concentrated in the La Roma district. "Roma" hints at its artsy foundation, which includes a notable replica of Michelangelo's David in the Plaza Rio de Janeiro fountain.
3. Sleep swell, eat well in beautiful dwellings
Mexico City's architecture is a mosaic of modern and ancient structures, many of which have been restored and repurposed as museums, restaurants and hotels. Downtown, a 17th century palace turned hotel, rests on cobblestone streets in Centro Historico near primitive landmarks. The boutique space includes outdoor dining, courtyard shops, and a hip hostel that bears no resemblance to the Petri-dish shared spaces of my college days.
Prefer trendy? Try Condesa DF where a minimalist whitewash and turquoise backdrop draws a chic crowd. Located in its namesake district on a woodsy neighborhood street, this refurbished 1920s neoclassical structure has a whimsical, open-air vibe.
After sleeping in a palace and trekking ruins, it's time to eat! Mexico introduced chocolate, corn, and chilies to the world so it's no wonder their capital overflows with flavorful options. After just two days my clothes felt snug, so come hungry with elastic-waist pants.
For breakfast, nothing beats El Cardenal in the historic district, where sun peeks through charming stained glass windows. While they're known for the "escamoles" (ant eggs) omelet, I opted for pedestrian fare: scrambled eggs (the chicken variety) in a clay pot with black beans swimming in spicy pools. Swap coffee for hand-whisked hot chocolate to pair with delicious sugared breads.
Lunch at Dulce Patria in the upscale Polanco neighborhood, where Chef Martha Ortiz's sensual and feminine touches infuse the surroundings along with incredible dishes plated like fine art. Candy adorned ferris wheels provided the perfect post-meal spin.
When it's time for dinner, hit Pujol. Also in Polanco, this dining sensation is No. 17 on San Pelligrino's 50 Best Restaurants in the World. The eclectic menu mixes indigenous ingredients with modern culinary trends. Our tasting menu included 10 courses (yes, TEN!) with standouts like ceviche rolled in sheets of glossy avocado and baby corn with chile, coffee and chicatana ants—I downed these without protest or screams because I couldn't read the menu. But no matter, they're tasty! Another finale win: tiny sorbet-stuffed ice cream cones.
Still hungry? Visit San Juan Market. This 150-year-old culinary marvel houses a spectrum of local and imported gourmet stalls including rainbows of exotic fruit and vegetables. Roam the colorful labyrinth, sip complimentary wine, and sample tapas of mascarpone with artisan bee honey. But prepare yourself for the array of fresh animal carcasses in the meat section lest you leave a vegan.
4. Trade tequila for mezcal
During check-in, the Downtown offered a generous highball of what looked like tequila. As I threw back the spicy elixir, I learned my welcome drink was actually mezcal—a liquid distilled from native agave plants and a favorite among locals. This unique spirit is best sipped and swirled like wine, not shot like a kamikaze, as my fire-bombed throat quickly noted. On the second sipped round, mezcal's smoky chaser warmed my insides like good scotch with a tequila-esque twist. As the saying goes, "For everything bad, mezcal; for everything good, the same."
5. Chocolate's delicious artistry
Mexico deserves props for unveiling chocolate's majesty, a product once considered so valuable the Aztecs used it for currency. So it's no surprise native enthusiasts dedicated an entire museum to the sweet stuff in 2012. Mucho Mundo's converted 1900s house permeates with tempting aromas, so nosh samples first. In the test kitchen, we watched a "bean to bar" presentation where chefs created a base by crushing heated cacao beans, then adding almonds, sugar and cinnamon. The result? Spicy, milk-free goodness whipped into a warm chocolate-y paste.
The winding space includes chocolate-inspired artwork, sculpture and antiques, interactive exhibits chronicling indigenous cacao bean farming and chocolate making, and a cafe teeming with house-made confections for every palate.
These are five of my favorite Mexico City surprises, but endless others prove there's more to this marvelous place than rampant clichés. And if you aren't a believer after just one visit, I'll eat my sombrero.
Other Voices you might like